Check out these products as seen in the July | August 2019 issue.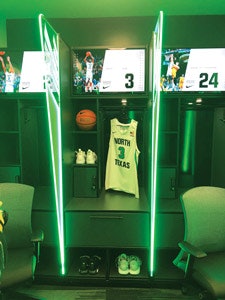 GearBoss
Wenger Corporation's GearBoss line of durable, modern, high-tech and highly functional lockers proved to be the perfect solution for the University of North Texas basketball team locker room. Crews installed 18 new lockers, each with custom-engraved backlit acrylic side panels, a flip-up TV monitor and USB ports. There's a lock box for valuables, heavy-duty coat hooks and a bottom drawer to stash personal items, all neatly covered in a graphite laminate finish.
www.gearboss.com
(800) 493-6437
---
RELATED: How Marquette designed its lacrosse team locker rooms
---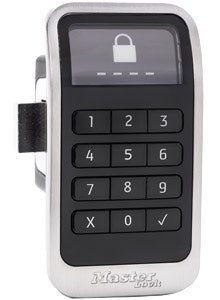 Master Lock Company
Master Lock's Electronic Built-In Locker Locks elevate the experience for facility managers and users with their modern design, advanced performance and low maintenance. They feature user-friendly display screens, long battery life and anti-jamming features. Master Lock launched the 3685 model last year and has expanded the line to include the 3861 ADA-compliant model, which features a Bluetooth-enabled fob for access without dialing a passcode. Each product is available from locker lock, locker and security hardware distributors.
www.masterlock.com/ell
(800) 308-9244
---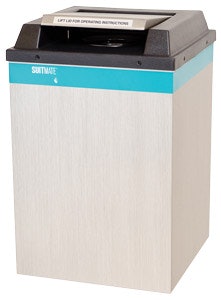 Extractor Corp./SUITMATE
Built upon the pillars of quality, integrity and customer service, Extractor Corp. offers a solution that efficiently removes 95 percent of water from a wet swimsuit in just eight seconds. The SUITMATE® Swimsuit Water Extractor serves as the gold standard in convenience for high-end spas, luxury hotels and health clubs, and offers fitness clubs, swim clubs, educational facilities and public pools a way to keep facilities cleaner, drier and safer.
www.suitmate.com
(800) 553-3353
---
RELATED: Find more solutions for your facility in the Buyers Guide
---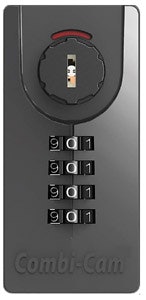 FJM Security Products
FJM Security introduced its newest addition to the Combi-Cam line: The Combi-Cam Max Locker Lock. Featuring a management override key with code discovery and dials that can be scrambled with the lock open and subsequently relocked, the Combi-Cam Max's mechanical one-time use or individual mode is perfect for any application, while the flush mount with a ratcheting knob makes it resilient to attacks. The Combi-Cam Max is available with accessories to fit materials ranging from 1/16 to 7/8 of an inch thick.
www.fjmsecurity.com
(800) 654-1786
---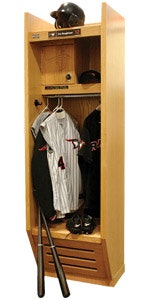 List Industries
List Industries' Superior® Recruiter™ wood sport lockers offer a variety of options for high-quality locker rooms tailored to the client's specific requirements. A security box door can be fitted with a variety of locks and engraved with the team logo. The Recruiter™ features a chrome-plated coat rod, hang hooks and a ventilated footlocker with a flip-up seat. Lockers are constructed of furniture-grade red oak and finished with three coats of catalyzed lacquer for durability. Designs are fully customizable.
www.listindustries.com
(800) 776-1342
---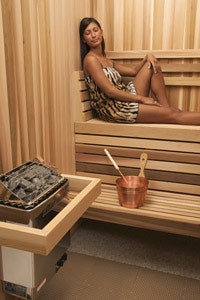 Finlandia Harvia Sauna
A manufacturer of authentic saunas since 1964, Finlandia products feature custom craftsmanship and unmatched quality. Products are available in a wide range of affordable precut sauna packages, custom sauna packages and modular sauna rooms that can be included in any residential or commercial remodel or new construction project. Every sauna still uses true 1-by-4-inch paneling, available in a selection of four all-clear western softwoods. Finlandia also offers superior electric heaters imported from Harvia in Finland.
www.finlandiasauna.com
(800) 354-3342
---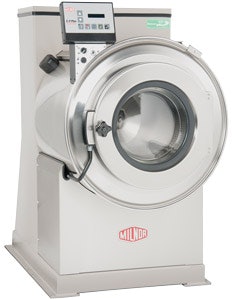 Pellerin Milnor Corp.
With Milnor's 30022VRJ rigid-mount washer-extractor, teams can focus less on uniforms and more on the big game. Standard features include a continuously welded frame, a NEMA Premium® efficient inverter-driven motor, and safe chemical injections that ensure extra durability. The highly programmable yet easy-to-use E-P Plus® control can hold 30 wash formulas, including 10 that are preprogrammed, offering advanced flexibility for the operator. The RinSave® water saver feature eliminates two rinses per load and reduces fill/rinse time for savings all around.
www.milnor.com
(504) 712-7656
---
These products originally appeared in the July | August 2019 issue of Athletic Business, a free magazine for professionals in the athletic, fitness and recreation industry. Click here to subscribe.