Let's start by crunching some numbers. Each of the 115 lockers debuting this fall in Vanderbilt University's football locker room is the embodiment of 16 patents, with an additional three patents pending. Two years of development spawned a dozen prototypes and a final product that stands a sturdy 10 feet tall, 3 feet wide and 42 inches deep, with sufficient space and ample circuitry to mechanically recline a 6-foot-10 player and lower a roll-up door using push-button controls — turning each locker into a sleep pod for midday power naps, even as the locker neatly stores and dries the player's gear.
Architects have long thought of team locker rooms as an athlete's home away from home. Within the past 10 years, that cozy notion has honed in on the individual locker itself. Today's team lockers are places for athletes to not only organize their issued equipment and secure their personal belongings, but to receive scheduling information, catch up on their studies and even supplement their sleep. It's to the point end-user organizations are sizing locker rooms to accommodate the desired locker design — not the other way around.
"It has changed drastically," says James Weiss, vice president of sales at Longhorn Lockers/AIM Lockers, the company behind the Vanderbilt project. "They want the locker room to be the central focal point of everything that goes on in that building, because it's a recruiting piece. But more than just a recruiting piece, it has to be functional. We're seeing a change from, 'Let's design a building and fit lockers in' to 'Let's design the lockers and make sure the building fits what we want.' "

There are some universal desires that transcend sport type and competition level. "You have to give them an area to lock up their personal belongings, whether it's a security lockbox on the top or a foot locker that has some type of locking mechanism on it," says Steve Troyano, a product manager at locker manufacturer List Industries, adding, "That's more important at the high school level, because there is a lot of vandalism at the high school level. But at colleges and universities, the rooms are so secure."
Intuitive organization is key. Travis Hollman, president and CEO of Hollman Inc., has come to the realization that building lockers that amount to an open box with a place to sit doesn't provide the optimum solution within team locker rooms. "We'd go back a year later and the whole room was just a mess. Stuff was everywhere," Hollman says. "So, we made a concerted effort about four years ago to really start planning where everything goes. You have to use the space exactly as we intended you to use the space."
Ventilation is another must-have in most applications, with rapid drying of equipment serving the dual purpose of mitigating mildew and eliminating odor. This is best accomplished by forcing air into the locker room and returning it to the HVAC system through the back of each individual locker in strategic locations. "Venting is just understanding the equipment per sport, and when building these locker compartments, you have to know what you want to dry." Hollman says. "We do a steel plenum that attaches to the back of the locker, and you can pull in from any spot. We'll have holes in the bottom of the locker if we're just doing basketball shoes, and that's the only place the air in that locker is going to get out of the building. Let's say we're doing it for football — the foot locker, the shoulder pads and everything else — the bigger the area we're trying to dry, the more air ventilation we need in the room."
"If you do it right, you should walk in and there should be zero smell in the locker room," Hollman adds. "Nothing. Not even a little bit."
Ventilation is just one example of where locker design can vary by sport. Lockers may reflect the physicality of their occupants, with football lockers typically wider and basketball lockers taller than most, as well as their users' philosophy of function. Lacrosse and tennis players may require lockable locations for their most prized possessions — their sticks and racquets. Baseball players tend to linger in their locker spaces and thus desire USB ports and other plug-ins; soccer players not so much. Hockey players may favor two lockers side-by-side — one for their wet equipment, another for their dry clothes — with gear-heavy goalies often necessitating more cubic footage of locker space than their teammates.
Here's a look at how different sports' athletes are best served through innovative locker design.

Football
Football lockers often get the lion's share of attention because of the equipment-intensive nature of the sport and the number of athletes on any given team.
"With football, we're seeing a lot more gear — elbow pads, knee braces, gloves, on top of all your thigh boards, shoulder pads, rib protection. There's so many different items that need to be dried out," says Gary Schlatholt, national accounts manager at Wenger Corporation's GearBoss Athletics. "With football, more than any other sport, there's compartmentalizing, where you're not just stacking your knee pads on top of your gloves on top of your shorts that you wore. That promotes the moisture and bacterial build-up. So, trying to compartmentalize and keeping that stuff in an airflow is probably more important in football than most sports."
Innovation abounds. "We have developed a V-shaped-style pad holder that allows air flow to come underneath and on top and be pulled out of the back of the locker," Schlatholt says. "That keeps shoulder pads in constant airflow, because the shoulder pads are not sitting directly on top of the surface. They're suspended."
"We have a shoulder pad holder that we can put other pads in," says Hollman. "It's made out of metal and has perforation throughout, and you can drop in your knee braces and elbow pads and other things. For football, we're drawing air through that shoulder pad storage, and the rest of it is cleats, which is going through the bottom of the locker and their shoe drawer."
A less expensive — and more common — solution involves mounting shoulder pads and helmets to the top of the locker. Says Schlatholt, "If you don't have a ventilation system and you want them outside the locker, they're suspended above the locker — there's a spot for the helmet — and we utilize that for football probably 80 percent of the time."
Just as football players on the same team vary in size, so does their equipment. "When we're designing a helmet space, a lot of the D-I football programs want a spotlight shining on the game-day helmet, so we have to make sure we're incorporating all the different-size helmets," Schlatholt says. "The helmets vary quite a bit, with the different face masks. Same with shoulder pads. You look at a skill player, like a quarterback or receiver, their shoulder pads are tiny compared to a defensive tackle's shoulder pads."
Schlatholt adds that instead of customizing each compartment based on whose equipment will be stored in each locker, it's "way more cost-effective" for the client organization if every locker is designed to accommodate the largest possible unit of each different piece of equipment.
In certain cases, precise compartmentalization is preferred. "For football, we always have a place for a playbook or an iPad." Hollman says. "We had one football job, we had a place where their playbook was going, and it had a little too much room in it. We started measuring, and they could actually fit a shoe in there if they wanted — one shoe. So, we took it down by a half-inch and now they can't get a shoe in there anymore. We're down to the inch on everything."

---
RELATED: PRODUCT SPOTLIGHT 2021: Locker Room & Laundry Components
---
Basketball
By comparison, basketball lockers can appear fairly basic.
"A basketball locker isn't going to need a helmet rack. It isn't going to need a place to put the shoulder pads," says Jeff Anderson, sales manager at FOREMAN Locker Systems, adding, "Basketball player jerseys tend to be longer, so you want more of a hanging area. You also want potentially more head area so when the athlete sits down, if they lean back into the locker, you want to make sure they're not slamming their head into the upper compartment."
Basketball's smaller roster sizes allow for seating options. "We have a design for a basketball locker that actually has a space behind our bench seat to allow folding chairs," Schlatholt says. "A lot of basketball teams will like to sit outside of their lockers, so we have a spot that fits a folding padded chair that tucks into the locker. In basketball, we see it more than anywhere else — players want to be circled and facing their coach when the coach is talking. And they're smaller teams, obviously, so you're looking at a little more intimate setting. If you had 120 football players with chairs all over the locker room, it would clutter it up."
Ventilation inside the basketball locker is much more focused. "In basketball, most of our drying capacity is in the shoe area, and then we try to get certain cfm [cubic feet per minute] on the whole thing, so we calculate with air handlers how much air is traveling over their shoes and drying times," Hollman says. "In most instances we're trying to get a full dry time of anything in about four hours. And if we can't get it, then we can add fans."

---
RELATED: Find more solutions for your facility in the Buyers Guide
---
Ice hockey
Ice hockey combines large, heavily equipped rosters with a moisture-rich competition medium.
"Ice hockey's a little bit different," Anderson says. "Ice hockey you want more ventilation because the supplies for the players tend to be wet, and after the ice has melted and they're damp, they need to be dried off so they don't get full of mildew."
"Hockey has the most pads, so hockey has the most area that we need to dry," Hollman adds. "But the pads aren't that big in hockey, and we've got ways to hang the pads. We built a drying box, and the pads all go in there and they hang on certain things, and you close that box up and everything vents through that box."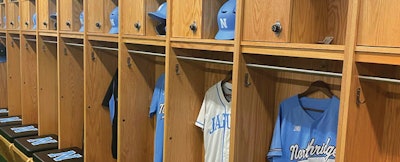 Baseball
One needs only to watch a single at-bat in Major League Baseball to get a feel for how fastidious the game's players can be. Add to that superstition surrounding lucky bats and batting gloves, and the baseball locker becomes an important organizing tool.
"One of the best jobs we ever did for organization was the Texas Rangers," Hollman says. "All their batting gloves, where their batting gloves go, it's all compartmentalized. There are places that they put their hats and their gloves, and we've got places where the bats go. They have the arm pads and shin pads for batting, and there's a spot where those go. It won't hold shoes. It's too narrow. You can't put shoes in there. It will only hold what it's supposed to hold."
This approach is also pleasing to support staff. Says Hollman, "Their travel bag goes in a certain spot, so when they go to travel, the equipment manager opens it up, takes the bag out and fills the bag. As they fill the bag, they know exactly where everything is, because everything's built the same. They know where this stuff's going back, and they know where to find the stuff. If you make it an open space, they may fill the space, but they just throw everything in the bottom and then you have to go find it."
Even the most avid baseball fan might not know that MLB teams don't machine dry their players' pants. "They wash them and then drip dry them in the lockers," Hollman says, "so there has to be something to catch that water and it has to be in a place that gets airflow."


Tennis, Lacrosse
Just as baseball players might be protective of their favorite bats, tennis and lacrosse athletes may prefer the option of putting their equipment behind closed, locked doors.
"We have our standard lockable 12-by-12 box that fits your smaller valuables. They'll have cellphone chargers built into there, so you can charge your cellphone while it's locked up," Schlatholt says. "But then for tennis, we put in lockable doors. If you want to put your tennis bag up in the attic, the door will come down and also lock. We see that in tennis more than anywhere else."
"The tennis locker we do has a longer, skinnier area for the tennis racquets," Anderson adds. "Okay, cool. If that's what you need."
Same goes for lacrosse sticks. "We actually built a locker for lacrosse sticks that had individual holes built into the seat so they could fit three sticks right next to where they're sitting, with a PVC tube that extended down into the locker."

A final number that needs crunching, of course, is cost — and opulence comes at a price. Lockers of a caliber rivaling the Vanderbilt unit can reach five figures and beyond.
"It's been trending like this over the past 10 years," Schlatholt says. "Ten years ago, if I were to do a custom Division I football locker room and the budget was $100,000, that was pretty good. Now, it's in the millions at some of these schools."
Troyano likens some of today's locker designs to the modern first-class overseas air travel experience, but points out that lighter touches can go a long way, too. "To take it to another level, lockers are starting to have an electrical feel to them, where a coach can walk into a room, flip a switch and it illuminates the lockers with LED lighting — whether it's lighting up the body of the locker, the nameplate area or the toe kick at the bottom of the locker. When they open up the lockbox, there's an on-off switch inside that illuminates the lockbox," he says. "Architects are definitely starting to bring an electrical touch to the lockers, which obviously brings more planning and more project management into each job. But the touch of being able to light up the top of the locker where it shines on some type of Fathead graphic or something on the wall or on the soffit above the locker, it's a great touch, a great recruiting tool.
"Obviously, a coach wants to put his fingerprints on a new redesign of a locker room, so anytime they can get a little bling-bling, and be able to walk a recruit in there and really show him what they have compared to someone else in their division, it's a big thing for coaches."
Not lost in today's most tricked-out, hyper-organized team locker is its occupant and everyday end-user — the athlete.
"When you go to Clemson and you play basketball and you're on scholarship, you have one thing, and that's your locker," Hollman says. "You share a shower and weight rooms with everybody else, but you have your locker. How do we make that such an incredible space that you want to be there? It has to do with making sure it's clean and organized. Making sure it's comfortable. Making sure it's safe with materials, so that you're not going to get sick in there. Making sure it has all of your plug-ins and everything else. Making sure you have the information on how you live your day, what your schedule is and what you need to do next, at that locker. You should be able to come to that locker as the spot to get all your information, relax and get ready for your day, as we build the best athlete we can build."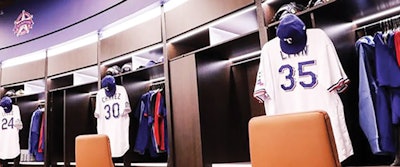 A look inside the team locker of tomorrow
"A locker is your personal space inside somebody else's business." That's how Hollman Inc. president and CEO Travis Hollman sees the present, while eyeing the future. "Just building a locker in which everything is around you is going to be the new concept."
Monitors capable of communicating information to athletes have been a team locker upgrade for years, but Hollman is exploring a scenario in which Google Glass swings into position, allowing athletes to receive messages in their lockers while still able to view the locker room through the medium.
"We're working on one now where it has Google Glass that comes in so you can actually image stuff up to a piece of glass and people can see you inside the locker," he says. "You can get delivered material to each locker. You can get workout schedules. It can say, 'Go see the doctor,' 'Check in with the coach' — everything you need to do and what's needed of you that day. I think that's where it's going to go. The locker is going to become an area where you get all of your information. It's going to be a place where you can relax and hang out and have your own private space, and it's going to be a place where everything that you need is around you in a functional manner, from charging stations to drink holders."
On the private relaxation front, another amenity in development at Hollman is an audio system that allows an athlete to lean back into the locker, listen to music without disrupting the locker room at large and still be able to hear a coach addressing him or her from outside the locker.
"We're working on one of the big audio-visual things so you can actually turn on music in your locker as you're laying back and only you can hear the music and people outside the locker cannot hear it, but you can still hear people talking to you in the locker. We have an open area where the coach can talk to you and you can still hear that, but your music is being deadened in the back and not projecting into the room. We're working on all these things to enhance your experience in your locker."
---
This article originally appeared in the July|August 2021 issue of Athletic Business with the title "How to select a team Locker system by sport." Athletic Business is a free magazine for professionals in the athletic, fitness and recreation industry. Click here to subscribe.