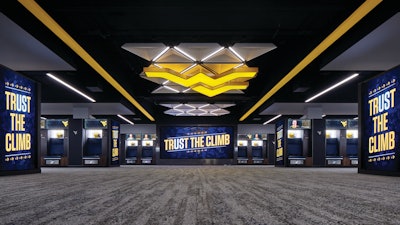 [Photos courtesy of S/L/A/M Collaborative]
Athletic Business has extensively chronicled locker rooms over decades of evolution from their dark cave origins. Today, designers are looking for ways to make the locker room not just a place where players congregate before and after games, but rather luxurious multi-use hubs where athletes study, eat, watch film, play video games, get a haircut, relax, rehab and perhaps even record a podcast.
RELATED: Product Spotlight: Locker Room & Laundry Components
Here's a look at how and why schools are aiming to make the locker room a home away from home for players and not just a pitstop between games and practices.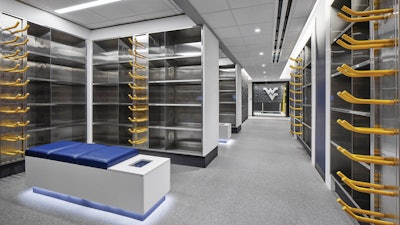 Not a place for stinky gear
When West Virginia University began thinking about upgrading its football operations center, the team wasn't interested in moving the facility away from Milan Puskar Stadium, where the Mountaineers practice and play games. The team liked the existing adjacency to the stadium and as such had to envision a renovation that would share some spaces with fans on game day. What organically emerged from that choice was a splashy Hall of Traditions entry point in the end zone — replete with bold branding, memorabilia and a large video board.
"That's the entry space on game day for fans to head down the hall toward their club indoor suite," says Marc Clear, project lead for S/L/A/M Collaborative, which spearheaded the facility design. "Whereas the student-athlete, or the recruit on the recruiting path, they head down the stairs where there's another video board, and you start to get darker finishes. You start to reference the coal mining, kind of grotto aspect of it — not too literally but with the mood and darker materials. You get down into really the team space, and that then culminates with the locker room."
As the design team began to realize that all roads lead to the locker room — on both game and practice days — they put an emphasis on ensuring a pristine place free of dirty equipment and offensive odors. To that end, designers worked with head coach Neal Brown to develop a mudroom concept that players enter directly from the field. It's a steel-and-white room with branding and bright lighting, and it's the starting point for the player's journey to the comforts of the locker room.
"You basically have a helmet rack, a pad rack, and then shoe dryers, and they're all hung on dryer nozzles," explains Clear. "That's a ventilated area. Tape can come off here and be disposed of, you can rinse yourself off, and then you go through the cold plunge. And that's the key. They want to make sure everybody goes through that cold plunge and gets their core temperature down. That way, you're doing what you need to do for recovery, and you're clean."
The optimized route to the locker room means only clean (and hopefully dry) players make it to the carpeted locker area.
"Only at that point — after you've gone through this whole process — are you into the locker room," says Clear. "And with no dirty gear in there, you really rethink the locker room a little bit. This is the way locker rooms have been going, anyway. It's not about your stinky gear. It's really about a place that can be your own. In fact, it's really the only place in the whole facility where each player has their own spot."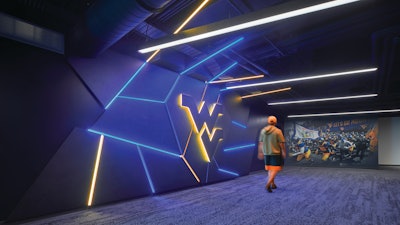 An immersive experience
While streamlining athlete recovery and rehab was part of the challenge for designers, the locker room itself was imagined as the last stop on the recruiting tour and capable of delivering a lasting impression. To meet this challenge, video boards, sound and lighting are stitched along the recruiting path, culminating in an immersive experience at the locker room.
"We ended up with five different screens in there," says Clear, "and there's a good audio component that syncs up with those. It took it to the next level, and we ran some additional LED lighting — linear along the lockers — and that all ties into an AV controller that can sync that up."
Given its subterranean siting, the space has limited ceiling height, which led designers to put an emphasis on lighting as a means to make the locker room feel as roomy as possible. "We intentionally kind of blacked out the ceiling, which gives the illusion of a taller space down there, even though it's not all that tall," Clear says. "Lighting is so important in that space for that reason. By having all the lights and video and audio sync up, it becomes pretty immersive."
The audio-visual component allows for flexible branding that can be changed to ensure a recruit can literally envision themselves as part of the team.
"There aren't really any other graphics in the locker room," says Clear. "It really lets them get to show whatever graphics they're going to generate for recruits so they can show them in the WV uniform, show them in that space and totally immerse them in the audio of it, as well."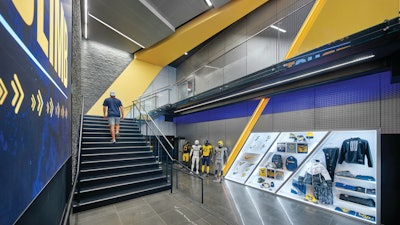 Amenities galore
As part of the renovation, the width of the lockers was increased from 36 inches to 42 inches. Wireless cellphone chargers were added, as were stainless-steel shoe and glove display drawers. Each locker also has a lockable compartment with an internal charging port, and a stainless-steel helmet shelf with a backlit etched acrylic logo panel. Backlit nameplates that include the player's photo, position and hometown adorn the top of each locker.
"Those lockers are a little different, they're a little bigger, and they have zero-gravity chairs in them," says Clear. "The chair will be more comfortable and can fully recline. And then we actually put an air nozzle in there — think of like in an airplane seat where you can adjust airflow on you and have a little more control over your environment. It's letting them kind of have the best space they can have and hang out in."
But the bells and whistles don't stop at the futuristic lockers. In an effort to ensure players have everything they need for their social media and NIL endeavors, the Mountaineers included a recording studio in the locker room. Clear admits the studio is a showpiece, but it's actually functional and used to record player podcasts and postgame interviews with media outlets.
Meanwhile, the locker room also features a plush lounge for "when recruits come in and just need a place to hang out while waiting on coaches with their siblings or family. It's got a spot for food, it's got table games, Pop-a-Shot basketball," says Clear. "That's been really successful."

While locker rooms have indeed become flashy showcases for recruits — recording studios and barber shops will definitely gain an 18-year-old's fickle attention — these spaces are still all about taking care of the athlete. As new rules bring money into the college game, and young athletes struggle with the demands on their time, Clear says schools understand that these spaces serve a core purpose.
"No matter what happens within NIL and money and everything, the focus on wellbeing and recovery is a trend that isn't going away," he says. "A lot of these features look good, and they can be recruiting pieces, too, but they're really all about helping these athletes perform on and off the field."