No question, the sport of tennis has evolved. Players — like the colors they wear — are louder, bolder and more attention-grabbing than their predecessors. And the courts they play on have dragged the sport (some laughingly say kicking and screaming) into the 21st century. Courts have evolved since the days of green grass facilities and white chalk lines. Not that those don't still exist, but they're the exception, rather than the rule — particularly when it comes to recreational installations.
With so many changes in the sport and advances in design, the decision-making process has gotten more complex. Court owners now have myriad criteria — from color selections to alternative uses — to consider when installing new courts or evaluating the effectiveness of existing ones.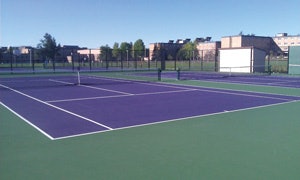 IN LIVING COLOR
A court can simply whisper, "I'm right here," or it can shout, "Look at me!" And that starts with something as simple as the right color scheme.
Hard courts, particularly those at the municipal level, used to be one color — dark green — a mirror of their lawn counterparts at Wimbledon. Gradually, that was replaced by a two-color scheme: a dark green primary playing area (the space within the lines), contrasting with light green, a dark red or perhaps even a beige shade outside the lines. But it wasn't until World Team Tennis came along in the early 1970s that the tennis-playing (and tennis-watching) public started thinking outside that box.
WTT's introduction of the multicolored court (each block of the court being a different and bright color) caused a paradigm shift in the sport. Suddenly, backyard court owners were requesting that their facilities be coated in their favorite shades. High schools and colleges were asking about having courts coated in their school colors. The blue/green courts of the U.S. Open gained a huge following almost immediately, and remain popular today.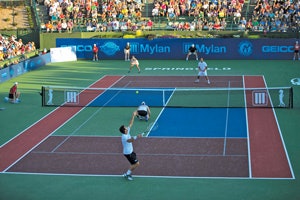 With expanded options in surfacing colors (and with court builders and coating manufacturers happy to oblige a customer with a potentially high-visibility facility), aesthetic aspects of the hard court are becoming ever more varied. In general, tennis court contractors say that a two-color scheme for any court makes the court seem smaller, does a better job of delineating the playing area and makes it easier to call shots in or out.
A few things aren't open to negotiation. The standard 60-by-120-foot court dimensions haven't changed. The rules of tennis state that regulation playing lines all must be "of the same color clearly contrasting with the color of the surface," and that they must be of certain widths and lengths.
For sanctioned matches on 78-foot, 10 and Under (10U) Tennis format courts (when painted on an existing 60-by-120-foot court), the lines should be a color different than the regular lines (preferably in a color family close to that of the surface), and their placement (in relation to the regulation lines) is specified, as well. For example, a dark green court might have white lines for regulation play, but for 10U play, lines would be marked in a light green. (For information on 10U Tennis, visit the USTA's website and search "Youth Tennis.")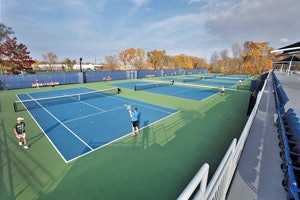 MARKING FOR MULTIUSE
At this time, courts used for sanctioned tennis competition may be marked only for tennis, meaning regular lines and the regulation 10U markings. That hasn't stopped private and recreational facilities, as well as some clubs and others, from creating multiple-use courts.
To use another sport's metaphor, this can be a sticky wicket. Not all courts have the same measurements, and tennis nets and posts can present a hazard to players of other sports. With that in mind, here are a few sports currently being played on tennis courts:
Pickleball: One of the up-and-comers in the sports world, pickleball is often played on tennis courts if they are not in active use. Courts can be marked temporarily for the game, or they may be marked permanently. Keep in mind that a pickleball net is slightly lower (36 inches at the posts and 34 inches at center) than a tennis net (42 inches at the posts and 34 inches at center). More often, pickleball is played on either side of the tennis net using pop-up nets supplied by the USA Pickleball Association. One half of a tennis court can accommodate two side-by-side pickleball courts measuring 20 feet wide by 44 feet long.
Basketball: Many private and sometimes even public tennis court installations feature basketball hoops beyond opposite baselines, with the ability to accommodate half-court games on either side of the net (though the net can pose player-safety concerns). Hard courts can be constructed with removable tennis net posts sunk into sleeves, with the sleeves capped when the posts are removed. However, keep in mind that staging full-court basketball (with dimensions of 50 by 94 feet and permanent goals) is prohibitive, since the goals would encroach into the tennis playing area. Portable goals may be used if off-court storage is not an issue.
Inline Hockey: While the International Hockey Federation specifies a space of 190.3 by 98.4 feet, it's rare that this amount of real estate can be found. As a result, other areas such as parking lots, tennis courts and gyms are used. In North America, many rinks are 185 by 85 feet — still larger than a tennis court (even without the net posts).
Outside of the fact that sanctioned matches can't be held on a tennis court with non-tennis lines on it, tennis court builders and managers prefer that inline skaters and basketball players, in particular, have their own competition areas, since sticks, skates and basketball shoes will mark the tennis surface coating. Moreover, the safety of each sport's participants is best served in facilities designed specifically for each respective activity.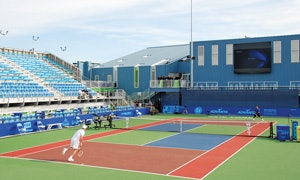 ON THE SURFACE
Tennis courts are generally classified as soft (clay, fast-dry, grass and infilled synthetic turf) or hard (asphalt or concrete surfaced with acrylic coatings, sheet goods or modular surfaces). Each is popular with players and owners/managers for various reasons, including quality of play, ease of upkeep, budgetary considerations and weather-resistance.
Tennis court builders are often asked about the "perfect" surface, or at least the "right" surface for the desired use. Unfortunately, there isn't a definitive answer. The right surface will depend upon a number of factors: player preference, upkeep abilities, court location, environmental factors and cost.
Hard courts have the advantage in the maintenance department. They dry quickly after a rain, and if kept clean, can provide a good game with what is generally considered a fast pace.
However, asphalt will crack over time, particularly in an area that is subject to freeze/thaw, and many consider these surfaces harder on players' joints. Concrete courts (particularly post-tensioned concrete) are less prone to cracking. Modular surfaces (snap-together synthetic tile) can be used over hard courts to cover cracked or damaged areas.
Soft courts are easier on the back and legs and provide lower, slower bounce on the ball, which lends itself to a strategy game. The disadvantage? They need regular maintenance (watering, brooming and, in rarer cases, mowing) and in many areas, have to be closed during winter months. A qualified court contractor is the best source of advice for addressing the needs of a court owner (and when necessary, the playing population of an area) and matching the end-user with the right type of facility.
No matter what type of surface you have, you will need to invest some time to keep it looking good. You'll also have to do it on a regular basis.
For hard courts, take a walk through the facility on a daily basis. Remove debris (leaves, sticks, pine needles, etc.) before they have a chance to stain the surface. If, after a rain, you see that low areas tend to fill with water and remain that way for an unduly long time, talk to a tennis court builder about having them leveled. Be sure to mention any cracks, marks on the surface and other irregularities. A small problem often can be repaired inexpensively and quickly, but once it has been allowed to worsen, it may require more involved work to fix.
The granular surfaces of soft courts require regular maintenance — dragging the surface and sweeping the lines after each match, regular watering and other services. Keep an eye on surface conditions, particularly near the baseline, which receives more wear than the rest of the court. Remember that some areas will become slippery and may require additional surface material, which then needs to be compacted. Grass courts also tend to become worn at the baseline where most play occurs.
Putting your court in order for the playing season might take something as simple as a quick sprucing up — or you might be in the market for a new color, new LED lights and some updated furnishings. Fortunately, today's tennis court manager — unlike those in the days of green grass and white playing clothes — has lots of options.
---
Mary Helen Sprecher is technical writer for the American Sports Builders Association in Ellicott City, Md.
This article originally appeared in the July 2014 issue of Athletic Business under the headline, "Courts of Appeal."