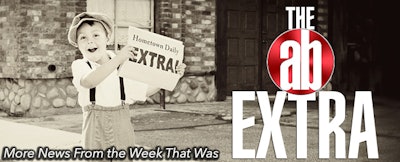 Our weekly recap of news and notes from around the athletic, fitness and recreation industries. This week features news on a selfie-stick ban at Wimbledon, a stationary bike that will let you wash your clothes as your ride, and an 89 year-old Kansas University alumni and former football player who scored a touchdown in their spring football game.
Wimbledon Latest to Ban Selfie Sticks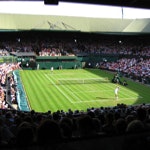 If you'll be attending Wimbledon, leave your selfie stick at home. The All England Lawn Tennis Club (AELTC) banned spectators from bringing the phone accessories into the tennis tournament due to their "nuisance value" and the probability that they would obstruct the view of other spectators.
Wimbledon is one of many venues that have banned spectators and fans from bringing selfie sticks into events, not only because they're distracting, but they can also be dangerous if users or those around them aren't paying attention.
"It is in common with everyone else," an AELTC spokesman said of the ban. "It is partly the nuisance value but primarily so it doesn't interfere with spectators' enjoyment. There is the possibility that if you are wandering around with one of these things in a fairly tight environment, you might poke someone's eye out."
Wimbledon joins the likes of the Kentucky Derby, Coachella, the Palace of Versailles, and the Colosseum in Rome in banning selfie sticks.
---
Only Players and Coaches Allowed on City's New Artificial Turf Field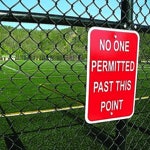 A West Virginia town's rec department wants fans to stay off of its new artificial turf field in order to limit the wear and tear of the turf.
Tom Betchel has been the city recreation director in Wheeling for the past 40 years and notes that it is particularly fans with food or drink that they want to keep off the surface of the $3.3 million facility, especially those drinking sugary substances.
He says that when those sugary drinks like Gatorade or soda get spilled on the turf, it causes the turf to deteriorate more quickly and it is difficult to clean up spilled drinks because it is not easy to see them. Betchel says that there is a very small cleanup staff, so the department wants to protect the field as much as possible.
Additionally, officials want to separate fans from the action so no one risks getting injured by play happening on the field.
According to Bethel, "Our intentions are that we're going to put bleachers in there in the future, and that will separate the fans from the playing surface."
---
Remote Control Race Tracks in Parks?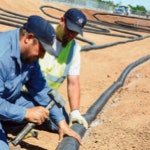 Residents of Las Cruces, New Mexico will soon have access to a remote control off-road race track, a remote control airfield, and an archery range thanks to a $150,000 project by the city.
Initial opinions of the new additions have overall been positive. Roberta Avery, a 16-year-old Las Cruces, is looking forward to having an area to race her remote control car instead of city streets and parking lots. "I like the way they've laid it out. It'll be nice to have our own dedicated place to race."
Resident Jon Newton added that remote control racing is very popular and that the facility is much-needed in Las Cruces.
According to city parks and recreation director Mark Johnston, the remote control race track will have bleachers as well as a charging station so users can charge their remote control vehicles. There will also be remote control vehicles at the facility that will be available to be borrowed.
---
New Bike Washing Machine Lets You Work Out While You Wash

Students in China have designed a bike washing machine that washes your clothes while you pedal. The combination between a stationary bike and a washing machine aims to "bring health and convenience" to lives.
The students provided an explanation of how the bikes works, saying, "When you ride this bike, the pedaling motion causes the drum of the washing machine to rotate; at the same time, superfluous electricity is generated which can be used to power the display screen or [be] stored for future use."
Due to the size of the washing machine on the bike, it would probably take you awhile to do several loads of laundry and the product unfortunately isn't on the market yet.
Stick to spin classes for right now, but soon you may be spinning your way to clean clothes.
---
Students Want Nondiscrimination Policy to Apply to Field Rentals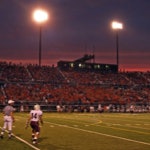 Students at an Iowa high school are calling upon district officials to reconsider how they rent their football field to a private high school after Dowling Catholic High School denied a full-time contract to a gay substitute teacher. Valley High School students want their school district's nondiscrimination policy changed so that it also applies to individuals or organizations that rent facilities from the district.
The nondiscrimination policy has protections for sexual orientation or gender identity, and if it was applied in this case, it would mean that Dowling Catholic would be unable to use Valley High School's football field, which is also Dowling Catholic's home football field.
Liam Jameson, an openly gay junior at Dowling Catholic, does not support the initiative, saying it would punish the students who use the field rather than the administrators. He also referenced Dowling Catholic's approval of One Human Family, a gay-straight alliance, and said that social progress is being made at the school albeit slow.
Valley High School junior Maggie Wildermuth empathized with Jameson, saying Valley High School students "are very sorry that Dowling possibly would not be able to use our facilities" if the policy is revised. "But until there's change, we feel that they should be held to that because of the beliefs of our school district."
---
89 Years Old and Still Scoring Touchdowns

The last time Bryan Sperry put on a uniform for Kansas University was almost 70 years ago, but last weekend, he had the opportunity to get back on the field at the Jayhawk's spring football game and ran the ball into the end zone for a touchdown.
"I had planned on trying to get in maybe, catch a pass. He threw me a few balls to see if I could catch a ball, and I could," said Sperry. "I hadn't figured on running, in fact I hadn't run in years. I just wanted to get in for a couple of plays and maybe catch a ball."
Sperry, a World War II veteran, attended Kansas University from 1946 to 1948 after spending several years overseas fighting in the war. The team finished 7-2-1 in 1946 and 1947, and went 8-1-2 during his final year in 1948.
After wrapping up his college football career, Sperry went on to coach high school football for many years and also taught math at Pittsburgh State.
Of his playing time in the spring football game, Sperry said, "That was fun. I didn't know if I could run."
Check out Sperry's run to the end zone.
---
Check out the news you might have missed from previous weeks in the AB Extra:
April 24
April 17
April 10