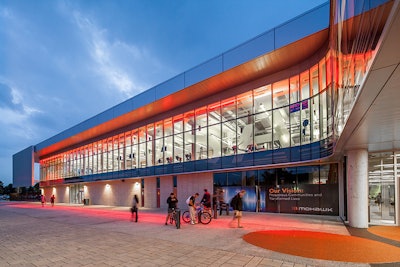 David Braley Athletic & Recreation Centre | Mohawk College | Hamilton, Ont.
From colored circles in the plaza paving to spot color on select wall panels and glass panes to the "Our Vision" statement at the building entrance, the Braley Center's environmental graphics weren't lost on our judges.
But style is backed by plenty of substance, including a three-court gym, a running track and a sports medicine clinic. Panelists were particularly impressed with the design's transparency, in the form of floor-to-ceiling glazing, as well as its compact efficiency, exemplified in the employment of a fitness bridge that connects the building to an adjacent student association building. Fritted with a graphic pattern and LED lighting, the bridge serves as a giant banner wall.
Said one judge, "Crisp interiors. Clean form. An honest contemporary building."
View the full photo gallery>>>
Judges' Comments:
This is a well-planned building with ample transparency for natural light to find its way into most major program spaces. The "fitness bridge" connection is a great idea!
— Jeff Piette
Fitness bridge is a great use of program area. Beautiful composition of forms and materials.
— Clarence Mamuyac
Clever use of branding with environmental graphics and lighting.
— Colleen McKenna

ARCHITECT OF RECORD
Perkins+Will | Toronto, Ont.

Cost: $23 million (Canadian)
Square Footage: 64,000
Funded By: Government funds
Major Facility Components: Three-court gym, meeting rooms and offices, café and lounge areas, sports medicine clinic, group fitness spaces, weight training and cardio areas, running track, fitness bridge
The 2014 Athletic Business® Facilities of Merit™ awards were selected by a panel of sports and recreation facility architects during two days of judging in Madison, Wis. The 10 winners are being announced during these two weeks, and profiles of all 10 will appear in the November issue ofAthletic Business. The awards will be presented to the facility owners and architects at the Athletic Business Conference & Expo in Orlando on Friday, Nov. 14.
More 2014 Facilities of Merit:
Auburn University Recreation and Wellness Center
Chinguacousy Sports Park Redevelopment
Cornell Community Centre & Library
Crisler Center Renovation & Addition -- University of Michigan