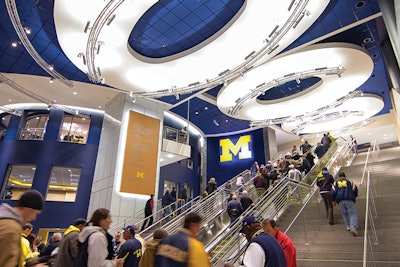 Crisler Center Renovation & Addition |
University of Michigan |
Ann Arbor, Mich.
Constructed in 1967, the University of Michigan's Crisler Arena debuted upgrades in 2013 that impressed judges with their transformative effect. The like-new arena now has wider, brighter concourses to facilitate fan movement, modern fan seating options and amenities and state-of-the-art infrastructure for optimal building function.
Relocation of restrooms, concessions areas and student seating, as well as installation of a dynamic new scoreboard, also helped bring the Michigan fan experience on par with today's major college competition venues. Visual upgrades include a new emphasis on branding, a brightly colored vomitory for the dedicated use of "Maize Rage" student ticket-holders and a circular glass entry atrium.
One judge commented on the "classic integration of the Wolverine brand," stating, "While intense, it seems just right."
View the full photo gallery>>>

Judges' Comments:
How do you hide an ugly arena from the '60s? By exquisitely wrapping the facility with new facilities. The graphics and color schemes are outstanding.
— Erik Kocher
Beautiful reuse of a storied campus arena. Has the feel of a completely new building.
— Jeff Piette
The new "front door" will clearly be a hit for student-athlete recruits and fans alike.
— Clarence Mamuyac
ARCHITECT OF RECORD
TMP Architecture | Bloomfield Hills, Mich.
Associate Architect
Sink Combs Dethlefs | Denver, Colo.

Cost: $56.1 million
Square Footage: 281,930
Funded By: Athletic department funds
Major Facility Components: Entry atrium, fixed and telescoping seating, loge boxes, scoreboard, private club, two team stores, ticketing sales areas, audio/video studio, roof deck and garden, hall of honor
---
More 2014 Facilities of Merit:
Auburn University Recreation and Wellness Center
Chinguacousy Sports Park Redevelopment
Cornell Community Centre & Library
The 2014 Athletic Business® Facilities of Merit™ awards were selected by a panel of sports and recreation facility architects during two days of judging in Madison, Wis. The 10 winners are being announced during these two weeks, and profiles of all 10 will appear in the November issue ofAthletic Business. The awards will be presented to the facility owners and architects at the Athletic Business Conference & Expo in Orlando on Friday, Nov. 14.