One can only imagine the emotional swing of a six-year-old — from the euphoria of tracking the arc of a baseball tossed in his direction by his favorite big-league player to the shock of looking down upon his bloodied father, who had just fallen 20 feet in an attempt to secure the souvenir. The image of the boy standing with one bare hand holding the railing that had failed to contain his dad, the other wearing the baseball glove purchased earlier that day, is as heartbreaking as any you're ever likely to see on a sports page.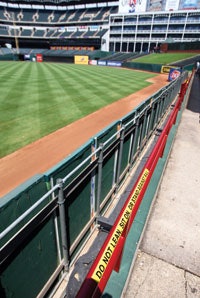 When Shannon Stone, a 39-year-old firefighter, died within an hour of toppling over a 34-inch-tall railing and out of the leftfield stands at Rangers Ballpark in Arlington, it marked the facility's first fan fatality, but the third fall of 20 feet or more in its 17-year history.
Did the July 7 father-and-son outing have to turn tragic? Speaking to the Baseball Writers' Association of America before the All-Star Game the following week, Major League Baseball commissioner Bud Selig stated, "It's almost beyond comprehension to believe something like that could happen."
Others would claim the event was all too predictable. Hollye Minter, the stadium's first fall victim (in 1994) reacted to the second victim's fall (Tyler Morris, last year) by telling AB, "Maybe this happened to me so they would raise the rails in Home Run Porch. Maybe this gentleman fell so that the Rangers will now really open their eyes and raise the rails everywhere else, because next time — and I hate to say this — somebody's going to die."
The Rangers posted warnings on railings after the Morris fall, but it wasn't until July 19 of this year that the team announced that railing heights in front of seating would be raised to 42 inches throughout the ballpark. Though too late to spare Stone, the renovation is rare, if not unprecedented, for its emphasis on fans' safety over their ability to view baseball unobstructed.
For those who would label it a knee-jerk reaction to an unfortunate accident, and further evidence of an encroaching nanny-state mentality in today's society, Jake Pauls offers, "They don't know what the hell they're talking about." Pauls, a Toronto-based consultant with 40 years of experience in public assembly safety, adds, "First of all, I wouldn't even call this an unfortunate accident. That's a misuse of the term 'accident,' because an accident means something that's unpredictable and unpreventable. This situation was totally predictable and totally preventable."
Pauls, who has served on numerous standards and codes committees, also takes issue with building codes that refer to stadium railings as "sightline-constrained guards," allowing for heights as low as 26 inches in front of seating. "I was always concerned that those railings were classified as a guardrail — to me, that is a misnomer," he says. "They are not guardrails, because they don't guard in the usual sense of preventing a person from toppling over to a lower surface."
As a certified professional ergonomist, Pauls contends that the 42-inch height now specified by the Rangers (and widely accepted as the standard in most non-sports public safety applications) will prevent 95 percent of males (who carry most of their weight above the waist) from toppling over a railing. "When the body is draped over the railing, it's essentially a matter of physics as to which part of the body, the upper part or lower part, has the greater amount of weight in it," he says. "It's a matter of the height of the railing relative to the body's center of gravity, and so the physics just basically takes over and gravity controls. It happens very fast, usually, and the person doesn't have an opportunity to grab for the railing, and it's really doubtful whether that would even help very much."
The 34-inch rail in question at Rangers Ballpark was "well below the center of gravity" for Stone, according to Pauls, who adds of viewing video footage of the fall, "It was exactly the way I pictured it happening."
Few industry observers can envision the International Building Code changing to reflect the Rangers' chosen railing height.
Greg Sweeney, director of technical design for Detroit-based architecture firm Rossetti, told AB following a pair of falls from upper levels at Busch Stadium in St. Louis in 2009 that perhaps code language could one day reflect a uniform 42-inch standard. (The 2012 IBC was released earlier this year, prior to the Stone incident, with the next update a full three years away.) Contacted after Stone's death, Sweeney said, "Code officials may take the view that the situation really doesn't show that the code is at fault, but that the behavior was different than what the code anticipated for that location. So whether or not they would even change the code is hard to know."
Decades ago, when the lifespan of a stadium was assumed to be 50 years or more, Pauls predicted that every sports venue would experience at least one fall. That Rangers Ballpark has experienced three in 17 years is somewhat alarming, but some would argue that the number is relatively low considering the millions of fans who trip the turnstiles every season. "Is any death acceptable?" asks Sweeney. "My answer is, 'No.' But I can't control somebody's behavior in the stands. Certainly, there were cases in which people were intoxicated. People have fallen due to fights in the stands. This, obviously, is a different encounter, but it doesn't show necessarily that it's a complete failure of the code system to protect the health, safety and welfare of the public."
HKS, the Dallas-based architecture firm involved in the design of Rangers Ballpark, as well as in the proposed railing renovation, did not immediately respond to AB's request for comment.
"You can't fix stupid" is another reaction that has crept into the stadium falls discussion, particularly after an episode that unfolded July 12 — a mere five days after Stone's fatal fall made national headlines — at the MLB Home Run Derby, where a fan stood on a countertop at Chase Field in Phoenix and fell over a railing 20 feet above concrete, only to be pulled to safety by others in his party.
But fan responsibility arguments only reach so far. They fail to catch situations such as the one involving Chris Hoffman, who fainted one sweltering evening in St. Louis two years ago and fell 12 feet from the front row of Busch Stadium's fourth deck. "No perceptual or motor ability or anything like that should have any bearing on whether that person can successfully be stopped by a railing," says Pauls. "And so the fainting situation is something that we always considered as a possibility. It could be a person jostled. It could be a person having a medical event. Whatever. The guardrail has to do its job regardless of how sentient the person is or what his or her IQ is."
From a legal standpoint, the key phrase is "duty of care." "The team has a duty to provide a safe environment for its fans," says attorney and regular AB contributor John Wolohan. "Even though the code allows them to use shorter rails, they still have to keep people safe. A good lawyer should make it look like the team was negligent and that this was an injury waiting to happen. As for the team's actions post-fall, nothing the team does is going to help it in the current case. Its actions could be seen as an acknowledgement that the ballpark was not a safe environment when the death happened." (It should be noted that no legal action has been taken against the Rangers. In fact, Stone's widow thanked the organization for its support in a prepared statement.)
Are there railings that can pull double-duty — allowing for both optimal protection and sightlines? According to Sweeney, barriers made of laminated glass are coming into vogue in sports venues, particularly in premium seating areas, and installation is easiest when uniform heights are specified. Those factors could facilitate their expanded use throughout ballparks and at 42-inch heights.
"Unfortunately, the huge boom of new stadiums is largely over, and so changing the building code requirement for new stadiums is like closing the barn door after the horse has escaped," commented one sports architect anonymously to AB's online coverage of the Rangers' renovation announcement, adding that baseball — with its fans leaping, leaning and scrambling for souvenirs — poses safety challenges unseen in other sports. "My suggestion would be to address baseball only, and make sure it applies to the existing facilities. Something like that will have to come from the league. There are too many jurisdictions to use the building codes to drive it."
For now, MLB maintains a hands-off approach to railing-height decision-making. "Due to the local laws and codes that are in place, it's done at the club level," says MLB vice president of public relations Pat Courtney. "We've encouraged the clubs to review their stadium operations and procedures over the second half of the season to continue to ensure fan safety. Obviously, an incident like this makes all teams reevaluate their own unique situations. Once the Rangers evaluated their situation, they did the right thing."
As of this writing, the Rangers were still in the design and engineering phases of renovation. It wasn't clear whether existing railings would be extended or replaced entirely, or when the project might be completed. "We would like to get the work started, if at all possible, during the season," says team spokesperson John Blake. "It's going to have to be done while the club's on the road. That's why we're not putting a timeline on it. The stadium's 17 years old now, so they want to check everything out carefully. We want to do it right, so we do expect it will take some time."
In the meantime, the Rangers must hope that additional warnings, posted on railings in the wake of Stone's death, will prove sufficient in preventing a fourth fall.