Few professional venues have enjoyed as smooth and quick a route to success as MetLife Stadium.
Starting life as New Meadowlands Stadium in April 2010, the facility had as its first trial run the Big City Classic lacrosse event, followed by summertime performances by Bon Jovi, the Eagles and U2, and a friendly between the United States and Brazil national men's soccer teams played on a temporary grass field in front of a near-sellout crowd of 77,223. The facility garnered sterling reviews during the Giants' and Jets' debut National Football League season in 2010-11 (capped by a 2011 Athletic Business Facility of Merit award), and will enter the 2012-13 season as the home of the defending Super Bowl champion Giants. Looking further ahead, the stadium will host Super Bowl XLVIII on Feb. 2, 2014. Absent a Cowboys Stadium-style seating snafu or a heavy snowfall (it will be the first Super Bowl held outdoors in a cold-weather city), the stadium is sure to provide a grand stage for its - count them - five sponsors.
In an era that has seen a huge expansion in sponsorship opportunities - it would no longer surprise anyone to see a stadium bearing the name of one corporate sponsor, the field a second sponsor and the home locker room a third - design architects EwingCole of Philadelphia and 360 Architecture of Kansas City went the other way. The stadium was designed so that, in addition to accommodating a naming sponsor, each of four "cornerstone sponsors" (initially, Bud Light, MetLife, Pepsi and Verizon) inhabit one quadrant of the facility. One measure of the concept's success is that after a year in which MetLife "kicked the tires" as a cornerstone sponsor and saw fantastic results, it last summer upped its annual commitment by approximately two and a half times, giving up its corner and, instead, taking on naming sponsorship of the entire building for the next 25 years. The MetLife deal represents an estimated $17 million to $18 million windfall per year to the Giants and Jets, as compared to a reported $7 million the teams net annually from each of the cornerstone sponsors.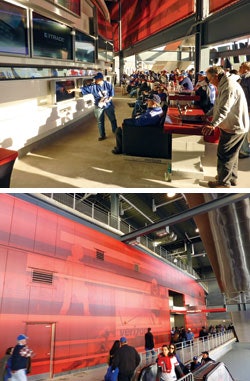 Verizon's corner is unmistakably Verizon's, from the parking lot through The Verizon Studio and up the escalators and into the seating bowl. (Photos courtesy of EwingCole)
With those kinds of sums involved, you can be forgiven a chuckle when hearing the words "less is more" used in regard to the stadium's sponsorship plan. However, that's how Craig Schmitt, a principal at EwingCole who served as project manager and lead architect, describes the approach - and he credits the Giants and Jets, through their joint stadium operator, MetLife Stadium Company LLC, with the original vision, helped along by early consultants on the $1.6 billion project.
"They were convinced that selling fewer sponsorships for more money would yield a better result," Schmitt says, "so they came up with the four corners plus the fifth overarching name sponsor. The design then morphed into a concept where we had vertical circulation - escalators and banks of elevators - embedded in each of the corners, with an entry plaza outside each. The idea was that the corner sponsor got complete brand immersion in the whole corner of the building, inside and out, and vertically all the way through."
Bill McCullough, another EwingCole principal, says that although the plan took shape during the schematic design phase, potential sponsors didn't warm to the idea until the actual building began to take shape. ("It's hard for people to sign on the dotted line looking at virtual reality," he says, especially given the state of the national economy at the time.) For that reason, the firm could hardly design spaces to meet specific sponsor needs. Instead, the firm designed the corners as shell space, which the sponsors could then build out at their own cost. "They had to work within the limits of the existing building," says McCullough. "We kind of defined what those parameters were for them."
Within those parameters, however, each sponsor was given plenty of latitude. MetLife, the largest life insurer in the United States and the first cornerstone sponsor, installed a giant clock face on its corner, mirroring the giant clock face on top of its Manhattan headquarters. The MetLife plaza served as a popular gathering place for kids wanting their pictures taken with costumed Peanuts Gang characters. The Bud Light Party Plaza and Beer Gardens come complete with a portable stage set up for live music held prior to and after games, and food and taps aplenty - party central. Pepsi's corner is video central; its large-screen video displays on the 100 Concourse level engage fans with team and league news and highlights. Most notably, The Verizon Studio is set up as the ultimate SportsCenter, featuring large flat-screen LCD monitors displaying live fiberoptic FiOS® and in-stadium feeds, and news tickers displaying stats, scores and more. Fans can demo the latest Verizon phones and services while watching the game down below on a massive four-screen matrix TV and, during breaks in the action, explore Verizon's video library and win prizes playing interactive games.
Each cornerstone sponsor also receives a Cornerstone Suite located on the mezzanine level. These clubs were also designed as shell space so that each sponsor could create its particular premium space with wet bar and lounge. In the seating bowl sits the requisite outdoor club seats, but also a large scoreboard in each corner carrying the sponsor's branding. On the upper level, each cornerstone sponsor is given yet one more shell space - a concessions stand, distinguishable from other nearby stands, which can be used for any purpose. "We purposely designed the concessions stands at the top of the escalators as shell space for the sponsors, and the sponsors could make that real estate into whatever they wanted," Schmitt says. "Verizon could make it a Verizon-branded concessions stand and sell food out of it, or if they didn't want to be associated with food and beverage, they could turn it into a kiosk for selling their phones or cell service."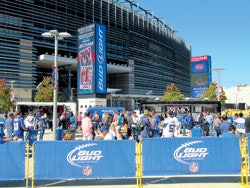 The Bud Light Party Plaza and Beer Gardens are often enlivened by live music held prior to and after games.
Fans entering at the Bud Light gate, therefore, could be nowhere else than the world of Bud Light. Dominant Bud Light signage greets them there, follows them through the concourse and up the escalators, past concessions stands featuring lots of (you guessed it) Bud Light, and stays with them even once they've reached their seats.
"It really offers significant value for a second-tier sponsor," Schmitt says. But the teams got value in return, he adds, because of the ability to promote this typically undesirable area of the seating bowl as premium space. "The corners of football stadiums are traditionally the hardest tickets to sell, and in fact, in football stadiums with smaller seating capacities, the corners are often left open for this reason. This is why converting an area that is typically dead into a major source of revenue was such a brilliant idea."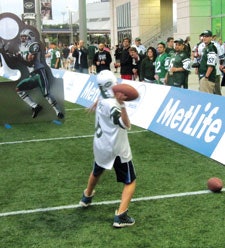 MetLife's new central position as naming sponsor will give the company 120,000 square feet of branded space at the stadium's main entrance.
Conventional sponsorship plans are based around a primary concept: There is a value associated with the number of times a sponsor's message is seen by an audience. Yet, no sponsorship plan takes this idea to its logical extreme. Limitations are placed on the number of messages either to protect a sponsor's interest (giving exclusivity to one sponsor per market category, typically) or to prevent sensory overload.
A glance in the direction of the outfield inside any Major League Baseball stadium will provide ample evidence that not all facility owners (or sponsors) approach these issues in the same way. But it would appear that the future predicted by sports marketing gurus a decade ago - in which every surface inside a spectator venue will be sold, including athletes' uniforms, until every facility resembles the body of a NASCAR vehicle - won't happen as prophesied. The reason is recognition among facility operators that sponsors nowadays have higher expectations than merely generating "impressions," as well as greater sophistication in the integration of sponsorship plans with facility design.
MetLife Stadium is resonating in the marketing world because its plan sets an upper limit on the number of sponsors, provides a natural separation of messages within the stadium architecture and puts the onus on sponsors to develop their own zones as they see fit, requiring less day-to-day management of sponsorship issues. It's an approach in which the sponsors lease "real estate" that is expensive because of its exclusivity - and, as tenants, can make alterations to the property only with the landlord's blessing.
It's also resonating in the sports architecture world, even though it remains unclear whether what is working in a large New York-area venue with two professional franchises to sell will translate to smaller pro or collegiate facilities.
"Most of the time, sponsorships were somewhat of an afterthought," says Schmitt. "Not completely - as stadium architects, we were always thinking about signage opportunities, scoreboard placement and so on, but we didn't typically design a whole area of a building thinking of the needs of one sponsor. I think that's changing."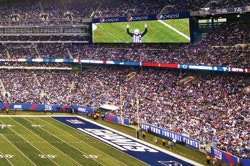 The stadium's sponsorship design concept means fans spend the most memorable part of their visit watching replays on videoboards branded by each of four sponsors.
Ron Turner, a principal in the Los Angeles office of Gensler, where he serves as director of sports and entertainment, lauds any plan that gets sponsors involved early on in the design process. "It's really great from our standpoint, because you don't want to do a building and have somebody slap a bunch of signs on it. That doesn't make sense architecturally, and I think it's been proven that if you do it that way, you don't get the maximum amount of value for the advertising, either," Turner says. "You have to strategically plan around how they're going to sell space to sponsors, so that they have a building that can deliver what they sold. You do it together - the sales philosophy and the design should start at the same time."
Wide concourses are de rigueur in new stadium construction, but designing with the sales philosophy in mind would lead an architect to plan for (among other things) the placement of kiosks and interactive areas, locations and sizes of elevators (in case an automobile sponsor's new model needs to be rolled out up on the 100 Concourse), and placement and type of electrical service. Sensitivity to color scheme - creating a palette that can accommodate different sponsors' messages - ought to be the simplest task, but sometimes isn't. In the case of MetLife Stadium, the decision to carry team colors primarily through the use of stadium-wide LED lighting suggested a very neutral color scheme, as did the fact that the two NFL tenants and their fan bases hate each other with a passion. "I heard somebody say the Jets were upset because three of the four corner sponsors have blue in their logo, which is just classic, because it's so indicative of the way the teams feel about each other," Schmitt says with a laugh. "When we set out to design the stadium, one of the rules was, nothing - I mean, nothing - in the building was going to be permanently red or blue or green or white."
One thing the corner concept (or any plan that isolates a limited number of sponsors) might help curtail is the tendency of many building owners to sell out every inch of their available inventory - and then get to work selling what was supposed to be unavailable space. "We'll go back to some of our buildings and find they've invented new signage positions that they've worked out on their own with a sponsor, and there'll be signs all over the place," McCullough says, admitting to some pangs when seeing signage that even some marketers might perceive as intrusive. Yet, he says, "Let's be careful with the word 'intrude.' That's subjective. These folks are trying to maximize their profit, so it behooves them to get more sponsorship and signage. If we can maintain control and keep things crisp and clean and true to the original design intent, that's what we like to do, and we feel the corner concept gives us an opportunity to better control the visual interlude into the built environment."
Turner, who is overseeing the design of Farmer's Field, one of the would-be developments jockeying to be the home of a would-be NFL franchise in Los Angeles, maintains that control doesn't necessarily mean less inventory to sell.
"I'm a believer in the signage and graphics package being able to bring a lot of heart and soul to a building if it's done appropriately," Turner says. "Every section sign in front of every vomitory, every restroom sign - every one of those environmental graphics pieces - can have a sponsorship aspect to it that's somewhat subtle, but it's there. I think it's a matter of being a little more sophisticated, and it starts with the sponsors themselves. The advertising they do is all much more sophisticated now, and we as designers of these venues have to follow that same path. If we're not sophisticated about it, then we're not going to be able to help our clients get the maximum amount of value from those sponsors who have come to the building."
When MetLife moved up from cornerstone sponsor to naming sponsor, it was given lighted signage on the exterior of all four sides and four inner-bowl signs. More important, it took over the most valuable piece of real estate of all - 120,000 square feet of branded space at the stadium's main entrance, where perhaps 60 percent of spectators enter the building (located on the 50-yard line, it faces the widest swath of the parking area). The purpose is not so much name branding - MetLife Central is where MetLife employees engage potential customers, offering prizes and giveaways, and where kiosks beckon fans to activate their "Countdown Cards." The objective of the building's five sponsors was best summed up by Brad Brown, an Anheuser-Busch vice president of sports and entertainment marketing, who told Adweek in late January, "People know what Bud Light is. This was an opportunity to build something that would allow us to connect with the fan at the local level, where avidity lies."
"It's no longer about standing around and looking at video or signs," Turner says. "The sponsors now want a place inside the stadium where they can bring in representatives on an every-event basis to talk to people. There are interactive kinds of video and opportunities for fans to participate. It used to be about advertising - in my mind, that's viewing. Sponsorships are a whole different thing. Sponsorship is more of an engaged, interactive process, and it's aided by giving people physical spaces in the stadium where they can really promote their brand."
Ultimately, the game on the field is what the fans come to see, and whether they've entered through the Verizon or Pepsi gate and traveled through the Verizon or Pepsi concourses, they'll spend the most memorable part of their visit watching the game down below and replays on the Verizon or Pepsi video display and scoreboard. "Compare it to baseball stadiums where, when you look out in the outfield, you've got billboards for different brands two feet apart, practically touching each other," says Schmitt. "To me, that becomes visual overload. As a consumer, my eyes just blur over, and I don't see anybody's brand anymore. At MetLife, when you look at the scoreboard, that's clearly Verizon's corner, that's clearly Pepsi's corner. You're not seeing anybody else's logo at that point. You're seeing theirs and only theirs. It's very clean, and pretty clever."