An unarmed teenager bolted into the outfield at Citizens Bank Park in Philadelphia last night. Fans hooted as he managed briefly to outrun a lone police officer and several uniformed event security personnel. But ultimately the long arm of the law was made longer by a Taser - its incapacitating shockwaves dropping the trespasser to the turf, where he lay motionless for a full 30 seconds. By then, many among the Philly faithful had begun booing.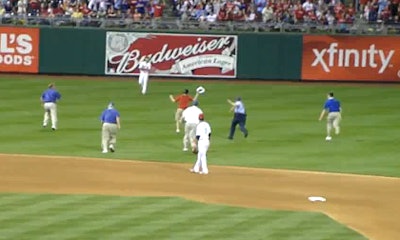 Tasers have been used with increasing frequency to control crowds at professional and college sports venues on down to high school athletic events. Today, Philadelphia police defended the deployment of a Taser in apprehending the teen, even though he was outnumbered and his arrest appeared imminent.

Put yourself in a seat at Citizens Bank Park on Monday night. Are you cheering or jeering the use of a Taser in this instance?

UPDATE: Fans running onto the field in Philadelphia are getting older, if not wiser, but one wonders if Citizens Bank Park security personnel have learned something this week.

A 34-year-old Phillies fan gained access to the field Tuesday, one night after a 17-year-old was tasered to the outfield turf by a police officer. The latest trespasser was apprehended without use of a Taser.