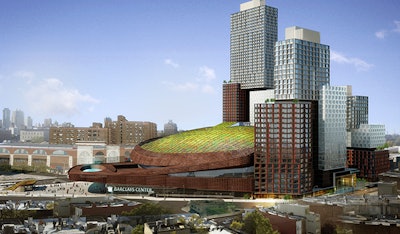 In an effort to become a better neighbor to the Prospect Heights neighborhood in Brooklyn, N.Y., The Barclays Center, home of the NBA's Brooklyn Nets, is about to get greener — literally.
Part of the original concept for the design of the Barclays Center before the facility opened in 2012, a "green" roof will soon cover the existing roof's 130,000-square-foot dome. The new covering will include small plants, a soil surface and may even include a running track, according to the Wall Street Journal. It will be constructed by Forest City Ratner Companies — the same developer responsible for the original arena construction.
"Our original design for the arena had anticipated a green roof as part of our effort to achieve Silver LEED certification," MaryAnne Gilmartin, FCRC President and CEO said in a press release Monday. "While we independently reached that goal, we always hoped to still create a green roof further improving the environmental footprint of the arena."
The change is being made primarily to help make the accompanying apartments in the development plan, set to begin opening in 2014, more marketable. The plan calls for 6,400 apartments to be built in 15 towers (as pictured above), three of which would surround the arena. However, the green roof will also help reduce noise that comes from the arena during concerts and sporting events. Atlantic Yards Report reported in March 2013 that the Barclays Center agreed to pay a $3,200 fine for one exceptionally loud concert by the Swedish House Mafia.
The addition of a noise-muffling roof will not be the first time the Barclays Center has made an effort to combat noise complaints by nearby residents. According to the Wall Street Journal, shortly after the complaints surrounding Swedish House Mafia's concert in 2013, the arena added features inside the building to help acoustics during concerts — including noise reduction.
FCRC anticipates the construction of the roof will take nine months.