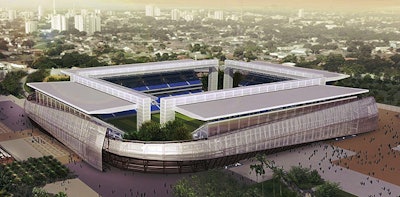 Stop me if you've heard this one before: another worker has died in the construction of a World Cup stadium in Brazil. This marks death number eight in the construction process as the country hurriedly tries to get things in order for next month's World Cup.
Related: Worker's Death Halts World Cup Stadium Construction
According to the Associated Press, 32-year-old Muhammad Ali Maciel Afonso died Thursday following an electrical accident that temporarily interrupted construction at an already delayed venue. Maciel Afonso received an electric shock while on site at Arena Pantanal in the wetlands city of Cuiaba. According to Rosenil Moraes, the head of emergency services in the western state of Mato Grosso, fellow workers followed protocol and tried to revive the man for 40 minutes, but he didn't survive. The exact cause of the accident is not clear.

As I wrote in a December 2013 story about another stadium consturction death in Brazil, "Preparations for the World Cup have also been plagued by delays, accidents, cost overruns and public anger over government waste that contributed to massive nationwide street protests last year."

Brazil promised that all 12 World Cup stadiums would be completed by the end of last year.

Arena Pantanal is one of three stadiums that needs to be completed before the world's biggest soccer tournament begins on June 12. The stadium is still without seats due to delivery delays. When completed it will have a capacity of 42,968.