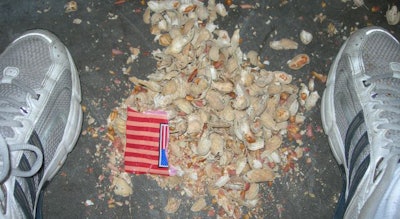 The Northwestern athletic department has announced it will hold three peanut-free football games in 2014, including games against Cal on Aug. 30, Northern Illinois on Sept. 6 and Western Illinois on Sept. 20.
According to an ESPN report, the Northwestern policy resulted from the request of a father who's son, a Northwestern freshman and peanut-allergy sufferer, could see at least one football game in Evanston. One in 13 children have a food allergy, according to Food Allergy Research and Education (FARE).
Related: Teams Take Steps to Protect Fans with Allergies
This isn't Northwestern's first such accommodation. The Wildcats banned peanuts at a game against Minnesota at Ryan Field on Oct. 19, 2013, and that day's attendance of 36,587 was the third-largest of the season.
"The response to Peanut-Free Day at Ryan Field last season was overwhelming," Northwestern deputy athletic director Mike Polisky said in a school statement. "We learned of so many families that were able to experience Big Ten football for the first time on that Saturday. This year we're excited to be able to offer tens of thousands of Chicagoland families perhaps their first opportunity to experience college athletics at the highest level across a number of our programs."
Related: Is Peanut-Free Seating Necessary in Open-Air Venues?
Polisky and his staff will introduce peanut-free environments to 10 men's basketball games, six women's basketball games, all 18 volleyball matches and three wrestling matches. Tickets for the three-game football package have been set for $90, while the 10-game basketball package is $140.


{module Peanut Allergy Poll Question}