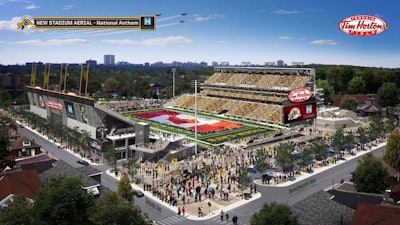 With less than a year left until Toronto hosts the 2015 soccer Pan American Games, completion deadlines for six new athletic venues under construction are quickly coming... and going. Nearly all of the venues are facing a one- to two-month delay, but for the contractor in charge of Tim Hortons Field, the games' key venue and home to the Canadian Football League's Hamilton Tiger-Cats, the delays are really hitting where it hurts -- the pocketbook. 
 While traditional construction contracts stipulate that companies are paid on a monthly basis until construction is complete, Ontario Sports Solutions' contract with Infrastructure Ontario stipulated that the bulk of the amount -- $89 million (Canadian) would be paid upon completion. But the June 30 completion date has come and gone, forcing the company to borrow from lines of credit and find other other ways of covering their costs. 
"You want (OSS) to suffer a financial hit as a result of not being done on time, and he's suffering that right now," IO executive vice president John McKendrick said of Jean-Louis Fuz of Bouygues Canada, part of the OSS consortium. "He has to finance all that money. He has to borrow it." 
All parties involved knew there was going to be some sort of delay in the construction process, stemming from a winter ice storm and problems with the subcontractors. Still, the delay had a catastrophic financial effect. The Tiger-Cats' first home games, scheduled for July 26 and 31, have had to be moved to the significantly smaller stadium at McMaster University, and will not be broadcast on  ESPN as planned. 
Organizers will meet next week to discuss if the stadium will be completed to the extent needed for the August 16 game, but Fuz noted that it's just a matter of "finishing the job," brought forth by the presence of 580 workers on the site each day. Altogether, OSS will suffer even more if the stadium isn't done by the deadline established, as the company will have to pay the Tiger-Cats $1 million for each home game missed.
All venues are expected to be ready for next summer's Pan Am Games despite the delays, which are still rather minimal in comparison to the turmoil and chaos that defined World Cup stadium construction in Brazil.
---
Rexford Sheild is an intern with Athletic Business.