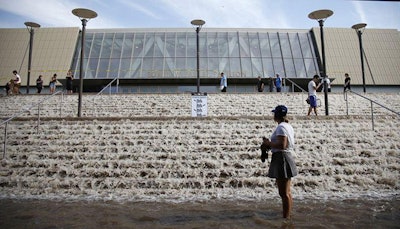 UCLA's Pauley Pavilion suffered major flooding on Tuesday after a nearby water main broke sending millions of gallons of water pouring in to the school's campus.
A spokeswoman for UCLA told the Los Angeles Times that at its peak, there was as much as eight inches of standing water on the Pauley Pavilion court. As the paper reported Tuesday night:
Even as city officials struggled to stop the flow of water from a broken pipe that handles 75,000 gallons per minute when functioning, crews began work to clean up the saturated athletic facilities. A water restoration company was already on scene, working alongside UCLA staff.
Three and a half hours after the flooding began, about an inch of water remained on the court.
Pauley Pavilion was renovated a couple years ago. Look at it right now. Court likely ruined. pic.twitter.com/mJuEUzDLXY

— Jeff Goodman (@GoodmanESPN) July 30, 2014

According to UCLA's website, a 93-year-old steel pipe broke at 3:39 p.m. An estimated eight to ten million gallons of water flowed toward the campus or into storm drains. UCLA's intramural field and track and field facility — where a new blue and gold track was recently installed — were quickly inundated with water.
Pauley Pavilion, home to UCLA basketball since 1965, received a $136 million renovation that was completed in 2012. The renovation was so impressive, Pauley was deemed a 2013 Facility of Merit winner by Athletic Business.
RELATED: Photos of Pauley Pavilion's Renovation, a 2013 Athletic Business Facility of Merit
"A masterful makeover of a revered building," Mark Hentze, a partner with CEI Architecture and one of the Facilities of Merit judges, said of the renovations. "The iconic nature of Pauley Pavilion has been dramatically enhanced."
Now the facility will be the subject of a cleanup effort that will be just as dramatic.
"Most people are aware by now that the floor and locker rooms sustained significant flooding," UCLA athletic director Dan Guerrero said in a statement. "The water will be removed from the floor tonight. We will then reassess the situation tomorrow (Wednesday) morning."
RELATED: Flood Emergency Provides Lessons in Crisis Management
The cleanup at UCLA was a team effort. As the LA Times reports:
George Birch, a fourth-year biology student, made his way onto the campus when he heard about the flooding and was among those who helped bail water from the Morgan Center.

"People were using everything. They were grabbing tables to push water, using trash cans, buckets, everything," he said. "It was nice to see a ton of people in athletics and the fire department come together."
The UCLA campus will remain open as scheduled on Wednesday. For tips on how to address water damage to hardwood courts, we've got you covered.