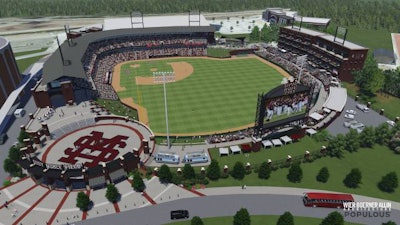 Mississippi State is raising the bar when it comes to college baseball facilities. The school unveiled a $40 million plan for Dudy Noble Field on Tuesday that "aims to remake the Bulldogs' home ballpark into the finest in college baseball." Looking at the renderings, and the fly-through video below, it's clear that goal isn't just hyperbole.
The master plan calls for a new double-tiered grandstand with chairback seating, an elevated concourse that encircles the playing field, welcoming entry plazas, a kids' play area, berm seating, upgraded field lighting, an HD video board, digital ribbon signage, improved team areas and "dramatically improved aesthetics."
Of course there will be several premium seating options as well — fans can even sleep at the ballpark.
Plans call for approximately 50 skyboxes (25 in the main grandstand, 25 in the outfield) and club and loge seating. The outfield suites will feature two bedrooms, a bath, kitchen and living space for year-round use.
The Jackson, Miss., design team of Wier Boerner Allin Architecture and Populous, in consultation with MSU alum Janet Marie Smith, produced the proposed Dudy Noble Field Master Plan concept.
If you're not familiar with Mississippi State baseball, you might be asking yourself, "Is all of this really necessary?" In a word, yes. With a capacity of 15,000, the current Dudy Noble Field is the largest stadium in college baseball and the Bulldogs are accustomed to huge crowds. The Bulldogs currently own the top 10 on-campus crowds in NCAA baseball history. Just this past year, an NCAA on-campus record 15,586 fans packed in to witness Mississippi State's 6-5 win over Ole Miss.
And improved baseball facilities are becoming commonplace in the hyper-competitive Southeastern Conference. According to Bryan Fischer, a national sportswriter formerly with CBS and Yahoo! (now with NFL.com), schools in the SEC West alone have spent more than $150 million on baseball facilities in the last five years, if you include Mississippi State's $40 million proposal. SEC West foes Arkansas and LSU also boast stadiums with capacities topping 10,000.
"Mississippi State Baseball first set the standard for making college baseball games a happening, becoming one of the first schools to invest in a modern facility nearly 30 years ago," said MSU Director of Athletics Scott Stricklin. "The new Dudy Noble Field Master Plan will provide our players, coaches and fans the best ballpark in all of college baseball."
RELATED: Mississippi State, K-State Set Up Football Series via Twitter
No capacity for the new stadium was announced, although the plan is to make the stadium the largest in college baseball. While the timetable for the project is based on the school's Bulldog Club raising $20 million in private fundraising, it's safe to say fans are already excited.
The new Dudy Noble. Wow. Just wow. I'm speechless. All due respect to Burke Masters, but a GRAND SLAM for @stricklinMSU & staff. #HailState

— Joel Coleman (@JoelTColeman) August 12, 2014