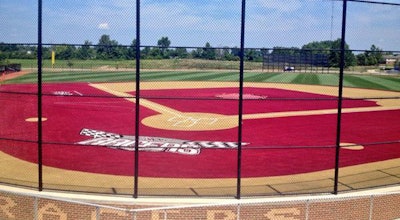 Colored synthetic turf fields at athletic facilities are nothing new. From Boise State's famed "smurf turf" blue to gray to black, we've seen fields in several colors other than green. But it's not everyday we see a baseball field go the colored turf route.
The University of Northwestern Ohio, located in Lima, has installed the nation's first cardinal red college baseball field. According to the school's press release, the field will be ready for play in the 2015 fall and spring seasons.
As AB has written about in the past, synthetic turf surfaces offer baseball facilities plenty of advantages. UNOH's head coach Kory Hartman touched on a few of those saying, "Turf allows us to save not only on maintenance, but travel as well. As this past spring showed, it can be difficult to play games this far north in early March."
Coming along nicely. #soon pic.twitter.com/BqTj0mcDK6

— UNOH Baseball (@UNORacers) July 4, 2014
Hartman also says improved drainage will allow the team to practice outside earlier in the year. Texas-based SportsField installed the turf.