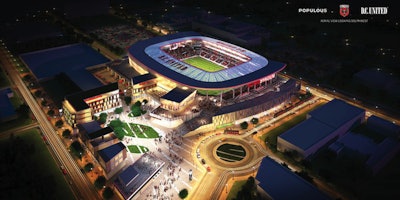 Compared to the $1.2 billion shelled out for the San Francisco 49ers new Levi's Stadium, $286.7 million may seem like a drop in a bucket.
However, $286.7 million is nothing to scoff at. It is the proposed cost to build a new stadium for Major League Soccer's D.C. United. The proposed stadium would be located on Buzzard Point, and it would be the most expensive Major League Soccer stadium ever built.
RELATED: Nationals, Astros Get $108M in Tax Revenue for Stadium
The development deal, which was proposed by D.C. mayor Vincent Gray and city administrator Allen Lew, involves the city swapping properties so they can get the necessary stadium space at no cost to the team.
According to The Washington Post, D.C. United would pay to build the stadium and receive tax breaks amounting to $50 million to lessen completion and operational costs.
A study delegated by the D.C. Council — which can be viewed here — shows that the stadium would cost the District an estimated $131 million — or 46 percent of the total cost — but could also bring Buzzard Point upwards of $109.4 million in economic benefits.
The proposal has earned strong support from the building and construction sectors of the D.C. area. Mark Coles, the executive director of the Community Hub for Opportunities in Construction Employment, is among the supporters.
"Jobs associated with this project would generate personal earnings of an estimated $1.3 billion," he said in a conference call. "Absent the D.C. United stadium project, no significant development is anticipated in the Buzzard Point area for a minimum of eight to 10 years."
RELATED: How Stadium Construction Costs Reached the Billions
A hearing on the report's results is scheduled for noon on Thursday.
Hearing aside, the proposed stadium looks gorgeous: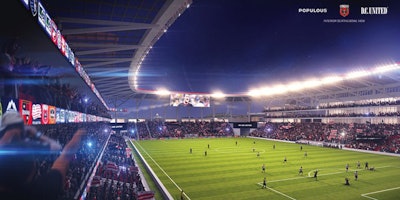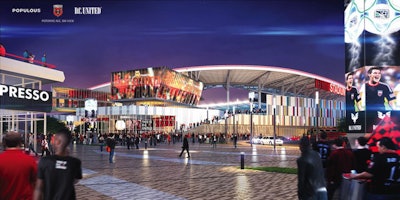 ---
Andrew Brandt is an intern with Athletic Business.