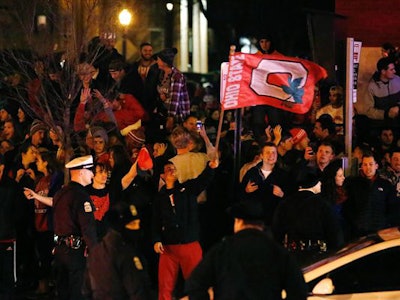 Ohio State students and fans flooded the streets of Columbus last night after the Buckeyes' historic 42-20 victory over the University of Oregon in the first College Football Playoff Championship. As of this morning, a total of 89 fires had been reportedly set in trash cans and dumpster, prompting police to reportedly use pepper spray and other tactics to manage the escalating situation.
UPDATE: Police Chief Defends Tear Gas Use after OSU Victory
Thousands of revelers also converged on Ohio Stadium, where some were able to access the field and tear down a temporary goal post set up for high school games. More were turned away by police that had surrounded the football stadium. Most of those that had gathered at Ohio Stadium returned to the bar area. A handful of arrests were made, according to multiple reports. 
Collegiate celebrations that lead to riots have long been a challenge for campus administrators and police. At Ohio State, a victory over Big 10 rival Michigan more than a decade ago lead to a riot that made national headlines. In response, the university assembled a task force on preventing celebratory riots. Made up of high ranking university and civic leaders, the task force evaluated the causes of celebratory riots, along with the most effective strategies in preventing them. Not all riots on the collegiate level are of the celebratory nature either.
Last year, after the University of Wisconsin eliminated the University of Arizona from the NCAA men's basketball tournament, several hundred angry fans took to the streets of Tucson to throw bottles and firecrackers at police officers. The officers, in response, fired pepper spray at those fans. Ultimately, 15 people were arrested. In 2001, Arizona was involved in a similar situation where 17 students were arrested after a loss to Duke in the men's basketball championship game. This sadly paled in comparison to what happened two years earlier when Michigan State was beaten by Duke in the Final Four: 132 people were arrested and damages were assessed at $500,000.