Awesome.
It's an overused word, particularly among Millennials and Dick Vitale. But it has its moments, like when visitors first enter the Hatfield-Dowlin Complex at the University of Oregon.
"It's awe, really, when people walk in," senior associate athletic director for marketing and public relations Craig Pintens says of the typical reaction, having personally guided close to a hundred tours of the 140,000-square-foot football facility. "It exceeds expectations every time."
And he's not talking about wide-eyed 17-year-old recruits (or 75-year-old ESPN commentators). These are representatives of the NFL, NBA, MLB and professional sports leagues and teams from around the world wowed by a lobby that includes 64 55-inch televisions and a kitchen area that reminds players to "Eat your enemies and the other food groups" in neon lights.
At the heart of this awesomeness is a player locker room that includes its own barber shop. Why? Because players made it a practice of cutting each other's hair in or just outside the previous Ducks locker room. So benefactors Phil and Penny Knight gave them a chair in which to do it right. Visitors notice the clean lines of each locker, faced by the player's name graphically displayed on pocket doors that can be tucked into the locker when open.

Impressions are made even by what visitors don't notice — namely, odor. Each German-made locker is engineered with its own ventilation, ridding shoulder pads of their field-generated funk. "That's probably the most impressive thing," Pintens says. "The locker room doesn't smell like a locker room."
Team locker rooms are getting ever more impressive in a number of ways. Here are a few areas in which athletes' changing spaces have evolved.
TECHNOLOGY
As Paul Griesemer, senior project architect at AECOM, puts it, "Chalkboards once made way for white boards, white boards have made way for video projectors, and projectors have made way for smart TV screens, where coaches can diagram directly on the screen and pull up every sort of specific digital video replay of action that either occurred in practice or in a game. The database of knowledge that's available now for coaches to use locker rooms as learning classrooms is huge."
Of course, players have their own technological expectations. "At one point in time, some architects tried to design a locker space for a specific device — for an iPad, for an iPhone, for a Samsung. Well, these devices change so often, that really the most important thing to do is provide a place to store the device, whatever it is, but make sure there's power," says Scott Radecic, senior principal at Populous. "Let's make sure there's a couple of power outputs, because kids today will have more than one device and you want to keep that stuff charged. A lot of coaches have gone paperless. All their game plans now are either on iPads or computers. So these are Wi-Fi-ready rooms, and the room itself has become more technologically advanced."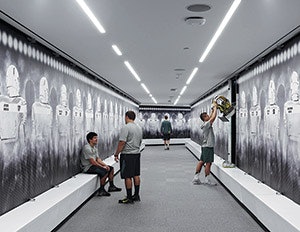 SIZE
Individual lockers are getting bigger, as are entire locker rooms — depending on the chosen configuration (more on this later). "Sometimes they can become very functional rectangular spaces with aisles or rows. Sometimes coaches tell us they want every locker to be along the perimeter wall," Radecic says. "When you say, 'I want a minimum locker width of 42 inches and then I want to put every locker on the perimeter,' and I have 125 lockers in a collegiate building, all of a sudden this becomes an extremely large room — larger than anything 10 or 15 years ago."
The football-shaped home locker room at the University of Minnesota's TCF Bank Stadium, measuring some 160 feet in length, is as large as any Radecic has been in, and he's been in plenty as both an architect and a former Penn State and NFL linebacker. The goal was to create an indoor space that would appear welcoming to would-be Golden Gophers visiting Minneapolis in the dead of winter. "These locker rooms can be anywhere from 4,000 square feet to 8,000 square feet," Radecic says. "And anything in between, depending on what the goals and objectives are for the space, how wide the lockers are, how many lockers are in them, any other features that might be in the locker room."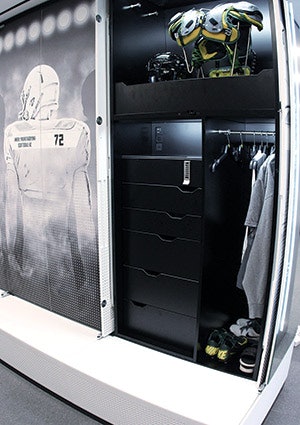 Locker size may be dictated by the demands of the given sport. Football players have more equipment to store than basketball players, and hockey and lacrosse goalies have more equipment than their teammates, and thus their lockers will be larger than others in the same room.
Moreover, teams that cycle through a number of uniform combinations may choose to store them in individual player lockers. Says Radecic, "Many equipment managers are looking for ways to store additional helmets or gloves or shoes, and they may want to have that happen in the locker itself, so sometimes we're deepening the locker to add additional space."
Populous put 45-inch-wide lockers in a new facility for the Buffalo Bills, and that's the widest Radecic has seen. A more typical width is 36 inches, and he doesn't recommend going any narrower than 28. "If you're in a new build, you might have a little bit more flexibility in that width," he says. "For some renovations we're still utilizing a much smaller locker, because we're renovating within the same footprint that we had before."

CONFIGURATION
How a team locker room is laid out can vary by sport, as well. The relative smaller size of a basketball roster lends itself to a circular "huddle" of lockers. "From a football standpoint, sometimes you want the shock-and-awe effect," says Griesemer. "You walk in the locker room and it's this vast expanse of highly finished lockers, and there's lighting and it's a grand space. With a lot of the basketball lockers I've been involved with, it's a much more cozy sort of communal living-room-type space."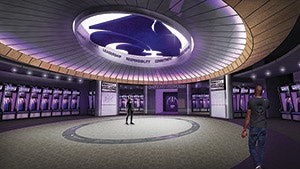 According to Pintens, former Oregon head football coach Chip Kelly borrowed from the hockey locker room concept of players facing each other in close proximity, and the Hatfield-Dowlin locker room is laid out as a series of aisles. "Some people want that wow factor of this incredibly large space. Some people want to be more functional in the spatial layout and they'll go with additional aisles," Radecic says. "We've found that a compromise is some radial form that puts the majority of lockers on this outer perimeter, but we'll introduce peninsulas or islands. The coach can stand at a certain position, and the shape and layout of the locker room still facilitates his having eyes on everyone."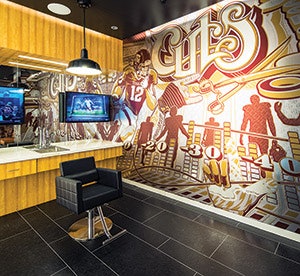 "More teams are wanting locker rooms to be singular communal spaces, so you're looking at more larger, wide-open spaces than the old spaces with alcoves and alleys of lockers," Griesemer says. "You want the coach to be able to communicate with the entire team from one central spot, so that sort of made the locker room itself bigger."
To make that happen for the Green Bay Packers, who employ a large oval-shaped space at renovated Lambeau Field, Griesemer says, "we went so far as to transfer major structure around the locker room so we wouldn't have a column in it."

IMPRESSION
A locker room must be — first and foremost — functional, able to meet the day-to-day needs of its player occupants. But there's no discounting the dual role of today's team spaces. "Many of the coaches and equipment managers we talk to want to be able to flip a switch, metaphorically, and all of a sudden it becomes a recruiting showpiece," Radecic says.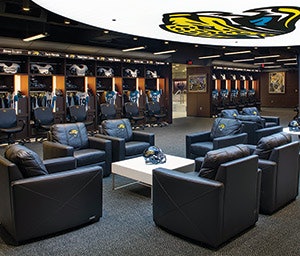 This desire for a "clean" presentation, according to Radecic, likely will inform such choices as integrated bench seating over individual chairs, as well as locker doors to hide messes inside. It can also translate to programmable locker elements such as the color-varying LED lights employed in lockers of the Jacksonville Jaguars, or the flat screens found in each football locker at Texas A&M, allowing for personalized training or schedule reminders to individual players or room-wide "Beat Bama" inspiration. "Not only does it help with messaging when you have players in there in the functional mode, but it can also help teams with messaging when they're in the recruiting mode," Radecic says. "Obviously, there's a cost to doing this, but there is a return on the investment if you are able to recruit the young men that you want."
Team logo displays in locker rooms have elevated from the carpet, where they often wound up being the least trafficked areas in the room, to the ceiling, where dimensional displays can be specially lighted for dramatic effect. Some locker rooms will include tribute lockers honoring great players from the past or feature storefront-type displays with mannequins modeling the equipment that recruits may one day wear. "We want to have a certain mood when people are working and a certain mood when recruiting," Radecic says. "So we're doing more things with custom materials in ceilings and customized lighting and different digital lighting displays that allow the mood of the space to change from gameday to non-gameday."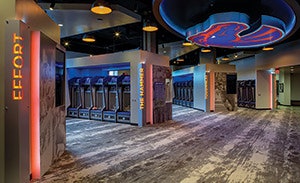 Today's locker rooms can take any number of forms to reflect a range of team philosophies. "You'll have both ends of the spectrum," Griesemer says. "I've actually had some clients say that they don't want the health club spa environment. They want a place where people — men and women — come to work: 'You're here to be an athlete. You're not here to lounge.' Sometimes it's the persona of the coach or the athletic director."
Speaking for the Oregon athletic department at large, Pintens makes no apologies for the posh amenities that greet visitors to the Hatfield-Dowlin Complex. "There's not a building like it in all of athletics — any level, anywhere in the world," he says. "Our building is very functional, and that's the number-one key of it. Because we toured a lot of different buildings, we were able to make this building extremely resourceful for student-athletes. We care more about the student-athlete experience than anybody in the country, and we feel that we're able to provide the best student-athlete experience in the country. And if people view that negatively, then we're in the wrong business."
---
This article originally appeared in the January/February 2015 issue of Athletic Business with the title "Suit Up."