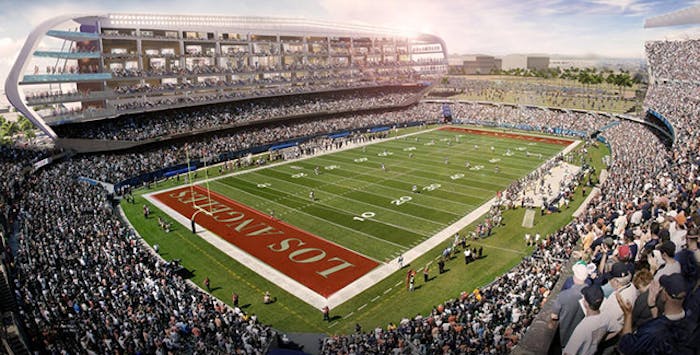 The Los Angeles area is doing everything it can to lure an NFL team (or three) back to the country's second-largest media market. On Tuesday, the area took another step toward that goal as Carson City Council approved a new football stadium in a 3-0 vote.
"There are two things that are needed here in Southern California," Carson mayor Albert Robles said after the vote. "One of them is rain… the other is football. And today, hopefully, we took care of that, because football is coming to Carson."

Carson is about 15 miles south of Los Angeles.

The stadium has an estimated cost of $1.7 billion and would be the shared home of the San Diego Chargers and the Oakland Raiders. Those two franchises announced they would seek a shared stadium in Carson back in February.

Meanwhile, St. Louis Rams owner Stan Kroenke is still pursuing an 80,000-seat NFL stadium in Inglewood, Calif. Kroenke unveiled renderings of the stadium he hopes to build last month.

Under NFL rules, the next opportunity for a team to file to relocate to either stadium would be in January 2016. The move would have to clear a tangle of league hurdles, including getting support from at least 24 of the 32 teams.

The Chargers are looking to replace their current home, Qualcomm Stadium, which is nearly 50 years old. However, talks with San Diego City Hall have grown increasingly strained. The Raiders are looking to move out of their current home, O.Co Coliseum, which opened in 1966 and is also used by the Oakland A's. The Raiders are the only NFL franchise that still shares a venue with an MLB team.