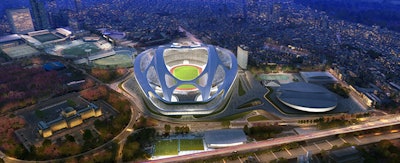 The original design for the stadium to be used for the 2020 Tokyo Olympics and Paralympics gained criticism from many. Not only for its odd look, but also for its cost, which had reached $2 billion, double its original budget of $1 billion.
Now, the Japanese government announced they will not go through with plans to build the stadium, designed by British architect Zaha Hadid, and will instead "start over from zero," according to Prime Minister Shinzo Abe.
Abe says the new stadium will still be ready in time for the Olympics, but due to the delay of having to start from scratch, the stadium will not be completed in time for the 2019 Rugby World Cup, which Japan is hosting.
Government officials in Japan say the contract with Hadid's architecture firm will be cancelled, and a new design will be selected within six months.
Hadid's firm has said the stadium could be built cost-effectively and that the cost increases were not due to the design. Rather, costs were rising because of increases in construction costs in Tokyo, as well as a fixed deadline. They also mentioned that building costs in Tokyo are higher than in other places because buildings need to meet strict safety standards due to the risk of earthquakes.
However, this is not the first time one of Hadid's designs has exceeded the budget. She was responsible for the design of the London Aquatics Centre, which saw its budget more than triple from its initial budget.
Abe said he had been discussing the stadium design with others for several weeks before deciding to start over.
"I have been listening to the voices of the people and the athletes for about a month now, thinking about the possibility of a review," he said. "We must go back to the drawing board. The cost has just ballooned too much."
Abe was assured that it was still possible to build the stadium with a new design in time for the Olympics before he made the decision to find a new design.