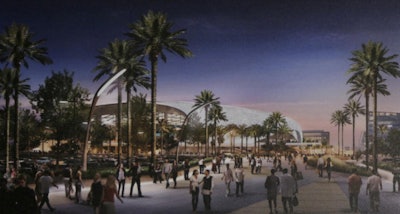 Stadium plans and designs of future football stadiums in Los Angeles have come and gone in the last 21 years since the city last had an NFL team. Plans have intensified this past year as reports of teams relocating to Los Angeles have gained steam.
We now have the first evidence of a possible future stadium under construction. After requests from the Los Angeles Times, the developers of a proposed stadium at Hollywood Park in Inglewood, Calif., gave its reporters a tour of the construction's initial stages. The Times published images and a video of the site on Wednesday.
Related: St. Louis Rams Owner Plans to Build Stadium Near L.A.
St. Louis Rams owner Stan Kroenke also owns the 300-acre Inglewood site, which will include a hotel, housing and retail and office space. Should the Rams move to Los Angeles, this is where they eventually will play.
"We said we wanted to be in position to start building in a year," Chris Meany, development manager for the Hollywood Park Land Co., told the Times. "And as you can see, we've done it. We are ahead of where we said we'd be."
Will the Rams move to Los Angeles? That may depend on the outcome of the next NFL owners' meetings on Jan. 12 and 13. Last Thursday, the Rams played what could be their last home game in St. Louis, which is making a strong effort to keep the team. St. Louis Mayor Francis Slay signed a bill Monday in which the city would finance $150 million toward the project.
The San Diego Chargers and the Oakland Raiders also could move to Los Angeles and share a proposed stadium in Carson, Calif. This past Sunday, the Chargers played what could be their last home game in San Diego. On Christmas Eve, the Chargers play at Oakland in what could be the Raiders' last home game in the Bay Area.
The future of NFL relocation still is uncertain. But at least for now, we have the first signs of stadium plans going from paper to dirt.
Related: Here's How a $985M Rams Stadium Looks — in St. Louis