This article appeared in the September issue of Athletic Business. Athletic Business is a free magazine for professionals in the athletic, fitness and recreation industry. Click here to subscribe.
It was there for one of the most heart-stopping moments in sports history: "You got 10 seconds. The countdown going on right now. Morrow, up to Silk. Five seconds left in the game. Do you believe in miracles? Yes!"
And it's still there.
For the center-hung scoreboard above the ice at the Olympic Center (now Herb Brooks Arena) in Lake Placid, N.Y., time has seemingly stood still since the U.S. Olympic hockey team defeated the Soviets on its way to the gold medal in 1980. Time hasn't literally stood still — the bright-green bar digits of the clock still work — but the board itself hasn't budged.
But that's about to change.
"We're just now in discussions about what we should do or could do to replace the board," says Tom Coughlin, sales manager at Daktronics, the company that installed the Olympic Center scoreboard in 1978. "We've got some of our sports marketing and creative designers working on a concept where we might replace it with new technology, but repurpose it elsewhere to make sure that we mark that special moment in sports history. I said right off the bat that we'd sure take it for our museum, and they said, 'No way. It's not leaving here.' "
Sentimentality aside, as video technology continues to grab attention in the sports venue marketplace, can one assume the clock is ticking on traditional, fixed-digit scoreboards? Not so fast. "We still have just a huge amount of incandescent light bulb scoreboards still in the field, still working," Coughlin says. "And with the changes in technology and even how our society is viewing incandescent light sources, those need to be upgraded and moved to modern technology for a number of reasons. But they're still operating, and we service them yet today with the parts that we have available."
Times have changed, and LED lights now form the numbers on scoreboards built today. But the concept of a board that keeps track of score and time with fixed digits isn't going anywhere soon — particularly at the high school level, where one campus can be home to several traditional scoreboards. They still constitute the lion's share of business for many companies that offer them in addition to programmable video and messaging products — from 60 to 85 percent, depending on who you ask. A few manufacturers offer nothing but traditional boards.
So what should end users consider when seeking the best product to meet their scoring needs?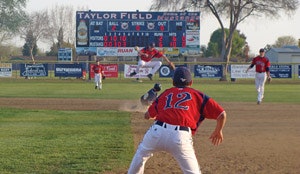 APPEARANCE
Scoreboard cabinets can be customized to match school colors, but another way to dress up a traditional board is with graphic panels, whether they depict the school mascot, more-generic imagery such as an American flag, or the logos of sponsors responsible for financing the board's purchase in the first place. These can either be mounted as straight signage on the board or on trusses, or backlit for added visual impact.
The digits themselves have evolved, from inefficient and maintenance-intensive incandescent bulbs to LEDs that, in some cases, change color depending on what the scoreboard is communicating. The clock's digits may appear green when the ball is in play, and then red when play is stopped, for example, and team scores may change color to indicate lead changes. Meanwhile, an emerging option that's proving popular doesn't involve color at all — with white LEDs providing a sharp appearance compatible with any school color.

FUNCTIONALITY
Specific scoreboards are now available for just about every sport imaginable, including those not historically served by electronic boards (such as tennis) and those whose popularity is only now becoming widespread (think lacrosse).
That said, today's scoreboards are often designed to pull double or triple duty. "A multisport scoreboard comes into play perhaps when it is an athletic director who's making the decision and not a specific sports coach, and he or she realizes, 'I'll get a new scoreboard for my football field, but I also know that it's shared with soccer,' " says Mike Daniel, president of Varsity Scoreboards. "In our little town, the high school's baseball and football teams actually share the same field."
"The specific venue and sport served will always determine what type of scoreboard will work the best," adds Rick Connell, vice president and general manager of Colorado Time Systems, whose company offers a portable board serving both swimming and track, among other multipurpose products ­­— some with digits that can be reconfigured by sliding them along a rail. "A softball complex with numerous fields will most likely always choose a numeric scoreboard over a video scoreboard. Now, on a high school level, where you have a multi-use facility — football, track, soccer — they are trending toward video scoreboards."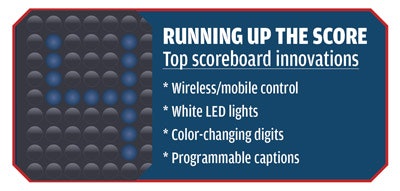 PROGRAMMABILITY
This technology, a small-window version of what's employed on larger message boards, allows for captions above digits to be customized. Instead of "HOME" and "AWAY" lettering on the cabinet itself, the scoreboard operator can type in the names of specific towns or teams — a particularly handy option if the venue hosts tournaments.
It also helps with the legibility of multisport scoreboards, as digits serving different functions for different sports can be given alternative captions with the flip of a switch from, say, basketball to volleyball mode. "If you have a basketball board in a gymnasium, that board also needs to serve volleyball and wrestling," Coughlin says. "You can program those captions over the digits to change, so that the viewer sees and understands what that data means rather than trying to guess."

DURABILITY
Scoreboards need to be all but bulletproof, with attention now being paid to how watertight electronic components are in the outdoor setting, even as the cabinets are designed to weigh less than ever.
As important as the durability of the board itself — which can be subject to the impact of flying balls, particularly in the gym setting — controllers are constantly moved in and out of storage by a variety of handlers, oftentimes student volunteers. For this reason, controllers should be built to last and designed for intuitive use during competition.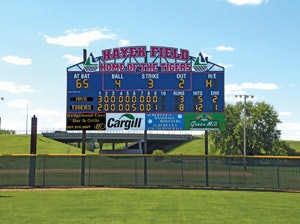 CONNECTIVITY
Glitch-free communication between controller and scoreboard is critical to game operations, and herein lies one of the greatest advancements in traditional scoreboard technology in recent years. "Wireless has become the gold standard," Coughlin says. "Ten years ago, wireless certainly was out there, but it was — across the industry — unreliable. Today's wireless is very reliable. It's spot on, rock solid. We sell much more wireless than hardwired at this point and we, in fact, encourage wireless application, because it's so good."
And the potential for wireless scoreboard communication is expanding. Want to control the scoreboard from your phone? There's an app for that. "The customer can load the app on any approved mobile device and be in control of the scoreboard," says Tammy Whittaker, vice president of Major Display. "Gone are the days of lengthy service issues and proprietary controllers for our customers."
Wireless has also introduced an era of data sharing between scoreboard controller and the school website or the mobile devices of individual fans, allowing not only for real-time score updates but sponsorship messaging too.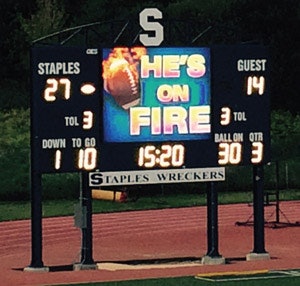 COST
Traditional scoreboards get the job done at one-tenth the cost of a video display, if not less, according to Coughlin. That, more than anything, explains why the immediate future of fixed digits remains bright. But that, too, is expected to evolve. "The initial investment in video displays is just not in every customer's budget," Whittaker says. "Over time, an integration of the products will become more common, as pricing changes and technology evolves."
"There will always be a need for numeric scoreboards because they are so easy to use, and the price for the product and installation is appealing to many of our customers," says Connell, adding, "As video boards become more cost-effective, there will be some facilities that will budget for those rather than numeric scoreboards."
Pairing available scoreboard technologies with user needs doesn't have to be an either-or proposition. "We still see some colleges and universities incorporate a fixed-digit traditional scoreboard with a message center or a video board, and many high schools do that, as well," Coughlin says. "They may purchase that LED modular programmable display, but also want the traditional scoring-and-time scoreboard with information related to 'ball, strike, out' or 'down, to go, ball on, time outs left' — whatever sport it might be."
Time ran out on the Russians that night in Lake Placid 37 years ago, and the days appear numbered for the board that blared that glorious final score in bright red: USA 4, URS 3. Will time ever run out on the fixed-digit scoreboard? "Despite the growth in the interest in video displays, traditional scoreboards are going to exist for a long time," Daniel says. "No one needs to write the obituary for the traditional scoreboard."
---
This article originally appeared in the September 2016 issue of Athletic Business with the title "Is the clock ticking on fixed-digit scoreboards?"