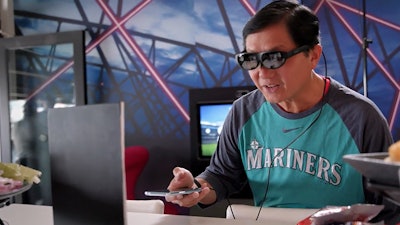 Photo courtesy of T-Mobile
More than 30 years ago, some jaws dropped when an animated Jaws' big toothy mouth opened and closed around the fictional Marty McFly in Back to the Future II, a movie about a time-traveling teen who makes his way from 1989 to 2015. McFly cowers and covers his head as the augmented-reality ad featuring a stories-high shark chomps down on him, then disappears.
Mixed-reality happenings are increasingly commonplace here in the 2020s. Recently, a Carolina Panther ran across Bank of America Stadium and climbed a scoreboard, and a fictional airship landed at the Oregon Ducks' Autzen Stadium for a Halo video game promotion. These spectacles are happening in real time, just like McFly experienced, thanks to technology that certainly wasn't ready in 1989, nor in 2015: the fifth generation of broadband cellular networks, or 5G.
"Previously with 4G and 3G and 2G, there was too much of a delay between what the wireless networks were doing and what was happening in real time, and 5G changes that," says Brian Fries, vice president of Advanced and Emerging Technology for T-Mobile. "And now, the virtual world is nearly synchronous with the actual world, which opens so many doors to new things."
Photo courtesy of AT&T

'Pose with the Pros'
Travel in time for a moment to 2019 and a pre-pandemic AT&T Stadium in Arlington, Texas — America's first with 5G mobile coverage. AT&T wanted to demonstrate the power and value of its 5G network and its possibilities for fans. This included a giant apparition of Cowboys quarterback Dak Prescott towering over AT&T Stadium, as viewed through the camera of a 5G mobile screen. "We were really trying to showcase 5G, as 5G was really just hitting the streets in very select places," says Glenn Couper, assistant vice president of 5G Product and Innovation at AT&T. "And for something like a 36-foot-tall Dak Prescott welcoming you into the stadium, that's a lot of content, so you need the 5G bandwidth to showcase that."
AT&T Stadium also debuted "Pose with the Pros," in which fans at the stadium could snap their picture or create a GIF with virtual versions of their favorite Dallas Cowboys players. They could then share the images on social media. Couper said the experience was a hit.
"We had eight of those columns and lines 100-people deep, most games," Couper says. "It was immensely popular." About a year later, the technology was already better, and Pose with the Pros column displays at the stadium were adapted so fans could control it from their own smartphone, making for a safer, touchless experience during a pandemic.
In May 2021, AT&T worked with the Chicago Bulls and Blackhawks to create StatsZone, a feature within each team's app that offers an immersive 3D stats experience during games. Then, in September, AT&T released the 5G Game View for the WNBA app that unlocks a way for WNBA fans to view augmented reality and customize stats during games.
Photo courtesy of T-Mobile

T-Mobile experiences
T-Mobile's 5G network is also supporting emerging spectator experiences. T-Mobile Park, home of the MLB Seattle Mariners, started the 2021 season with a mixed-reality experience that allowed fans to virtually transport onto the field and throw a pitch or swing a bat — real-time motion tracking and augmented-reality computing captures movement on-screen instantaneously. Another AR experiment at T-Mobile Park used Nreal smart glasses as the avenue for fans to have experiences such as viewing an AR scoreboard and live MLB stat updates, Fries explains.
"When you put the glasses on, you can see through them, but you also have virtual objects that show up in your physical environment, that's the mixed-reality part of it," Fries says. "This little cartoon moose shows up and engages with you. You've got a scoreboard that shows up in the suite like a virtual scoreboard, so you can watch the action without having to crane your neck. A hologram of one of the Mariners players, Mitch Haniger, shows up, so you're standing there and there's a life-size hologram of one of the most prominent Mariners players you're engaging with."
During All-Star Week 2021, T- Mobile and MLB brought fans a first-person view of the Home Run Derby using cameras mounted on player hats and masks. That was a first in delivering live, synchronized HD video and audio over 5G, according to T-Mobile. The views also brought fans into action on the field from angles previously impossible to capture.
Mixed-reality encounters, such as a giant panther unleashed on a stadium or the awesome presence of larger-than-life superstars, can enhance the game-day experience without impeding the action on the field or court. They're yet another way operators and technology partners are looking to engage fans by bringing the arena, ballpark or stadium experience forward to the future