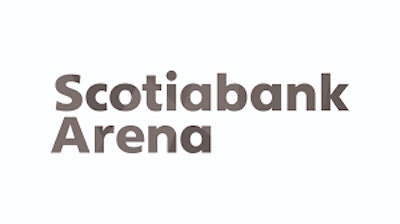 Saturday's NBA game between the Toronto Raptors and the visiting Indiana Pacers at Scotiabank Arena was delayed for a significant amount of time due to a speaker catching on fire.
As reported by CBS Sports, all fans in attendance were asked to evacuate the arena as a precautionary measure. There was no immediate risk to fans in the arena, according to Raptors public address announcer Herbie Kuhn.
The stoppage occurred in the second quarter with the Raptors leading the Pacers 66-38, and lasted for more than an hour. Ultimately, the on-court action resumed, but the fans weren't permitted to re-enter the arena. The Raptors released the following statement regarding the situation:
"Scotiabank Arena has been given the all clear. The game against the Pacers will resume without any fans in the building. Tickets will be refunded within 30 days. We apologize to all of our fans who made it out to the game tonight and we thank our fans for their continued support."
"The situation was a unique one, and it was probably pretty irritating for the fans who went to the game and were forced to leave early," wrote Michael Kaskey-Blomain of CBS. "At least they'll get a refund, though. And Ultimately, the fact that nobody got hurt is the most important thing. You can't blame the Raptors, or the arena, for erring on the side of caution."
The Raptors went on to win the game 131-91.
While this specific episode was unique, it represented the second professional sports venue fire in days. On Thursday, a fire at the Denver Broncos' Empower Field at Mile High Stadium destroyed several rows of seats and a luxury suite. Tnat fire occurred in a construction zone near the East Club Lounger.
Related: Fire Destroys Suite, Rows of Seats at Mile High Stadium