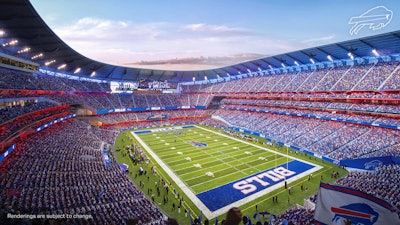 Just days after the NFL's Tennessee Titans released renderings of the team's proposed new stadium, the Buffalo Bills followed suit today.
Populous is the firm in charge of designing the $1.4 billion project, which is set for completion in fall of 2026. The Bills announced back in March that the team had signed a 30-year lease for land where the stadium will be built across the street from their current stadium in Orchard Park, NY.
The Bills' website described the stadium design:
"Featured in the inside bowl rendering is a stacked seating design, which will help to rain crowd noise down onto the playing field. In addition to the stacked seating that will provide protection from the elements, extensive radiant heating will be in place to enhance fan comfort. The Bills are committed to creating an intimate yet intimidating football-first seating bowl that harnesses the energy of the fans. Throughout the project, the team has thought carefully about how to maximize the experience of every fan, bringing fans closer to the action than any other new NFL stadium - this will truly be a football experience unlike any other. The goal is to create the most vibrant, loudest, ground-shaking experience possible."
While the renderings are subject to change, the Bills website says they're a "firm representation of the direction the Bills organization would like to head with their plans."