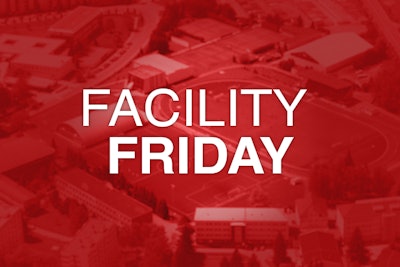 The University of San Francisco athletics department recently celebrated the beginning of work on the new Malloy Pavilion on the Hilltop campus.
Malloy Pavilion will provide state-of-the-art practice amenities for USF's men's and women's basketball and volleyball programs, while relieving constraints of time and space in the historic War Memorial at Sobrato Center.
The new building, located between the Hayes-Healy Hall residence hall and War Memorial is set to open in August 2023.
With the largest single gift ever made to USF athletics at the time, Tom Malloy (61') and his wife Sharon Malloy helped transform the future of the university for years to come.
The Malloys pledged $5 million to upgrade USF's athletic facilities in 2014 as the impetus for launching broader philanthropic investments throughout the institution as part of the Change the World from Here campaign. — USFdons.com
---
Members of the River Valley (Penn.) School District broke ground in December on the long-awaited athletic complex.
Along with a new football stadium, a baseball and softball complex are expected. Those will be built on land donated to the district by a Blairsville native and owner of Kencove Farm Fence Supplies. The fields will be named in honor of Charles Kendall.
Naming rights for the football field are still being discussed.
Superintendent Phillip Martell said said the district plans to give back to the community by hosting different events at the complex.
Tiara Stossel, director of Athletics at River Valley, said the plan is to open the next football season at the complex.
The project is under the direction of RVE and LGA Partners LLC. — WCCS
---
Florida Atlantic University athletics has received a $5 million gift commitment to improve facilities in the university's athletics village.
Facilities included in the Hagerty Family Athletics Village footprint include the track and related facilities, known as the Hagerty Family Track and Field Complex; the Tom Oxley Athletic Center; Abessinio Court at Eleanor R. Baldwin Arena; Kimberly V. Strauss Tennis Center; FAU Swimming Facility; FAU Softball Stadium; FAU Soccer Stadium; FAU Baseball Stadium; and FAU Beach Volleyball Complex.
In recognition of the gift, the areas housing the majority of FAU's athletic facilities will be named after the donors, Michelle and Michael Hagerty.
"This gift is meant to ensure that all student-athletes are able to enjoy and thrive in a world-class sports facility," the Hagertys said.
The $5 million gift will go toward renovations and improvements to facilities, including a full resurfacing and renovations to the track and related facilities, among other projects.
"We have nearly 450 student-athletes at Florida Atlantic, and every one of them will reap the benefits of this gift. This gift will truly be transformational for many of our facilities and sports programs," said Brian White, FAU vice president and director of athletics.
A number of signs and recognitions around the athletic facilities will designate the area as the Hagerty Family Athletics Village. — FAU.edu