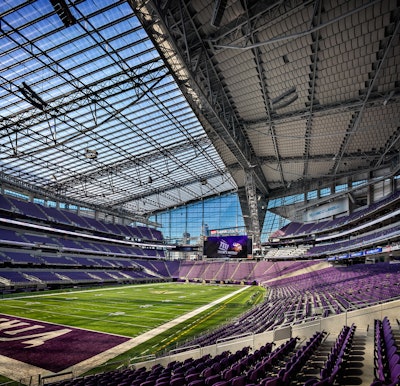 While synthetic turf is certainly more durable than natural grass, it's not indestructible, and the surface at U.S. Bank Stadium has seen sufficient use to warrant a second replacement in the relatively short life of the Minnesota Vikings' home venue.
As reported by Minnesota Public Radio, the Minnesota Sports Facilities Authority is seeking information from contractors that could be chosen to swap out the synthetic turf next year — the third surface since U.S. Bank Stadium opened in 2016. The stadium not only hosts the Vikings, but also prep sports championships and other premier sporting and entertainment events, and the wear and tear is enough to warrant replacement of materials that under less-stress can last at least eight years and often more.
Related: 11 Facts About Minnesota and Its Super Bowl Stadium
The turf was previously replaced in 2019, which was just a few years after the stadium opened. The prior replacement was slated to cost more than $1 million, according to MPR.Specifications published by the MSFA say the replacement project will start in spring of 2024 and last about six weeks. No cost estimate is listed.
"The stadium's versatile use ranging from football games to monster truck rallies to concerts means the turf is often under pressure," according to MPR's Brian Bakst. "The authority wrote in planning documents that the removal or covering of the surface reduces its lifespan."
"These conversions are time constrained as events are scheduled very densely. In combination with the high degree of general use, this puts a very high premium on the durability of our playing surface's safety and performance," the memo says, as reported by Bakst.
Minnesota lawmakers approved legislation this year to pay off public debt from the stadium's construction decades ahead of schedule.
Related: Vikings Pay Off U.S. Bank Stadium Debt 23 Years Early
A separate fund exists to cover ongoing upkeep.
Related: Vikings 7-Year-Old Stadium Needs $280M in Maintenance Over Next Decade