The disgruntled state of major league baseball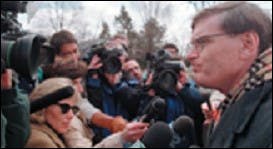 Forty hours. That's how much time elapsed between the Arizona Diamondbacks' seventh-game victory over the New York Yankees in one of the most exciting World Series in a generation and Commissioner Bud Selig's announcement that the owners had voted 28-2 to eliminate two teams during the off-season.
Considered simply from the standpoint of public relations, the announcement, both its message and its timing, was an absolute disaster. Within hours, although Selig said it had not been determined which two teams would be dropped, their identity was immediately surmised all over the world, and officials and fans in Montreal and Minnesota began a process of condemnation and litigation that effectively destroyed any good feeling that the stirring post-season had engendered.
As this issue of AB went to press, it appeared that the owners were prepared to postpone any potential contraction until 2003. Good thing. Selig had initially announced that two unnamed teams would be dropped in time for the 2002 season. This would have meant that the teams' players would have to be redistributed among other teams, one National League team would have to switch to the American League to clear up the contraction-created imbalance, and a new master schedule would have to be made - all before Spring Training began in February. Exactly how this would affect the various minor league clubs affiliated with the doomed teams was also still to be determined.
All teams, though, were told by Selig to offer player contracts, sign free agents and sell tickets as if nothing had happened - even though as many as five teams on the bubble could do nothing of the sort and the other 25 would be indirectly affected by the massive player redistribution that would presumably follow. Since none of this had been cleared by the Players Association, which stood to lose several hundred jobs, and since the Basic Agreement between the clubs and the players had expired at midnight, Nov. 1, how all this would affect the negotiation of a new contract was, again, unknown.
It was the fact of the mass confusion that followed in Selig's wake that led a number of observers to presume that the entire plan was simply a negotiating ploy. If so, it is either the gutsiest or the dumbest such ploy ever attempted - or both. Threats of lawsuits by fans and state governments were immediate, and bills were introduced in both houses of Congress to amend Major League Baseball's 80-year-old antitrust exemption. In addition, the owners' plan immediately brought uncomfortable scrutiny of Selig's conflict of interest (each surviving team stands to make millions on the deal, and Selig holds 35 percent of the Milwaukee Brewers in a blind trust). In November, the Florida attorney general, concerned about the effect of contraction on his state's economy, issued two investigative subpoenas to Selig, one in his capacity as commissioner and one to him personally.
Given all this, it's hard to imagine that the owners' plan could possibly go forward - or is it. Amending baseball's antitrust exemption, for example, will require the approval of President George W. Bush, former owner of the Texas Rangers and no stranger to parlaying a publicly funded stadium into extraordinary personal wealth. In addition, the owners have history on their side - sports fans have proven, time and again, to have astonishingly short memories. Among the facts that may well get lost in the rush to save two franchises:
• It was the owners of the Minnesota Twins who pushed for and received public funding to construct the Metrodome in 1981, now deemed by the owners to be insufficiently luxurious.
• It was baseball's owners who instituted expansion in the first place as a money-making venture, collecting a total of $190 million in expansion fees from new owners in Miami and Denver in 1993 and $260 million from new owners in Phoenix and Tampa Bay in 1998.
• It was baseball's owners who provoked the ruinous players' strike in 1994, in an attempt to cap salaries at a time of unprecedented popularity and revenue expansion.
This last point is most disturbing of all. The only positive effect of the 1994 strike was the beginning of limited revenue sharing among teams, something that has helped strengthen other professional leagues. Contraction circumvents revenue sharing by getting rid of the plan's primary recipients.
As events unfold this time around, fans of Major League Baseball would do well to remember one aspect of the events of 1994: During that time, Selig repeatedly corrected those who referred to baseball as "big business," calling the sport a "semi-public trust." In his public utterances regarding contraction, however, Selig has consistently invoked business-oriented language to justify baseball's abandonment of two regions - one of which, Minnesota, has amply and avidly supported its team through 40 years and two quite recent world championships.
"It makes no sense for Major League Baseball to be in markets that generate insufficient local revenues to justify the investment in the franchise," Selig said during his official announcement. "The teams to be contracted had a long record of failing to generate enough revenues to operate a viable Major League franchise."
If there was any doubt before, now we know the owners' bottom line.