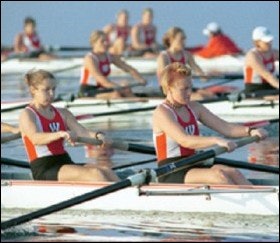 It's an early Friday morning in the first week of September, and the sight before Jamie Whalen's eyes is a thing of beauty. Seven eight-person shells are cutting through Lake Mendota's waters off the University of Wisconsin campus in a tight formation, escorted by launches of coaches to the left, right and rear. It's the first week of practice for the UW women's rowing team, and Whalen's adrenaline is surging. "I have never been part of something quite as dramatic as this," says Whalen, the Badgers' first-year varsity assistant coach and one of five full-time coaches in the program.
Counting rowers and coxswains, 63 athletes are actively engaged in this practice. In the afternoon, they will be turned over to UW strength and conditioning coaches for dry-land workouts, making way in the water for another 107 teammates, who will undergo swimming tests during three separate sessions.
With a roster of 170 athletes, the UW women's rowing team is quite likely the largest single athletic program of any kind in the country. But whether that number reflects the growth of women's rowing in the United States or serves as a convenient means to satisfy the school's Title IX gender-equity mandates is a point head coach Maren LaLiberty doesn't care to debate. "It's exciting to be able to bring the sport of rowing and the Division I athletic experience to so many women," says LaLiberty, in her seventh year as a UW coach and first as head coach of both the open-weight and lightweight crews. "We can throw out a really large net and catch those kids who are going to be rowing champions at some time in their life. Maybe if we didn't throw out such a big net we would never have gotten them into the sport of rowing."
Proponents regard collegiate rowing as an attractive, if too often overlooked, sport for several reasons. It boasts fall and spring competition seasons bridged by winter months of continuous conditioning. (In addition, collegiate rowers often compete on club teams during the summer.) Large programs may carry both open-weight and lightweight (rowers weighing 130 pounds or less) teams, and rosters are further broken down into varsity and novice teams. The latter group, which represents athletes with no prior rowing experience, is like no other in collegiate athletics.
"You can't play soccer for a year in college, then expect to win a national championship for North Carolina," says Emily Plesser, head coach of the Division II national champion University of California-Davis women's rowing team and a UW rowing alum. "Rowing is the last sport that you can actually learn while in college. The opportunity is so great."
Opportunity, after all, is what Title IX is all about, supporters argue. Critics of the law, meanwhile, regard as ludicrous the idea of padding a college team's roster with athletes lacking experience in that particular sport. When asked if her recruiting net would shrink if UW athletic administrators didn't require the women's rowing roster to accommodate 170 athletes, which it has for the past three years, LaLiberty says, "Every year that I've been here, we've had several hundred women come to our informational meetings. Some years, including last year, we've had to make cuts. It depends entirely on how well we get the word out that fall."
Recruiting in women's collegiate rowing may involve poring over lists of the nation's top junior rowers, but the talent pool is still spread fairly thin. According to the National Federation of State High School Associations, roughly 2,500 girls row at the prep level. The NCAA reports that more than 6,000 women rowed last year in Division I alone - up from 3,500 in 1995-96, the year before the NCAA began sponsoring a women's rowing championship.
Amid the abundance of participation opportunity, the process of filling a roster the size of Wisconsin's is as grassroots as college athletics recruiting gets. Team members and coaches post signs and chalk campus sidewalks with the dates and times of informational meetings. They'll scout summer orientation sessions, pulling aside women based on their height and apparent athleticism. LaLiberty can award the equivalent of 20 full scholarships, though she rarely relies on money to lure someone into the program. "At least half of our money goes to students who were not recruited, who did not know how to row when they came here but have since turned into excellent rowers," she says. "Almost every woman on our team has been a successful high school athlete in some form or other. Who's to say that if there had been rowing at her high school, she wouldn't have been a rower?"
"Given a good athlete who has crossed over from swimming, volleyball or basketball because she wasn't good enough to play those sports in college, most coaches can teach a novice to be a good rower within a year," says Plesser, who may see 100 or more women express initial interest in her team, which typically carries half that many athletes each season. "There are top recruits in this country, don't get me wrong. But they're few and far between. If you can't develop rowers on your own campus, you're not going anywhere."
Unlike LaLiberty, Plesser receives no administrative mandate when it comes to numbers, but she understands how rowing is sometimes used to counterbalance the beefed up rosters common in Division I football. Amid strict NCAA scrutiny regarding the gender breakdown of its student-athletes, which favored men when compared to the general student body, Wisconsin in 1999 implemented roster management as a means to more closely align the two groups (see "Count on It," Oct. 2000, p. 28). As a result, an already large women's rowing team got even larger. But under roster management, UW women's rowing is held to the 170-member benchmark only through the team's first competition.
This fall, the Badgers competed in four regattas, including the season-ending Head of the Iowa in Iowa City on Oct. 27. "We're lucky, because the fall regattas are nearby," LaLiberty says. "We just put the kids on buses and try to get everybody into competition."
Attrition does set in by winter, though, as some novice rowers begin to realize the year-round commitment expected of them. By spring, Wisconsin's roster may be 60 percent of what it was in the fall. "We try not to cut anybody, but we can't stop anybody from leaving if they say, 'Gosh, I came here to get a 4.0, and I'm not,' " LaLiberty says.
When asked what incentives exist to keep rowers motivated, even if they never row a varsity race, Whelan points to student-athlete perks such as access to a study center and its academic counseling staff, as well as access to state-of-the-art training facilities. In March, construction will begin on Wisconsin's $6 million boathouse renovation, which will include new coaches' offices, training facilities and boat bays for dozens of men's and women's shells.
But the most important incentives, perhaps, are the enduring friendships and life lessons that can result from being part of a team. "For much of the world, rowing is considered elitist. People think it's for Ivy League, Oxford or Cambridge kids," says Whelan, who for the past 12 years has traveled the country as a freelance rowing clinician. "Wisconsin represents this other side, where rowing is for anyone who wants to try it and work hard at it."
"Whether I'm teaching somebody how to row or somebody already knows how to row, that's not the point," LaLiberty says. "The point is that I'm giving women this team experience. Even the athletes who have been on this team for one semester will come back and tell us what this program did for them - not rowing itself, but understanding how to work together on a team and learning to sacrifice, commit and persevere."