Reflections on Gulf War II and its impact on the world of sports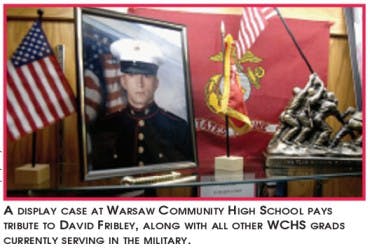 Manhattanville College women's basketball player Toni Smith refused to face the flag. NHL fans booed "The Star Spangled Banner". NBA All-Stars Steve Nash and David Robinson debated foreign policy. And the NFL's Arizona Cardinal-cum-Army Ranger Pat Tillman remained entrenched after enlisting in the wake of 9/11. In the weeks leading up to the U.S.-led invasion of Iraq, several clear connections between the pending war and the sports world could be drawn.
Links continued to emerge once the fighting in Iraq began. The online sports book betonsports.com even made a point of taking monetary action on the military action. With the war winding down by late April, SGMA International, the global trade association for sporting goods manufacturers, announced it was shipping volleyball, soccer and badminton equipment (along with shoes, shorts and shirts) to Iraqi and Afghan children, with the intent of coordinating clinics in these and other sports once the gear arrived. Call them courageous, generous or crass, these acts of protest and patriotism, capitalism and goodwill, all had a distinctly American feel.
While some of these connections will no doubt fade in the war's aftermath, others will remain vivid indefinitely, perhaps permanently. David Fribley, for example, wasn't blessed with the physique or skills of a professional athlete. But at 6 feet, 180 pounds, the four-year letter-winner from Warsaw (Ind.) Community High School could throw the shot put farther than most of his bigger, brawnier competitors. As an Indiana State University sophomore, he placed sixth in the shot at both the Missouri Valley Conference indoor and outdoor championships, earning him a letter from ISU. However, his sports career ended on that note, giving way to steady employment. By 2001, Fribley had parlayed his ISU degree in recreation and sports management into a full-time position as recreation coordinator at a retirement complex in Florida. Then, more like Tillman in spirit than body, Fribley found a calling in the rubble of 9/11 and joined the Marines.
On March 23, Lance Cpl. Fribley was among nine U.S. soldiers killed near An Nasiriyah by an Iraqi unit that, according to reports, had signaled its surrender. The next night, at a meeting of Warsaw Community High School boosters, athletic director Dave Fulkerson was informed of Fribley's death. A booster meeting's conclusion is typically followed by informal socializing, but that night Fulkerson excused himself, climbed into his car and cried. "He was a neat kid," Fulkerson says. "As an athletic director, you hear rumors about different kids, the partying that goes on even though they have an athletic code to go by. His name, in four years, never came up."
Fribley's name has since come up in other ways within Warsaw circles, though. On April 1, Fulkerson ran an ad in the local paper establishing the Lance Cpl. David Fribley Memorial Scholarship Fund, to which the Tiger Booster Club had already contributed $1,000. "We're in the process of building a new athletic complex, and there are different suggestions regarding naming the complex after him, or perhaps the shot put and discus area," Fulkerson says. (At ISU, initial plans were to honor Fribley with a plaque and tree-planting ceremony April 19, prior to the first track meet of the season.)
Not that Fribley, an all-conference athlete in track and football at Warsaw, would have considered himself worthy of a hero's legacy. Says Fulkerson, "Right before he was told he was going to Iraq, he told his parents, 'If I don't return, I don't want you to make a big deal out of it. As far as I'm concerned, I'm just going there to do my job.' "