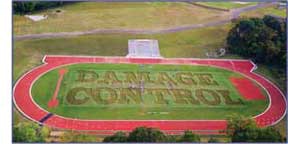 If you're a turf manager, and it's football season, Thursday night is a time for tossing and turning. At least, so says Mike Andresen, athletic turf manager at Iowa State University and vice president of the Sports Turf Managers Association.
"Friday nights, we have plenty of security in here," Andresen says. "But when I go home on Thursday, especially when we've gotten the field painted that day, I don't sleep very well. Man, I worry about Thursday night." Vandalism occurs on a scale from minor damage caused by kids or overly enthusiastic fans not in touch with the effects of their actions, all the way to extensive damage perpetrated by persons with criminal intent. Most such acts targeting sports fields are in the former category, but the sad fact is that vandals can strike at any time -- one of the more costly incidents from 2004 occurred while employees in a nearby maintenance building were away at lunch -- and at any place.
By this time a year ago, someone in Oviedo, Fla., had sidelined high school football and baseball fields -- literally -- by digging trenches along their boundaries; a driver of a pickup truck had caused $1,000 in damage to the Greenville (Maine) High School softball field; and 250 Branson, Mo., youngsters had lost the use of the city's Stockstill Park soccer fields for the entire spring season after several vehicles had pulled a Dukes of Hazzard on the fields' slush-covered sod.
As the rains of spring gave way to warmer temperatures, community groups were offering rewards and police departments were seeking suspects in communities as diverse as Concord, Calif. (where a vehicle was driven through a fence and across a youth sports complex, destroying its brand-new sod and sprinkler system) and Lancashire, England (where a car was driven around in circles on a school playing field and then set on fire). In the latter case, the damage to the field was so severe that firefighters could only reach the burning vehicle by driving to it in a four-wheel-drive truck.
Late summer and fall 2004, like most years, brought out the graphic designer wannabes -- with the emphasis, sometimes, on graphic. Post Falls (Idaho) High School's football field, goal posts and sidelines were, according to police reports, spray-painted with "various vulgar comments about the Post Falls Trojans team." (That the culprits turned out to be Trojans players themselves, reportedly trying to fire up their teammates, was only a minor consolation).
In Jacksonville, Fla., vandals used salt to burn "obscenities and an obscene picture" (said The Florida Times-Union) into Bishop Kenny High School's football field. And at Smithson Valley (Texas) High School, "a profanity, 'KKK' and some unrecognizable symbols" (according to the San Antonio Express-News) were painted near midfield of the school's football field "in large red letters using latex paint and a roller."
In 2004's highest-profile case involving a football field, vandals burned two huge UWs into Colorado State University's football field the week prior to the school's game against the University of Wyoming. According to Doug Max, director of facility operations at CSU, the letters stretched from the 50-yard line to the 25-yard line on both the east and west sides of the stadium, and were made with weed killer (tests subsequently identified the substance used as RoundupT). The damage, while extensive, was not immediately apparent, Max says.
"It was a stroke of luck that we figured out that we even had damage," he says. "They broke in during our off weekend prior to the Wyoming game, and about three days later we got a frost, which was when the letters really started to show." The perps appeared to have taken their time; Max says the letters were drawn so straight that CSU officials thought they might even have used a template.
Afraid that enough poison had been used to damage the soil permanently, Max brought in turf experts from CSU's School of Agriculture to assess the situation. The colder weather meant that regermination couldn't take effect until the spring, and with a television game looming the decision was made to use green paint to camouflage the damage as best as possible. The grass took some time before expiring, so the field by all accounts looked passable for the Wyoming game -- incidentally, Colorado State won that one -- but soon after, the two UWs went from dead grass to plain dirt. Resodding in that situation would have left the field with two fresh green UWs, and paint was barely an option -- but it was all they had.
"We tried to match it, but the problem was once the grass receded and you had the indentation, it didn't matter what you did to paint it," Max says. "We went ahead with the repainting, and it seemed to blend in a little bit. But it was ugly for the last two games."
CSU is planning a move to synthetic turf, though as of this writing it is unclear whether the changeover will be possible by this fall's slate of games. Max sees signs that the grass is coming back nicely, so he figures they're covered either way. In the meantime, will 2005 bring another skirmish in the turf border war? Max hopes not.
"We have a great rivalry with them; the people of Wyoming are really good people," he says. "But this wasn't a rivalry thing. This was someone just deciding to be downright mean. They could have come down and painted our field brown or whatever colors they had, and that would have been okay. We could have mowed the grass or washed it out, and that would have been that. But these people came in with the intent to damage. It was pure vandalism."
One of the odd aspects of field vandalism is that picking up the pieces afterward depends less on how bad the damage is than on what the specific field and atmospheric conditions were at the time of the incident. That's probably the reason the Sports Turf Managers Association has no printed "best practices" to offer members saddled with messed-up fields. "You almost have to wait, let it happen, then react," says Andresen.
"The best practice of all," notes Boyd Montgomery, facilities and maintenance director for the Sylvania (Ohio) Recreation Corporation, "is to make sure your facility is secure. No one can even walk on a professional field. Colleges, depending on the level, are where things start to change a little bit. You get down to the high schools, and it's a free-for-all. Some have strict policies, but at others, anybody and his brother can get on the fields."
If some public recreation directors remain on the fence, as it were, about adding fencing to their fields, that quickly changes once their fields are victimized by vandals. This past fall, for example, Merrimack, N.H., selectmen authorized spending $13,000 for fencing to protect the Turkey Hill athletic fields after a rash of vehicle-related incidents -- not money that they wanted to draw from the town's athletic field capital reserve fund, but a small sum considering the town has about $250,000 invested in the fields.
But as others (such as the folks in Concord, Calif.) have found, field fences provide no guarantee that drivers won't crash through them as part of their joyride. More recreation departments are turning to bollards -- large wooden or concrete posts, or boulders, that can serve as a stronger deterrent, with one gate for maintenance vehicles.
Lake Oswego, Ore., utilizes a number of security measures, but that didn't stop someone last November from driving in figure eights all over a muddy multisport field located behind Lake Oswego Junior High School. In a separate incident, another driver tore up West Waluga Park, a large greenspace that the town uses as a secondary activity site.
Gary Evans, superintendent of the Lake Oswego parks and recreation department, notes that the department had installed boulders along the parking lot that adjoins the junior-high field, and installed a lockable gate on the access road that runs between two boulders. In addition, the department has established a winter closure period on its natural turf fields, during which time the department diverts all activities, formal or informal, to its synthetic fields. At first, the department simply posted signs to that effect; next, it hired a park ranger to help with enforcement, directing trespassers to the West Waluga fields. Evans says that didn't always work, so the department drove 8-foot stakes into the town's three most popular sites that rendered them unusable for organized activity.
Evans believes that these efforts might have led the West Waluga perpetrators to commit the crime. "People get mad sometimes, they get huffy," he says, "and since the ranger directed them to West Waluga, I suspect they just got ticked off and said, 'Fine, we'll go over there, we'll show you.' " On the other hand, Evans categorizes the Lake Oswego JHS case as plain old criminal mischief, and whoever did it went far beyond what the West Waluga person was able to accomplish.
Heavily utilized by school district teams (the spring season began Feb. 23) and city programs, the varsity and junior-varsity fields are now getting the reseeding and spot overseeding treatment, helped along by turf blankets to promote quicker growth. Even still, Evans says, with ruts two or three inches deep covering the entire area of a football field, the facility will be out of commission for a long time. "We're quite sure it won't recover for spring use," he says. "Summer at best."
Phil Sissick, superintendent of the Stratford, Conn., public works department, hates to hear that. "It happens a lot more than you'd like it to," he says. It happened in Stratford, in fact, just this past Thanksgiving, as it tends to most Thanksgivings. Every year, the town's two high schools play a football game over the holiday, and typically public works would be responsible for painting both schools' colors on the field. A couple of years back, someone got on the field prior to the game and changed the colors so that only their school was represented. "They just painted over the top; they did a really nice job," Sissick says. "But, it was easily corrected. The morning of the game, we changed the colors back to the way they had been."
Sissick says it pays to be lucky in such circumstances. The town, he says, is so sports-oriented that even the vandals don't appear to be hell-bent on doing irreparable damage. But as lucky as that makes him feel, he had to feel doubly lucky this past November when, two days before the annual Thanksgiving game, someone drove a vehicle onto the Stratford High School field, causing $2,000 in damage.
Why lucky? Because for one thing, last year's game was scheduled for rival Bunnell High School's field. For another, after a neighbor reported to local police seeing a car on the grounds, officers stopped a muddy red convertible on a local street and arrested its driver, a 17-year-old Bunnell football player, and charged him with first-degree criminal mischief and third-degree criminal trespassing. And finally, Sissick says the timing and conditions were in the department's favor as they got to work fixing the damage.
"Since the incident occurred after that field's season had ended, it wasn't as much of a concern as it would have been if the season were still going on," he says. "Also, the conditions just happened to be favorable. It had been raining, which is normally absolutely the worst time, but that field drains really well, and the soil profile is very firm; when it's wet, it's not very soft. The field that night was just slightly frozen -- not over-frozen, where it would have gotten completely torn up -- and it was a small car, thank God, so it didn't really sink in. Now, there may be some irrigation problems, because the tires did hit a sprinkler head, and it's a hard-plumbed system. In the worst-case scenario, we'll have to do some digging on the field."
The worst-case scenario in most turf managers' estimation is something like Colorado State's -- something poured or sprayed that kills the grass or, even worse, corrupts the soil profile. Fortunately, most incidents of graffiti involve paints that, even when oil-based, are formulated to dry on the surface, not seep underneath.
Turf managers confronted with the work of an illicit artist have to be artistic in kind; many an incident of vandalism has been painted over green in a pinch, or camouflaged with new graphic elements. In a famous case from a few years ago, Mississippi State University painted a large black circle over an obscenity and added, in white, the number of a player who had recently been killed. Such an impromptu memorial took what would have been derogatory and turned it into something inspiring for spectators.
"Field graphics and painting are very time-consuming, but they can be a groundskeeper's friends when you have to hide vandalism or when the hydraulic line of an employee's vehicle breaks in the center of your field and kills the grass," Montgomery says.
The Sylvania Recreation Corporation oversees some of the local school district's facilities, and it once was faced with obscenities on a school football field written in diesel fuel. For just those sorts of circumstances, the department keeps a stockpile of the local soil and grows its own sod for emergency repairs. For post-growing-season incidents, they use green paint or (better, Montgomery says) soil disguised with grass clippings. Seeding can be attempted in cooler months, but the danger is that the choice of a quick-germinating seed, such as ryegrass, will contaminate a field seeded with Kentucky Bluegrass. "You're going to have to work pretty aggressively to transition that ryegrass out after the season's over, or try to establish more of your regular mix," Montgomery warns.
Oil drips from the engines of maintenance vehicles are typically dealt with by flushing the area with water, since particularly high-profile fields feature outstanding drainage systems. But larger spills -- such as Sylvania's diesel graffiti or the salt used at Jacksonville's Bishop Kenny High -- have to be approached with greater care. "Salt is not a true contaminant, environmentally, but it creates a medium that grass won't grow in," notes Andresen, "so you pretty much have to strip it out and resod it."
The same is true of fields hit with fuels, except that in those cases the spill is an environmental hazard and has to be dealt with accordingly. Oil-dry products can be used to soak up as much of the spill as possible, but care must still be taken to remove any tainted dirt before the rains come.
"You have to factor in how far that will leach down," Andresen says. "That's a long-term problem. You'll go back a month later and you can still pick out the graffiti. If you can take care of the problem before it gets watered in, you're going to be a lot better off."
It is not uncommon for turf managers to trade stories of obstacles they've had to overcome on the job. Some of these can be humorous; Montgomery likes to tell about the high school that had a chronic problem, where the athletic staff would come out onto the football field every day and find divots all over the field. They cracked the case by installing a camera in the press box, which subsequently recorded a neighbor coming onto the field during the evenings with his golf clubs and using it as his own private pitching range. But, Montgomery adds, the really bad acts are no laughing matter. "You just cringe when you hear those horror stories," he says.
Andresen doesn't think even minor acts of vandalism are funny; in fact, they're downright irritating. Take painted graffiti -- it doesn't create any lasting damage, and doesn't cost anything to fix. But it's a pain to deal with. You've got to mow it away in stages -- although on high-profile fields, the grass is already clipped about as short as you want to take it. Alternatively, you can use a weed-whacker to trim it back in spots, or use a power washer to flake the paint off. Or paint over it in a grassy shade of green.
"I don't think you can get to the point where people won't notice it; they're going to notice it," Andresen says. "Anyway, there comes a point where I'm not going to give the vandals the satisfaction of me changing up my whole operations over something they did. That's a gratification I won't give them. I'd rather put up with what they do, and let the world know that some idiots went out and did this."