The University of Pittsburgh Medical Center's Golf Fitness Laboratory prescribes exercise to golfers as a way to reduce chances of injury and improve performance.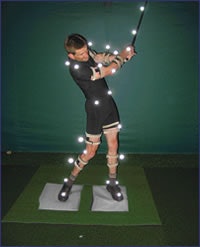 Driver Education
It's not a sport of grade-three concussions and torn ACLs, but golf nonetheless can exact a steep physical toll on participants.
Led by Tiger Woods and Annika Sorenstam, professional players and weekend golfers alike have begun to embrace physical fitness as part of their approach to the game. That approach has taken on increased sophistication at the University of Pittsburgh Medical Center's Golf Fitness Laboratory, a two-year-old facility where an individual's physical strengths and weaknesses are identified and addressed through prescribed exercise. The goal is to prevent injury and improve performance. UPMC researchers "found through the study of hundreds of golfers and thousands of swings that there are distinct physical characteristics differentiating better, healthy golfers from average or below-average golfers," says Eric Schmitt, the lab's administrative director. "The thought was, 'OK, now that we see these deficiencies in flexibility, strength and balance, what can we do to improve them?"
For $850, any golfer can undergo a swing-mechanics analysis that utilizes reflective body markers, eight high-speed cameras and 3-D computer simulation to break down such swing dynamics as shoulder and hip rotation, wrist-hinge angle and club-head velocity. In addition, force plates positioned under the golfer's feet provide data regarding weight distribution throughout the swing. Low-impact exercises, combining Pilates- and yoga-inspired stretching with strength training using resistance tubing, are then specified for such injury-susceptible body parts as the hips, back, shoulders and hamstrings.
According to Schmitt, the system's effectiveness was first proven in a trial during which 15 golfers averaging a 13 handicap were analyzed, then not allowed to play or practice golf for eight weeks. Instead, they each followed a golf-specific conditioning program. The golfers' strength, flexibility and balance were then retested. "Everybody showed improvements across the board - as high as 40 percent in certain measurements," Schmitt says. "But the big thing that opened everybody's eyes was the fact that, on average, those 15 golfers hit the ball almost 20 yards farther off the tee. The researchers then said, 'Wow, we have something here. Let's open this up to the public.'"
Last July, the first off-campus lab opened at Pinehurst (N.C.) Resort, site of the 2005 U.S. Open Championship. Between the two labs, Schmitt estimates that more than 400 golfers - from tour professionals to collegiate players to those just looking to tweak their swing - have utilized the facilities. "We're making the body better able to resist injury based on the swing that an individual has. In some cases, we're allowing a body to perform a swing that it was unable to perform based on physical restrictions," says Schmitt, who adds that opening additional satellite labs remains a goal of the UPMC. "This research is ongoing. We're only scratching the surface in terms of discovering the perfect swing from an injury-prevention standpoint."