The University of Oregon's ever-evolving football look is anything but generic, unless you happen to be staring at an Oregon Lottery scratch-it game themed around the Ducks' rivalry with Oregon State.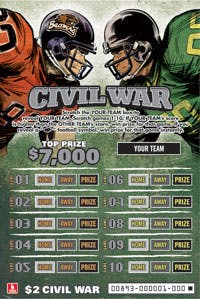 The University of Oregon's ever-evolving football look is anything but generic, unless you happen to be staring at an Oregon Lottery scratch-it game themed around the Ducks' rivalry with Oregon State. Then it's recognizable only by a green jersey and a black helmet, and the fact that the illustrated player wearing those colors is about to knock heads with an unmistakable (read: clearly marked) Beavers counterpart.
Unlike Oregon State, Oregon chose not to lend its trademarks to the lottery's new promotion celebrating the so-called "Civil War," traditionally the last regular-season game for both teams. Instead, Oregon offered the lottery a promotional presence at all seven Ducks home games this season. Oregon State, meanwhile, is obligated to allow the lottery to set up camp on game day only twice.
So why did Oregon opt against going all in when branding its first official affiliation with the gaming industry? "I think it was just based on feel more than anything," says Chris Bjork, who as an Oregon IMG Sports Marketing senior account executive helped craft the deal. "Our president and AD just said, 'Hey, you know what? We don't feel as comfortable yet.' We understand that the lottery does provide the university with some significant dollars, but we're just not there yet."
The $2 scratch-it game, which involves predetermined team "scores" hidden behind latex and pays a maximum $7,000 prize, will reportedly provide each school with roughly $60,000. Since 1990, the University of Oregon has received more than $11.3 million in lottery proceeds, while Oregon State has received $10.9 million, according to Chuck Baumann, the Oregon Lottery's senior communications specialist. Says Oregon IMG general manager Brian Movalson, "It would be hypocritical, I think, to accept those dollars and not participate in something like this."
But more than hypocrisy may be at stake, as an increasing number of athletic departments appear willing to enter into lottery sponsorship agreements. The University of Iowa is back in business with the Iowa Lottery this fall after the two parties mutually severed ties four years ago. In early 2007, controversy arose after the lottery used a parody of the "Iowa Fight Song" and showed footage from inside Carver-Hawkeye Arena during a television commercial. Yet, this August, Iowa officials announced that the school had joined Iowa State and the University of Northern Iowa in The Great State Tailgate promotion, involving $2 instant-scratch lottery tickets. Losing tickets can be entered into a drawing for a $22,000 towable tailgate trailer that features a portable generator, a 42-inch TV, a home theater system and a gas grill. In December, the lottery will award five additional cash prizes of $1,000.
It's a not-so-great idea to some. "Gambling has been a big problem in sports, particularly college sports, and I would consider it a public-health issue," says Michael O'Hara, a longtime psychology professor at Iowa and a new addition to its President's Committee on Athletics. "I don't think it's proper for the university to associate itself with the gambling interest in the state, and the fact that it's a state-supported lottery makes no difference." Moreover, that the mere existence of a state lottery indirectly benefits state universities "doesn't mean that we have to endorse it," O'Hara adds.
Meanwhile, NCAA-sponsored championship events are prohibited from associating with state lotteries, according to NCAA spokesperson Stacey Osburn - a stance that further perplexes O'Hara. "For reasons that I don't actually understand, the presidents have made these sorts of grand statements about NCAA propriety," he says, "but then haven't really applied that same logic to the individual schools and conferences."
Where the NCAA draws a line is with states that have legalized single-game betting, including when such wagering is offered through a state lottery. Between 1989 and 2007, the Oregon Lottery consulted a Las Vegas bookmaker to establish over-under numbers for a lottery game (called "Sports Action") that hinged on the outcomes of National Football League games, effectively prohibiting NCAA men's basketball tournament games from being staged in the state.
That said, the line separating gaming interests from the NCAA and its member schools began blurring as legalized gambling spread across the country in recent years. "We continue to be stridently opposed to any type of sports wagering," NCAA spokesman Erik Christianson told USA Today via e-mail in April 2009. "But we have come to understand that there are differing perspectives within the membership about commercial activities, including the appropriateness of accepting casino advertising. What some institutions may see as acceptable, others may not." (AB's repeated interview requests were not accommodated by the NCAA.)
Forty-three states now offer lotteries, and those that partner with college athletic departments do so as a means to communicate the gaming industry's contributions to their respective state societies. "The lottery is an advertiser, and the sports networks that carry the games reach an audience all across the state," says Mary Neubauer, the Iowa Lottery's vice president for external relations, adding that lottery proceeds benefit the Iowa Veterans Trust Fund and the state's general fund, which benefits education at every level. "So advertising obviously is a big component of it, but the opportunity to spread the word about good things in our state is another, and that's what we're doing with this current promotion."
The longstanding relationship between the state lottery and Iowa State has rarely been more visible on game day than it was Sept. 10, when the tailgate trailer made an appearance before the Cyclones' three-overtime victory against Iowa - one of 11 scheduled stops on the three participating campuses throughout the season. "To see a lottery advertisement or a lottery promotion around Iowa State athletics is really nothing new for our fans and donors, so I don't think they give it a second thought," says Frank Nogel, ISU's senior associate athletic director for external relations. "They see a tailgate trailer with a big flat-screen TV in there, and they think they want to figure out a way to win that. There was no controversy surrounding it at all."
While veterans are a priority in Iowa, education gets the lion's share of lottery funds in Florida. Since the lottery's founding there in 1988, $22 billion has flowed into the state's Education Enhancement Trust Fund, and more than 500,000 Florida students have attended college through the Bright Futures Scholarship program, launched by the state Legislature in 1997 and fully funded by the lottery (until revenue from legalized slot machines began contributing 10 percent).
The Fan-tastic College Football Promotion, which expanded this fall to include all seven of Florida's football-playing public institutions, as well as the private University of Miami, reflects the lottery's desire to "highlight that partnership and include the schools that gain some of those education dollars," says Florida Lottery director of public affairs Jacqueline Barreiros. Ice cream socials are held on partner campuses to welcome Bright Futures scholars back to school, and hand fans are distributed featuring a school's logo on one side and Bright Futures statistics pertaining to that school on the other. "It's an awareness thing, because the number-one question we get is, 'How is lottery money used?'" Barreiros says. "This is just a way for us to remind folks that this is the good that we've been able to do with it."
Fans age 18 or older who spend $10 or more on Florida Lotto™ tickets may enter into Fan-tastic College Football Promotion drawings for school-specific game tickets and merchandise (as well as additional Lotto scratch-off tickets). Though college-age adults are eligible, they aren't targeted. "We don't encourage them to go out and purchase tickets," Barreiros says. "Most of the people that we've seen who have signed up for this promotion are alumni, folks who really support their teams and want to try to win some merchandise and tickets."
Like any successful sports marketing campaign, fan affinity is the key, and the same goes for promotions launched by state lotteries. When asked if the "Civil War" scratch-it promotion represents the blurring of a line between college sports and gaming that shouldn't be blurred, the Oregon Lottery's Baumann says, "I don't see a problem with the fact that we're using the Beavers and an Oregon Duck-like figure. I really don't. We recognize that there are current and potential lottery players out there who love college football, and especially love their Beavers or love their Ducks, and so we're hoping to appeal to them."