In April, the Jefferson Parish Parks and Recreation Department in Metarie, La., set to work removing playground equipment that had sat, damaged and unusable, at Waggaman's Thomas Jefferson Park for years.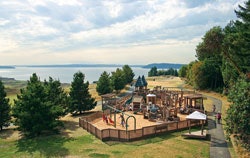 The community of University Place, Wash., was responsible for raising both the funds and the final structures for Playground by the Sound. (Photo courtesy of University Place Information Technology Services)
In April, the Jefferson Parish Parks and Recreation Department in Metarie, La., set to work removing playground equipment that had sat, damaged and unusable, at Waggaman's Thomas Jefferson Park for years. Residents of the unincorporated community on the west bank of the Mississippi, meanwhile, waited excitedly for a new structure to be erected. Two months later, however, the department announced that there was no money in the budget for new playground equipment.
Unhappy with the announcement, Shelia Sparacio and the Waggaman Development Group, a board comprised of members from the community's two civic associations, took matters into their own hands, and on Oct. 1, a grand opening celebrated the unveiling of two new play structures.
"We didn't want to wait around," says George Peterson, vice president of S1 Civic Group. "Fall was coming, summer had already passed, and we felt that the children had just not been taken care of."
From initiation to completion, the project took two months and was built by volunteer hands in less than a day. "It was important to us to have a quick turnaround and show our community that we were serious about taking care of them," says Peterson, who notes that going through the parish would have required a lengthy process of design and bidding. Using funds provided by River Birch, a private landfill that routinely donates funds to community projects, WDG purchased two play structures and installed them themselves.
Organizers reached out to the community, asking for 50 to 60 volunteers to complete the project, but were shocked when more than 120 volunteers arrived to pitch in. WDG put the excess hands to work landscaping, painting and cleaning the park while a local restaurant grilled up burgers and hot dogs for volunteers. The kids waited and watched as their new playground came together, enjoying treats and activities in a nearby kids' tent.
The civic groups plan to work more closely with the recreation department to maintain the park, and Peterson says residents have taken a more personal interest in the playground. "A lot of the people who were part of the community build were going by, keeping an eye on it. They're showing a lot of interest and concern, making sure that we don't have to worry about people damaging the equipment or anything."
Community-built playgrounds, while not new, are becoming more popular across the country. Whether building an entirely new playground or replacing outdated or damaged equipment, there often isn't room in city parks and recreation budgets to accommodate what many officials deem nonessential projects. But such situations can become a blessing in disguise as communities undertake their own projects, personalizing the design and operating without the constraints of a municipal budget.
In University Place, Wash., the efforts of the community turned a simple $25,000 project into a two-year, $200,000 project culminating in six days of building and a 12,000-square-foot playground unlike any in the area.
Then-mayor Linda Bird knew all too well the city's financial constraints, but she also knew of a piece of land in Chambers Creek Properties that was designated by the county for a future playground.
"So I said, 'Let's raise some money, and we'll put a little play structure in there,' " recalls Bird. "Along the way, I ran into some folks who looked at the plan that I had selected - just your typical off-the-shelf playground - and they suggested I look at a project that had been built in a community near ours."
After realizing that her "little play structure" would be dwarfed by community demand, Bird and her committee enlisted the services of Leathers & Associates, a company that specializes in designing and orchestrating community-built playgrounds. They brought in a design crew to work with the children of the community to find out what elements they wanted their playground to include. The final design combined geographical and historical elements of Puget Sound, including their own "Galloping Girtie" bridge - a reference to a bridge that collapsed over the Sound in a windstorm in the 1930s. A website was also set up for "Playground by the Sound," as the project was called, and the committee got to work.
"We had a big celebration and announced that we were going to raise the money," says Bird. "We struggled to get the money until we decided to do something outside the box and entered the Pepsi Refresh Contest. We had the whole community voting and voting and eventually won in two different categories, and that gave us $60,000."
The Pepsi Refresh Contest is just one example of myriad grant opportunities available from a range of sources. The nonprofit organization KaBOOM! has been in the community-build playground business since 1996. Not only does it work directly with underserved communities to build playgrounds, it works with funding partners to create grant opportunities and support a host of resources on its website to assist communities with their own builds.
Bird and the committee also took advantage of grants from the local Names Family Foundation and the Washington Wildlife and Recreation Program. To raise the remainder, Bird says, committee members hit the pavement.
"We sold tickets, we sponsored components, we had businesses do fundraisers, and some people just sent checks," Bird says. "We hit every festival, fair and Christmas tree lighting and basically made ourselves everywhere for two years, passing out fliers and recruiting volunteers and spreading the word."
It all came together in September. The committee had been advertising the project on its website, through e-mail blasts, Facebook, news coverage and any other way it could think to raise awareness for the planned six-day build. Bird was still tallying up the volunteer hours in early October, but says that many days drew as many as 500 volunteers.
"When I say 500, those were just the people within the construction zone," she adds. "We also fed them lunch and dinner and had volunteers watching people's children so that the parents could go and work on the playground. This has more moving parts than you can imagine. It was broken into committees: childcare committee, food committee, tools committee, materials committee, publicity committee."
The city, in addition to providing what little funding it could, also waived fees for an event permit and other permits required for the build. Then, too, there were the surveyors who donated their time and expertise, the battalion of army engineers who drilled the holes for the equipment, the artists who created bird sculptures to install around the park, and one artist who created a 3D concrete rendering of Puget Sound.
The community celebrated its hard work with a grand opening just 15 minutes after the last work had been done, and then set to cleaning up. All of the tools that were donated by the community had been carefully cataloged to return to owners, or replaced if they were any worse for wear.
Bird is happy to have the project done and to be able to watch her grandchildren play in the park and see others enjoying it as well.
"I'll hear dads show their kids and say, 'That's the part I worked on.' Or kids come running, 'I found my name, I found my name!' " Bird says, referring to the slats of a fence that bear the names of donors. "We're all just pleased as punch with how it looks. It feels so much like it belongs to our community."