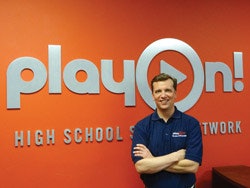 When David Rudolph spun off PlayOn! Sports from Turner Broadcasting in December 2008, he realized that Turner couldn't compete in the mad dash for collegiate media rights that ultimately caused last year's chaotic conference realignment. And neither could PlayOn! Instead, he steered his online network away from the collegiate space and toward the live streaming of prep sports - producing, distributing and monetizing content for 30 state high school associations. Borrowing a page from the Big Ten Network's playbook, PlayOn! and the National Federation of State High School Associations later this month will launch NFHS Network, with the 10-year goal of covering every single prep sporting event in the country. Paul Steinbach asked Rudolph how PlayOn! will help make it possible.
Q: What is different about what NFHS Network will provide than what PlayOn! has been providing for the past four years?
A: It's really not a significant change from what we're currently doing from a consumer standpoint, from a product standpoint. And from a strategic standpoint, it's not a big change. Really, the change is from a structure standpoint. Before this, we had a straight contractual relationship with the state associations. We paid them a licensing fee for media rights, and then it was our responsibility to do the production, the distribution, the monetization of that content. Now, instead of it just being a contractual relationship, the state associations will also have an equity relationship with the network. They will receive a revenue stream both from the annual guarantee that they get from the network, and then they will also receive a share of the profits, based on the ownership structure. The NFHS Network is a new entity, it's a new LLC, and so the NFHS and the 51 state associations will own 52 percent of the network, and PlayOn! will own 48 percent of it.
Q: Is there pent-up demand for live streaming of high school sports?
A: It's certainly an underserved market. The challenge is that it's fragmented across a couple million events a year versus significantly fewer collegiate and pro events. At the same time, it's new and in some cases viewed as a novelty. It's not necessarily a part of people's normal everyday expectations. But over the past four years, we've seen that start to shift. In the first year, it was like, "Oh, that's cool" and "I appreciate you doing it." Now it's, "Why did you only televise 75 of the 100 semifinal games?" and "You mispronounced my child's name." There's an expectation that not only will the game be produced and broadly distributed, but there will also be the kind of quality level that people are used to from a television-viewing experience. That's the piece that has surprised me the most.
Q: How will you cover more than two million events annually?
A: There's no question it's an ambitious goal, but we think to be truly authentic in the high school space, we have to cover everything. To execute that, though, we certainly can't follow a traditional sports media model. At the top of our pyramid are the post-season events controlled by the 51 state associations. The network is responsible for producing, distributing and monetizing those through subscription and advertising. At the bottom of the pyramid are the other 80 to 90 percent of the total events in any given year, and that network model won't work for those. In those cases, we use our school broadcast program. Our software platform gives schools the tools to self-produce their regular-season events, plus post-season events that the network is not covering. There are some kids who can't make the team, or don't want to make the team, but do have an interest in participating in athletics through a different outlet. The broadcast is a way that they can do it.
Q: What does the software allow students to do?
A: It's what does the encoding of the video and applies a lot of the professional elements to it. It's what does the streaming of the content out to the servers. It makes it very simple for students to operate, but it also gives them a lot of powerful tools. By powerful tools I mean customized graphic overlays for 17 sports, the ability to insert commercials and sponsored graphics, but then also the ability to do everything from schedule an event, edit its start and end points, cut a highlight of that event, make it available live, and create a blackout window on demand where the event's not available. Very robust tools in terms of the creation and the curation of the content, but simplified to where in a 30-minute WebEx or phone conversation we can train the students and away they go. They become our best innovators going forward.
Q: Will there be any limits as to who can view this content?
A: One of the best things about digital delivery is there are no boundaries. And that's important for high school sports. Each individual event has a relatively small audience - relative certainly to an NFL game or some of the big college games. So to maximize that audience, you need to make sure that you can deliver it to anybody and everybody who wants to see it regardless of where they are geographically. We typically find that 70 to 80 percent of the audience is within the state, which doesn't seem crazy. But, when you think about 20 to 30 percent being out of the state, that actually matters if they didn't otherwise have that opportunity. The other piece about accessibility beyond geography is this is content that has to be available on every screen, so that's a big emphasis for the network. This can't be content constrained to the computer. This has to be on all available devices, across all mobile platforms. And a big plus for us going into next school year is going to be getting this on all the connected TV devices, so it can easily be viewed on TV if people choose to.
Q: Do you see NFHS Network as a major revenue generator?
A: Funding for high school athletics is challenged, so that's part of the goal. I also think that there are some pretty realistic expectations that this is not going to generate the type of revenue near term that the collegiate conferences are at this point. But we want to make media a significant source of revenue for the associations and individual schools. Whether that helps eliminate pay-to-play situations or helps fund new programs, this is just a new way for high school athletics to continue to survive and thrive.