The story of Lisa Howe, Belmont University's women's soccer coach who resigned last week after she told school officials that she and her same-sex partner were expecting a child, has become one of conflicting accounts.
Belmont administrators claim Howe - in her sixth year at the university, which she led to its first NCAA soccer tournament in 2008 - resigned on her own, without offering further explanation. But, according to The Tennessean, several members of the soccer team say their coach was pressured into tendering her resignation. Mike Organ reports that senior soccer player Erica Carter said Howe told her and her roommate, junior Ashley Hudak, that athletics department officials had given her the choice to resign or be terminated because she had told the team her partner was pregnant. Howe is quoted in Belmont's official press release saying, "I am at a point in my life where I am satisfied to move on."
A subsequent press release from Belmont - a Christian university that severed its ties with the Tennessee Baptist Convention in 2007 - acknowledged "inaccuracies" in the first release and stated that Howe was leaving after she and the school reached a "mutual agreement."
Ask the coach's players, though, and they'll say it's more complicated than that. "She said she went to the administration to get permission to talk to us about [the pregnancy], so that she could bring us to light on her becoming a mother," Carter told the paper. "She didn't want us to hear it from other sources. She has never talked about her personal life before. We always hear rumors, speculation and things. She wanted this to come directly from her." Carter said Howe told her administrators did not immediately give her permission to address the team about the matter. She asked again several weeks later and still was not given permission."By then, people were finding out, so she went ahead and took the initiative and told us, even though they didn't clear her to tell us," Carter said.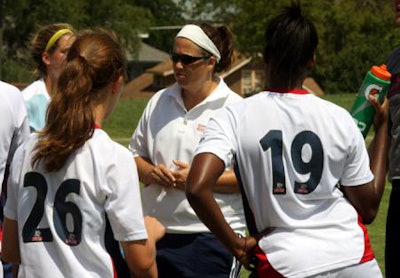 On Sunday, approximately 45 protesters showed up in cold temperatures and snow flurries to call for "an international apology to gays and lesbians worldwide." But Belmont wasn't budging. "We do adhere to our values as Christ-centered, and we don't want to make apologies for that," Marty Dickens, chairman of the university's board of trustees, told The Tennessean.
In a press release sent to Outsports.com and other media outlets Tuesday from a law office representing her, Howe gender identity."
The situation has drawn the ire of many people, including members of the Belmont community in the traditionally conservative Bible Belt city of Nashville. The Tennessean reports that the university's Faculty Senate late Monday gay members of the campus community. The resolution also invites administration officials to discuss the issue. "The Senate believes that the sexual identity of individuals should not impact that person's standing on campus," the resolution states.
SI.com's Jeff Pearlman claims the university has made a big mistake in the way it's handled the Howe case. "A good coach has lost her job because she's about to become a mother," he writes. "A good university has lost its reputation for the same reason."