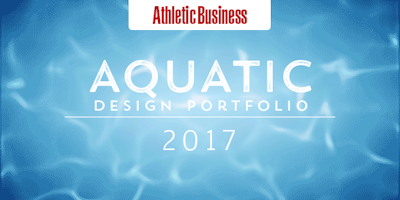 Showcasing the Next Generation of Aquatic Facility Innovation, Architecture and Design
Building on the legacy and reputation of the Athletic Business Architectural Showcase and
Facilities of Merit® program, the Annual Aquatic Design Portfolio brings together the newest and most innovative aquatic design concepts across the athletic, fitness and recreation industries.


There is no other channel as engaging as Athletic Business that allows architects, design professionals and facility owners/operators the ability to highlight their unique and special aquatic design projects, while at the same time building inspiration for future projects!
Aquatic Design Portfolio 2017 – What's Included:
• 2 full pages in the January/February issue and online at athleticbusiness.com
• 3 or 6 photos of your special aquatic design
• 250 words of editorial content
• 1 optional video tour to be shared digitally
• NEW FOR 2017: All submitted entries will be eligible for the Athletic Business 'Readers' Choice' Award where one facility will be awarded Aquatic Facility of the Year as voted by the readers of Athletic Business. Special mention and recognition will be given to the winning facility throughout 2017 in print and online.
Here's an example of what your submission would look like in Athletic Business: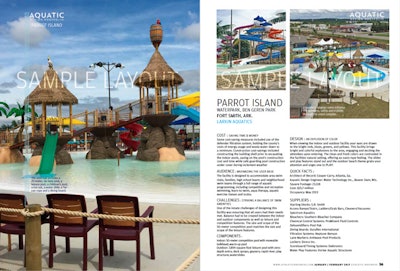 Submission Guidelines & Fee:
• Submission Fee: $900 for first entry, $700 for each entry thereafter
• Who Is Eligible to Submit: Aquatic consultants, architects other design/engineering professionals, facility owners and operators
• Eligible Projects: Any new aquatic construction or renovation completed between Jan. 1, 2013 and June 1, 2016
• Application and Materials Deadline: October 14, 2016 October 28, 2016


Check out the 2016 Aquatic Design Portfolio
Questions? Contact Andy Berg, Executive Editor of Athletic Business
andy@athleticbusiness.com | 608.729.4187