For far too many college athletic programs, acting in the best interests of the student-athlete is pure fiction. From academic fraud to sexual assaults, colleges and universities have frequently failed their student-athletes by putting their best interests ahead of the student-athlete's. These failures extend beyond what is making national headlines, and can happen at the most unlikely of institutions — in my case, a Catholic university.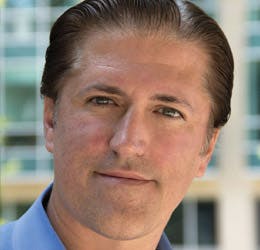 Dennis Van Milligen is the Editor in Chief of Athletic Business.I attended Lewis University, which coincidentally has been receiving national attention during March Madness as Wisconsin star Frank Kaminsky's father played basketball at Lewis. I turned down a few Division I scholarship offers to run at Lewis since it was close to home (35-minute drive), and my family prioritized the value system in place at a Catholic university. Yeah, I know.
During my sophomore year, I experienced a broken bone and major illness that pretty much wiped out my sophomore year. Even when I tried to run, I couldn't finish. Physically and mentally, I was shot. My confidence was gone. But I was determined to rebound and spent that next summer training hard to get ready for my junior year. When I went to check into my dorm room that fall, I was told by the bursar that I owed more than $20,000. My coach had pulled my nearly full scholarship without telling me.
Despair washed over me, and I spent the remainder of the day taking out every possible loan I could to still attend Lewis. But the cost was too much, and while I was able to still attend Lewis, I could no longer afford to live on campus. That fall, I was also taking over as the sports editor for the school newspaper. I swallowed my pride and opted to focus on my studies and jobs, which included promoting the athletic department and interacting with the coach that had no doubt lost no sleep on potentially destroying my life. My final two years, I held as many as four jobs simultaneously, amassed a large amount of financial debt, but ultimately made it to the finish line and graduated.
My final sports column was called "Once A Runner: How The Sports Got Taken Out of This Sports Editor." By the title, you would assume I used the platform to smear the coach's name. I didn't, despite my strong desire to do so. I used it to praise those that helped me stay at Lewis while sharing a brief overview of how my running career ended. The response was something I never anticipated. The university lashed out. Faculty and staff chastised me (the coach's wife was Dean of Students at Lewis); I remember being attacked by English professor while I was simply eating my lunch in the cafeteria. I was mocked by members of the track team that were loyal to this coach. But perhaps worst of all, my story fell on deaf ears with administration. The reason? That coach had built a winning program, and why mess with that based on one kid? The coach's indiscretions extended well beyond me, but like so many institutions out there, those indiscretions were brushed aside to protect the coach rather than the teenager my parents trusted that institution to protect.
As a result of this experience, I lost my love for running and questioned my faith. But my story has a happy ending. I met my wife in college, we have two wonderful daughters, and I have been blessed to do what I love. It took a long time but I am finally back running, something you can read more about in my Vantage Point column in the April issue of Athletic Business, And in case you're wondering, an NCAA investigation allegedly forced the university's hand to move on from this coach some years later, but I can't help but wonder how much damage had been done. I salvaged my collegiate life, but how many others were unable to? How many lives had he destroyed? And to that point, how many lives have colleges and their athletic departments destroyed?
I keep waiting for a wake-up call that will never come for these institutions, and it scares me that, in nine years, my first daughter will be going to college, possibly on an athletic scholarship. Who's going to look out for her? There are so many unknowns, but I do know that when it comes to trusting a college or university with my daughters' futures, I know which one I can cross off the list.


RELATED: Big Ten Becomes First Power Conference to Guarantee Scholarships