This article appeared in the October issue of Athletic Business. Athletic Business is a free magazine for professionals in the athletic, fitness and recreation industry. Click here to subscribe.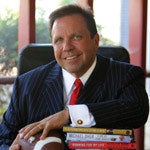 Keynote:
Don Yaeger
Friday, Nov. 18
11:15 a.m.
This year's keynote speaker is author and team culture expert Don Yaeger, a former associate editor at Sports Illustrated who has written books on Pro Football Hall of Fame running back Walter Payton and legendary UCLA basketball coach John Wooden.
Mark Oldmixon has plenty on his to-do list as the director of the Department of Recreation, Adventure and Wellness at the University of Alaska Fairbanks. Oldmixon wants to put in a new basketball court and track surface and remodel a locker room at the UAF Student Recreation Center. His five-year plan includes adding 100,000 square feet to the rec center and new locker rooms to the ice rink.
That sounds ambitious, but in his quest to improve his facility offerings, Oldmixon is willing to fly 5,244 miles — more than 10 hours from the Alaska winter to the Florida sunshine — to attend his first Athletic Business Show, which takes place Nov. 17-19 in Orlando. "I need ideas and product info to get my proposals moving forward," Oldmixon says. "The AB Show will give me all of that."
Oldmixon is one of hundreds of first-time attendees coming to the AB Show. Fellow first-timer Erin Hutchings wants to attend seminars on fitness center design and management as she plans to add a fitness space to the Aspen (Colo.) Recreation Center. Tara Niemann is eager to develop her skills in supervising and motivating her young aquatics staff in the Little Elm, Texas, parks and recreation department. And Rhett Ogden, who has attended several other industry conferences over the past dozen years, wants to learn more about venue management from industry veterans. "I am very excited to be attending the AB Show for the first time," says Ogden, the director of parks and recreation for the Salt Lake City suburb of Draper, Utah. "It is something I have wanted to do for years, but just couldn't get it to work until now. I was ready for a change from the same topics, discussions and sessions to a new and different approach. That is why I am going to AB this year."
Newcomers to the AB Show are drawn to its longstanding reputation for insightful sessions and a wealth of friendly exhibitors, but first-timers and veteran attendees alike will enjoy a host of new features in the expo hall at the Orange County Convention Center. The first change, as longtime AB Show attendees have likely noticed, is the formal adoption of a new name and logo. But the changes are more than superficial.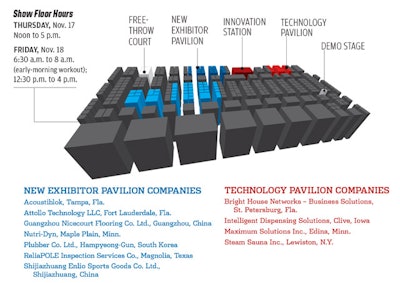 At the new Innovation Station, attendees will learn about the latest solutions for equipment leasing, lead generation and mobile app design, as well as tips on opening a fitness studio, during 30-minute sessions from industry experts.
On one side of the Innovation Station is the new Technology Pavilion, which includes the latest in online business solutions as well as vending, recreation management software and saunas. The opposite side hosts a pavilion for new exhibitors, including companies from as far away as China and South Korea.
Longtime AB staples such as the free-throw contest and early-morning workout return to the AB Show, as do the Welcome Reception, the Facilities of Merit® reception and two preconference tours — at the University of Central Florida and the Dr. P. Phillips YMCA.
Another first-time attendee, Randy Klassen, the CEO of the YMCA of Regina, Saskatchewan, is eager to tour the Dr. P. Phillips YMCA. "The [AB Show] came highly recommended from a YMCA staff person who has attended the conference in the past," Klassen says. "He said this conference has high value and is a great learning opportunity that would apply directly to the operations of our YMCA."
The tours offer a great opportunity to gather ideas for a facility project, but the trade show floor can be just as valuable. Rec center expansion is top of mind for several university directors, including first-time attendee Grady Sheffield of Towson University in Maryland, which is currently in the middle of a $34 million expansion. "We are going to the show primarily to meet with vendors to demo fitness equipment and to look at other products we may need to purchase for the new facility," Sheffield says. "We are excited to be going to the conference for this purpose. We found the AB Show offers more opportunity for our current needs."
Wednesday of AB Show week features three new preconference workshops, two of which are led by Paul Wesselmann, who will offer staff motivational strategies and discuss networking skills to enhance the connections attendees make during the show. First-time attendees are invited to the First-Timers Social immediately following Wesselmann's second session.
The remainder of the AB Show is packed with 79 seminars — 75 of which are new, featuring 28 new speakers.
Can't keep track of all the new opportunities at the AB Show? We've got you covered. The new AB Show Scout Event Guide app, developed by AB Show registration company CDS, will keep attendees up-to-date on the latest events at the show. The app features the show's schedule, seminar descriptions and room numbers, exhibitor listings, maps of the show floor and links to social media. Attendees can avoid registration lines by checking in on the app and join in on the conversation by using the Twitter hashtag #ABOrlando. Perhaps this year's attendees will encourage others to make their first trip to the AB Show next year.
---
This article originally appeared in the October 2016 issue of Athletic Business with the title "What's new at the AB Show? A lot."