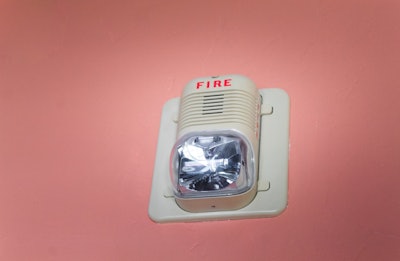 The NBA preseason opener between the Memphis Grizzlies and the Milwaukee Bucks at FedExForum in Memphis ended after three quarters and the home team leading, 87-77, when a fire alarm forced the evacuation of fans and players.
"This is wild," Bucks guard Grayson Allen said on the Bally Sports Wisconsin broadcast. "This is a crazy story you tell somebody and they don't believe."
As reported by the Milwaukee Journal Sentinel, just over an hour after the evacuation, the NBA suspended the game. The league statement read, in part, "With the lengthy delay, the league, in consultation with the Bucks and Grizzlies, has determined not to complete the game in the interest of public safety."
A fire alarm went off shortly after the quarter ended, and players were told to leave the court. After all fans and players were evacuated, it was determined it was a false alarm.
For the Bucks, it was the second evacuation in 16 games, dating back to last season's playoffs.
A fire alarm went off at Fiserv Forum in Milwaukee following Game 4 of the Eastern Conference semifinals and caused an evacuation of fans, players and media, but the game — a 107-96 Bucks win over Brooklyn Nets on June 13 — had already been completed.