Last spring, the City of Philadelphia launched its first crowdfunding project, raising $2,000 to plant a community garden at one of the city's recreation centers.
Over the summer, 474 donors contributed more than $15,000 to help purchase a new mascot costume as part of Michigan State University's Extreme Makeover: Sparty Edition crowdfunding initiative. A more recent MSU campaign raised more than $5,000 to create a softball scholarship in memory of a university employee and passionate softball fan who had lost a battle with cancer.
In October, Gateway Green became the first public works project in the state of Oregon to be successfully funded via crowdfunding, raising more than $100,000 for the planning of a bicycle recreation park in Portland. And a charter school in Phoenix raised $3,500 this past fall to defray startup costs of its new youth sports program.
This is just a small sampling of the ways crowdfunding has been used successfully to raise money for projects that might otherwise not have been possible. "The Internet and crowdfunding platforms are making raising money easier than ever before," says Jordan Raynor, cofounder of Citizinvestor, the platform used by Philadelphia's community garden campaign. "I think we're democratizing the idea of philanthropy, this idea that 10 or 20 years ago you had to be a millionaire to financially contribute to a public project. But now, by putting these projects online and crowdfunding them, anyone can literally buy into their success."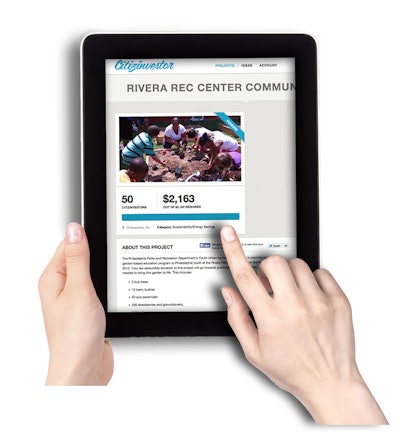 THE BASICS
Crowdfunding is a donation-specific type of crowdsourcing, which pools resources, ideas or content contributed by a large group of volunteers, traditionally through a digital platform. Project supporters pledge donations toward an overall goal, and if that goal is met, the funds are collected and the project comes to fruition. The possibilities are nearly endless, as are the websites devoted to them. Kickstarter, while not the first of its kind, may be the most well-known. Then there are other familiar sites such as Indiegogo and Crowdfunder, as well as myriad interest-based platforms. Citizinvestor, for example, is a site created specifically for municipal government agencies, and RallyMe, NLAB and Sportyfunder (to name but a few), are all built around funding athletes, teams or other sports initiatives.
"The idea for Citizinvestor came from one of our cofounders who served on the City of Tampa's budget advisory committee," explains Raynor. A city pool was badly in need of renovation, but with no money in the budget, advocates for the project were going door-to-door seeking donations to fund it. "We looked at that and thought, 'That's not secure, it's not scalable, it's not efficient.' "
This type of fundraising has truly hit its stride in recent years, thanks to the rise of social media and Internet interconnectivity. Yet it remains an unfamiliar concept for many, and given the proliferation of options available, it's hard to know where to get started.
PROJECT DESIGN
A successful crowdfunding effort starts with picking the right project. It should be something that will resonate with people. "Our first campaign was an eye-opener," says Paul Prewitt, director of online engagement for university advancement at Michigan Sate, where he and his team develop new strategies to drive alumni involvement. "It's not something you're always going to get right the first time out the door."
Case in point: The team's first project was intended to raise money for a new walk-in freezer for the student food pantry, but changed from a crowdfunding campaign to a more traditional fundraiser after the team concluded that the project didn't have the proper enthusiasm behind it. "Crowdfunding is far less about mass marketing than about the volunteers," says Prewitt. "Having evangelists behind your project is extremely important. If you don't have people willing to support your effort up front, you're not going to get very far."
Instead, Extreme Makeover: Sparty Edition became the team's first successful crowdfunding project. The team enlisted past and present students who had donned the Sparty costume to help spread the word. "The concept is that it's friend to friend, not some organization asking you for money. That's when crowdfunding becomes truly powerful, " Prewitt says. "When you step back and think about it, people have always supported those closest to them first. Crowdfunding is just making it easier for us to share what we feel is important with others."
As for the funding goal, start small, says Prewitt. "There's a number within crowdfunding that if you start above it, you're going to have trouble, and that point is around $5,000. It sounds low if you look at all of the projects out there today. The trick is that a lot of crowdfunding projects will grow over time. If it's more than $5,000, an individual can't see his or her impact as well."
SITE SELECTION
There are hundreds of crowdfunding platforms to choose from. The difference, for the most part, lies in the terms of use. "Is your organization willing to accept the rules of the site?" asks Prewitt. Most sites charge some type of fee for use, a percentage typically between 5 and 9 percent of the total funding goal, and that's not including credit card processing fees, typically between 3 and 5 percent. The fee may or may not be contingent on the goal being successfully met, depending on the site.
Take, for example, Citizinvestor. "The way it works is a parks and recreation department has a project it wants to raise money for," says Raynor, adding that after being approved as a municipal agency, the agency is free to post whatever project it would like. "Let's say the project has 90 days to raise $10,000. We increase the total cost by 8 percent — 3 percent for credit card transaction fees, 5 for us if the project is successfully funded. You market it to citizens, share on Facebook, put a widget on your website, and if your project reaches its goal, that money goes right into a bank account set up by the organization."
Only once the goal is met are donors' credit cards actually charged, at least under Citizinvestor's terms. In true crowdfunding form, some sites only collect the donations if the full goal is met, whereas others will still pay out whatever amount of the project goal was raised.
In an effort to avoid the constraints of the various platforms' terms of use, the Michigan State development team opted to create its own site, an investment that likely doesn't make sense for one-time fundraisers but is more practical for a major university that continues to experiment with other campus crowdfunding initiatives. "We were able to get rid of the contingencies related to reaching the goal," says Prewitt. "We set it up so that as long as you make the donation, it goes directly to that project, and if it isn't fully funded, your amount goes toward making it happen as best we can."
Using their own platform also allowed the team to skirt rewards for donors, an issue that would have caused some complications with tax deductablity according to the university's donation policies. Some sites allow projects to offer rewards to donors — T-shirts, an invite to the project's grand opening, a name on a brick or bench — and some don't. "A rewards program is for that person on the fence," says Prewitt. "You will support the project because of the connection you have to it, or you need just that little extra push to get you over the edge."
A final consideration is how long the fundraising will go on. Again, each site is different, offering campaign limits anywhere from 30 to 180 days, though 60 is a typical goal for many projects. "We recommend 30 to 90 days," Raynor says. "If you go past 90 days, credit card numbers start to go bad."
FINAL EVALUATION
Once a campaign is set up, the final push is the same as any other fundraiser: promote and sell it. Spread the word through social media, local media, press releases and, of course, get the people closest to the project involved. "I won't lie, it's hard," says Raynor. "Raising money in any format is difficult. Crowdfunding is not the magic bullet."
A project that fails to meet its funding goal in the allotted time shouldn't deter an organization from future initiatives. For many organizations, a crowdfunding campaign might be the best way to find out just what users really want, says Raynor. "Some projects you may think citizens are really fired up about, but they may not be. This is actually a really great way to test that. Post a project and gauge whether there is interest. Learning that in and of itself is a really valuable tool."
Though Michigan State has found success with its initial crowdfunding projects, Prewitt cautions that there are still other issues to consider. "As we move forward, we are trying to figure out how crowdfunding fits in with annual giving," he says. "We know that people prefer to give to something that they're connected to; the closer the tie, the greater the support. The trick is how do we hook the two so that they're not conflicting with each other? We must continue to raise support for the strategic annual giving needs, but we also want to take full advantage of the opportunities that crowdfunding offers. It's a delicate balancing act."
---
This article originally appeared in the February 2014 issue of Athletic Business under the headline "Mass Appeal."