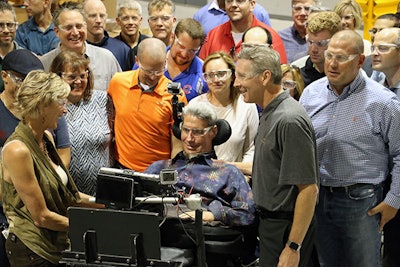 Augie's Quest, the effort focused on treating and curing ALS, is once again partnering with IHRSA on the 12th Annual BASH for Augie's Quest.
ALS, or amyotrophic lateral sclerosis, more commonly known as Lou Gherig's disease, is a neurodegenerative disease that affects nerve cells in the brain and spinal cord. Most people with the disease live for only two to five years, but Augie Nieto has defied those odds.
Nieto, co-founder of Life Fitness and a leader in the fitness industry, was diagnosed with ALS in 2005. It was then that Nieto, along with his wife, Lynne, chose to search for a cure by founding Augie's Quest. Since 2006, the organization has raised more than $45 million for ALS research, with 87 percent of donations funding research directly.
From AB: Fitness Industry Helps Raise Money to Fight ALS
The tradition continues with this year's '80s-themed event. Augie's BASH is the organization's largest single-day fundraiser, and this year will take place March 10 at the JW Marriott in Los Angeles. Athletic Business has been a longtime sponsor of the event, and staff representatives will be in attendance this year. If you're planning on attending, be sure to say hello! Click here for more information about the event.