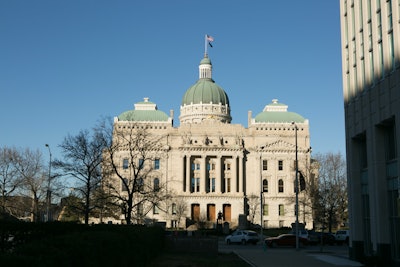 Indiana governor Eric Holcomb on Monday vetoed a bill that would ban transgender girls from participating in girls' school-sponsored sports.
As reported by The Associated Press, the decision of Holcomb, a Republican, comes after the measure was approved by the Republican-dominated legislature. The governor stayed on the sidelines as legislators debated the issue and made his decisions just before his Tuesday deadline to act.
Eleven other Republican-led states have adopted such laws that political observers describe as a classic "wedge issue" to motivate conservative supporters after the governors in Iowa and South Dakota signed their bans in recent weeks, according to the AP.
The Indiana law would prohibit K-12 students who were born male but who identify as female from participating in a sport or on an athletic team that is designated for women or girls, but it wouldn't prevent students who identify as female or transgender men from playing on men's sports teams.
Opponents of the bill argued it was a bigoted response to a problem that doesn't exist, with the American Civil Liberties Union of Indiana saying it planned a lawsuit against what it called "hateful legislation."
Republican sponsors of the bill said it was needed to protect the integrity of female sports and opportunities for girls to gain college athletic scholarship, the AP reported, but the legislation pointed out no instances in the state of girls being outperformed by transgender athletes.
Holcomb signaled support for the bill last month but said in his veto letter that the legislation "falls short" of providing a consistent statewide policy for what he called "fairness in K-12 sports."
Holcomb also pointed to the Indiana High School Athletic Association, which has a policy covering transgender students wanting to play sports that match their gender identity and has said it has had no transgender girls finalize a request to play on girls team, the AP reported.
"The presumption of the policy laid out in HEA 1041 is that there is an existing problem in K-12 sports in Indiana that requires further state government intervention," Holcomb said in his letter. "It implies that the goals of consistency and fairness in competitive female sports are not currently being met. After thorough review, I find no evidence to support either claim even if I support the effort overall."
As the AP reported, Indiana lawmakers can override the governor's veto with simple majorities in both the House and Senate. A veto override vote could happen as soon as May 24, which legislative leaders have scheduled as a tentative one-day meeting.