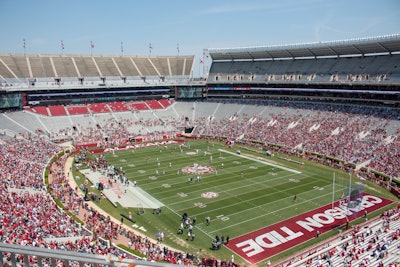 A week into the NCAA's supposed crackdown on name, image and likeness policy, cracks are already appearing in the association's initiative.
"It wasn't much of anything except a restatement of expectations," said attorney Jason Montgomery of last week's headline-grabbing attempt by the NCAA to retain some authority in the NIL space, as reported by CBS Sports. "The first tenet of the NCAA's interim [NIL] policy is you have to follow your state's law. That would suggest, if a state gives the ability to do that, the NCAA doesn't have any ability to enforce any restrictions."
The association technically prohibits coaches and schools from brokering NIL deals for athletes, but it was quick to state last July that athletes are allowed to "engage in NIL activity that is protected by state law." And to stop those deals, the enforcement division would have to find violations. There has been no meaningful move in that direction since NIL debuted 10½ months ago.
Related: NCAA Offers Schools Guidance on NIL Issues
Multiple states are already granting latitude when it comes to NIL deals and how they come together.
Last week, Missouri state representative Kurtis Gregory, who played offensive line at the University of Missouri, pushed through a legislative amendment that would relax the state's name, image and likeness law in hopes of further compensating athletes. The bill would allow any athletic department official — including coaches — to assist with NIL deals. After passing both the Missouri house and senate on Friday — less than a day before the end of the legislative session for the year — SB 718 now awaits only governor Mike Parson's signature to become law.
As reported by Dennis Dodd of CBS Sports, it's a move that should resonate from the SEC to NCAA headquarters in Indianapolis.
And it's only the latest.
Late last month, Tennessee governor Bill Lee signed a bill that significantly broadened NIL rights. It allows interaction between collectives, coaches and athletes. That could not have been well-received by the NCAA, which singled out collectives last week, according to Dodd. Specifically, that law means the Knoxville-based Spyre Sports Group, which is overseeing the $8 million contract of a prospect believed to be quarterback Nico Iamaleava, would no longer be banned by the state from such interaction.
Existing laws in Louisiana and Illinois are undergoing amendment conversions that would allow booster involvement. Illinois currently has one of the more restrictive NIL laws in the country. That will not be the case for long.
"It's a race to the bottom to some extent," said Montgomery, a former NCAA investigator and partner at Husch Blackwell in Kansas City, Missouri, who specializes in enforcement, eligibility and compliance issues.
According to Dodd, this pattern mirrors how states used their legislative power to spread NIL rights in their states. The initial California NIL bill that drew withering threats from the NCAA was introduced in December 2020. Other states quickly copied versions of it. "The NCAA was way late to realize it couldn't play whack-a-mole trying to contest the laws state by state," Dodd wrote.
In February, Alabama repealed its NIL law when it was deemed more restrictive than the NCAA's meager standards.
"[The Missouri amendment] was more in response to looking at some other SEC state schools either a) just completely repealing their language or b) really the catalyst was when Tennessee made the same change that we did," Gregory told CBS Sports.
He added: "When you have millions upon millions of dollars being thrown around and TV contracts and advertising and ticket sales and donors, the reason that [money] happens is the performance on the field. And the performance on the field comes from great coaches and great players."
There has been almost no movement stemming from one of the biggest complaints of the NIL era, according to Dodd: tampering. The NCAA calls it "impermissible contact" between a coach/school and a transfer — an enticement to change programs. But sources tell CBS Sports not many such cases had been processed — both before and after NIL hit — because tampering is hard to prove.
And while the NCAA has struggled to find its enforcement footing, some legislators, commissioners and athletic directors have long warned about the downside of Congressional oversight of NIL. It won't necessarily end at an antitrust exemption keeping the NCAA from behind sued over enacting meaningful NIL rules. Like the Missouri bill, there will be other portions that will have to be negotiated in that potentially have nothing to do with college athletics.