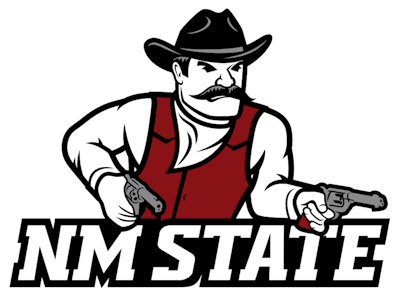 New Mexico State University is mulling policy changes to its athletics programs after a tumultuous season that included a fatal shooting, hazing allegations and the termination of first-year head men's basketball coach Greg Heiar.
NMSU commissioned an investigation by Rodey Law Firm after basketball forward Mike Peake shot and killed a University of New Mexico student in what police called self-defense.
While the report concluded that NMSU did not commit any legal or NCAA violations, the report did recommend multiple changes to athletics policies, including new rules around team curfews, gun possession on road trips and guidelines for how coaches and staff should speak with police.
New Mexico State Player 'Lured' to UNM Campus Before Shooting UNM Student
"We're sharing this information with our campus community to show our commitment to transparency and to begin working together to implement the recommendations in the report," school chancellor Dan E. Arvizu said in a memo, according to ESPN. "We said from the beginning, if this review highlights opportunities for improvement, we will pursue those. While the report did not identify any failure by the university to meet its legal obligations, we now know we have areas that can be strengthened. We will soon announce a task force that will work closely with the administration and the Board of Regents to address these recommendations."
Related: New Mexico State Fires First-Year Coach Heiar Amid Hazing Scandal
State police did not charge Peake with a crime after the November shooting, saying Peake was lured to campus and acted in self defense. However, Peake was suspended from the team indefinitely.
Heiar was fired in February, days after school officials announced the cancellation of NMSU's season following a police report that alleged multiple hazing incidents within the program. Heiar was under scrutiny for having left town with his team even though he knew police wanted to speak with him, as well as a number of players who'd picked Peake up from the scene of the shooting. Multiple players broke curfew the night of the shooting.
"Many colleges and universities leave the issue of curfews to each coach to manage," the report said. "Nevertheless, because so many players on the NMSU basketball team broke curfew on the night of the shooting incident, and in fact were out of their hotel rooms well after curfew, we recommend that NMSU consider developing a policy that addresses the adoption and enforcement of team curfews during out-of-town travel and the related expectations of NMSU student athletes.
"The policy should make clear to student athletes the importance of following team curfew rules and the importance of holding themselves out as student ambassadors consistent with NMSU values. NMSU should train all coaches and student athletes as to these expectations."