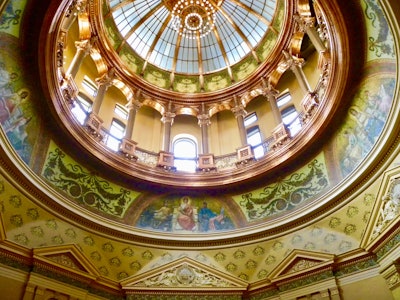 Kansas governor Laura Kelly has blocked a small legal settlement between the state and the owner of a Wichita fitness studio forced to shut down during the first months of the coronavirus pandemic and then operate under restrictions.
As reported by The Associated Press, the settlement would have cost the state $4,305.46 and ended a lawsuit filed in December 2020 by Ryan Floyd and his business, Omega Bootcamps Inc. Floyd said the settlement amount represented the rent he still had to pay during 53 days he remained closed because of COVID-19 restrictions.
The lawsuit argued that the state used Floyd's and his business' private property "for the benefit of the general public" when it and local officials imposed restrictions to check the spread of COVID-19. Kelly, a Democrat, ordered most businesses to shut down for five weeks, starting in late March 2020.
The case has yet to go to trial in Sedgwick County District Court in Wichita, and attorney general Kris Kobach asked Kelly and eight leaders of the Republican-controlled Legislature to sign off, as required by state law.
Six of those eight legislative leaders are Republicans, and all six voted to approve the settlement during a live online WebEx meeting that Kelly convened Thursday. But Kelly opposed it, along with the House and Senate's top Democrats, and under Kansas law, the governor's action decided the issue, according to John Hanna, the AP's Kansas government and politics reporter.
Kelly did not explain why she opposed the settlement, though a spokesperson later said in a text that the settlement "is not in the best interest of the state," Hanna reported. The governor and the lawmakers had no public discussion of the settlement but met in private for 35 minutes with two members of Kobach's staff.
The governor cut off public discussion before the private session with Kobach's staff, even though House Democratic leader Vic Miller asked to have the case verbally summarized in public. The Associated Press requested by email before the meeting that the discussion be held in public.
"We had this meeting here today, and you voted 'no,' " Republican state senator Rick Billinger, who chairs the Senate budget committee, told Kelly, as she moved to adjourn the meeting immediately after the decision. "I mean, I don't understand that."
Kelly said, "I mean it's very clear; I voted 'no,' " and then said they could have a discussion after the group adjourned — out of public view.
One attorney representing Floyd and Omega Bootcamps called Kelly's action "an insult to common sense," and another said, "All the dude ever wanted was his rent back. Now the state will likely spend untold thousands to continue litigating this case."