This article appeared in the September issue of Athletic Business. Athletic Business is a free magazine for professionals in the athletic, fitness and recreation industry. Click here to subscribe.
What will the health club of the future look like? "Think of a world where you don't have to have a front desk," posits Bryan O'Rourke, president of the Fitness Industry Technology Council (FIT-C) and CEO of the fitness industry consulting firm Integerus. "Think of a world where you're wearing a device that knows you're coming in and checks you in automatically. Think of a world where when you finish your group fitness training, the club will have a certain flavor smoothie waiting for you."
Though a fully automated and personally customized fitness club experience may still be a dream of the future, several recent technological developments are disrupting the industry, changing the way club operators need to approach their business and setting the stage for this next revolution. Mobile technology, fitness wearables and data, and "smart" equipment are all shaping the way health clubs and equipment manufacturers operate today.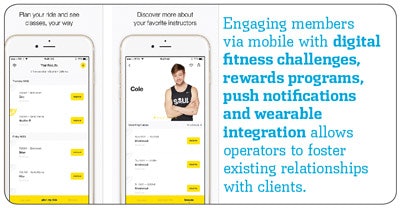 MOBILIE TECHNOLOGY
The "Uberization" of the economy begins with a touch of a smartphone button. Need a ride to the airport? An Uber will arrive at your door in minutes. Running late for work but still need your coffee? Order ahead on the Starbucks app. Want to grab a workout on your way home from work? The ClassPass app provides quick mobile check-in to cycling and yoga studios in the area.
"I think the clear headline here is technology is accelerating, and particularly in the health and fitness space," says Corey Benish, chief information officer of Planet Fitness. "I believe the membership and our consumers today are expecting a very personalized level of engagement with their club."
Gold's Gym is focusing more of its efforts on aggregating data for mobile phone viewing to engage members and bring them back into the gym, says Adam Zeitsiff, the company's chief information officer. "As much as the wearable might help collect data, I think the mobile phone is really going to be the central point where this data is going to be viewed, analyzed, reviewed and tracked by members," Zeitsiff says. "We see 80-plus percent of our members going through their mobile devices to get that information. Mobile apps aren't going anywhere, and people become much more reliant on them."
Netpulse, a health club mobile app and technology solutions company, began to shift its business focus from screens on cardio equipment to mobile apps as smartphones grew in popularity. To accelerate its offering in the marketplace, Netpulse acquired Club Apps in 2014.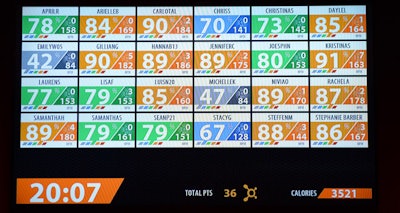 Engaging members via mobile with digital fitness challenges, rewards programs, push notifications and wearable integration not only allows operators to foster existing relationships with clients, but build on them, says Greg Skloot, vice president of growth at Netpulse. "Mobile technology provides an opportunity to interact with members beyond the times when they are in the club," Skloot says. "As we successfully engage members with value-added digital experiences, we unlock the opportunity to market to them. Mobile presents an opportunity to supercharge how we approach traditional marketing in the fitness industry."
O'Rourke calls SoulCycle "the genius brand in the space" in the United States because of the cycling company's mobile-first strategy. "They're very focused on delivering a phenomenal user experience in the facility and outside the facility," he says. "They deliver a lot of user experiences like access to the playlists of your favorite instructor and very convenient online booking. Concepts like that are going to flourish."
While millennials and other tech-savvy members are embracing mobile technology, adjusting to mobile marketing and engagement may be a harder sell to older members, particularly baby boomers. David Lloyd Leisure health clubs in the United Kingdom aim to add value to their members' own ecosystem of technologies with respect to their different types of membership. Older adults who play tennis, for example, are not as engaged in technology as millennials, says Bruce Gardner, the company's IT director.
"The danger for us is that we try to force people down a David Lloyd's integration route that actually may not suit those members," Gardner says. "We're trying to work through that. Some members will take off their wearable, some will take off their watch, but most people will still take their phone into the gym with them, either to listen to music or to track their progress."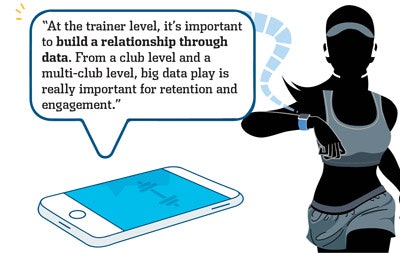 WEARABLES AND DATA
Orangetheory Fitness bills itself as "the new science of fitness," with workout experiences built on heart-rate monitoring displayed on screens inside the studio during 60-minute workouts. Heart-rate monitors track which of the five heart-rate zones clients are in, with the goal of spending 12 to 20 minutes in the orange zone. The result is known as "excess post-exercise oxygen consumption," or EPOC, which increases a metabolic rate for 24 to 36 hours after the workout.
When it comes to satisfying users' hunger for data, heart-rate monitoring is just an appetizer. One of the challenges for Orangetheory's executives and perhaps other studio and fitness club operators is understanding what metrics to track and how to make the data digestible for clients. "Orangetheory knows that if they offer other information to their customers, it has to be simple and clearly understood and clearly of value to that receiver," says new products development manager Paul Lockington. "Heart rate is certainly that, but things like blood oxygenation or glucose monitoring are either not simple to get or simple to understand. So when we put something new out on the market as far as another piece of technology is concerned, it will be simple for the average user to understand, and it will be simple for us to extract from whatever they're doing."
Cardio equipment manufacturers have long seen the writing on the wall, implementing and refining workout tracking systems. The problem for fitness clubs, experts say, is marrying data from an individual's wearable device with other fitness platforms. The industry is not at the point where it can easily warehouse all of that data, says Mike Leveque, chief operating officer for heart-rate monitoring company MYZONE. For that, a human touch is still necessary.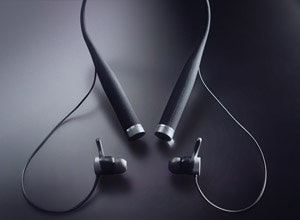 "At the trainer level, it's important to build a relationship through data," Leveque says. "From a club level and a multi-club level, big data play is really important for retention and engagement. The issue is the clubs' ability to synthesize the data that they're receiving and understand the trends."
Another challenge of tracking fitness data: accuracy. Claims that Fitbit's heart-rate monitoring on two of its devices were inaccurate led to a class-action lawsuit from customers, as well as a lawsuit from its shareholders. Part of what may have led to the inaccuracies, some experts say, is that heart-rate monitoring via a wrist wearable is not as accurate as a monitor strapped around someone's chest.
Ted Vickey, founder and CEO of FitWell, a fitness consulting company on disruptive health technologies, says that in order for the health club industry to mature, more accurate measures for physical output are needed. Vickey once asked the CEO of a wearable company why he had a different step count using his own device compared to the company's device. "Because we define a step differently than you do," the CEO responded.
---
More from AB: Data Mining the Health and Fitness Industry
---
"Now I don't know about you, but I define a step as putting one foot in front of the other," Vickey says. "It is time that companies stop hiding behind confusing statements like this when they cannot justify their own internal measures. This only confuses the end user and creates distrust of our industry."
The FIT-C was created, in part, to try to get different fitness equipment manufacturers to produce the same caloric output data on their machines. Until that task becomes more feasible, the council is focusing its efforts on educating and providing resources to its more than 30 member companies.
A final note is understanding the behavioral psychology of fitness tracking. For many people, their daily goal is 10,000 steps. What happens when they reach their goal? That person may just stop walking or feel justified in having a cheeseburger as a reward. "These are not ways to drive sustainable behavior," says Fabio Comana, a faculty instructor with the National Academy of Sports Medicine (NASM). "The downside of technology is changing the way we are approaching an active lifestyle."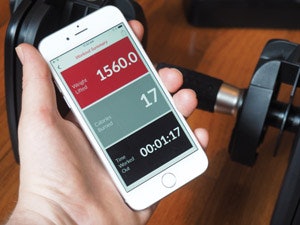 SMART EQUIPMENT
From shirts to shoes, wearable technology is now embedded in several types of fitness apparel. A full-body suit from athletic apparel brand Athos is fitted with tracking sensors connected to an app that shows which muscles are firing and how much an exerciser is exerting himself or herself. Another company, Focus Motion, is building products that connect with a smartwatch to automatically track motion and give real-time feedback on an exerciser's form or pace. Bowflex is producing "smart" dumbbells to track weight and count reps.
"Smart devices will increasingly become more mainstream," says Netpulse's Skloot, "and we should expect to see them used to support hybrid training models — where consumers work out on their own time in their own locations, but trainers and coaches can access their workout data from anywhere, providing quick feedback and tips to guide them along their fitness journey."
---
More from AB: Individuals, Stadiums Getting In on 'Pokemon Go'
---
These devices are leading to perhaps the real game-changer in the industry: the artificial-intelligence personal trainer. Vi, an A.I. personal trainer created by LifeBEAM, lives in bio-sensing earphones and offers real-time feedback based on a user's own physiology, fitness and health goals. Users will be able to use voice commands to switch between Vi's run and cycling modes.
Leadership training coach Michael Mantell is a believer in the future of the "robot" trainer in health clubs. "Gym owners don't want to hear this, but they better embrace it," Mantell says. "Artificial intelligence is coming. Robots can be programmed with the latest exercise physiology science. And, just as important, they can be programmed with behavior science. They also can scan your body with bio data better than what anybody else is doing."
The challenges that smart equipment present to health club owners and operators — be it cost, integration or education — are more speculative compared to the possible clash between human personal trainers and A.I. training devices, but to be sure, the industry will need to find ways to overcome them.
"That's what disruption in an industry is," Mantell explains. "Disruption means growth, elevating, moving forward, advancing, promoting, increasing. Some trainers will look at training better, and they'll have to figure out how to be more personable than the robot."
---
This article originally appeared in the September 2016 issue of Athletic Business with the title "3 technologies disrupting the fitness industry"