This article appeared in the January/February issue of Athletic Business. Athletic Business is a free magazine for professionals in the athletic, fitness and recreation industry. Click here to subscribe.
The book and film "Moneyball" shine a spotlight on the impact of statistical analytics in the game of baseball. When evaluating players' productivity, the industry began to depend less on batting average and runs batted in and focused more on other statistics such as on-base percentage and slugging percentage.
Paul Bedford, a self-proclaimed "retention guru" who has more than 20 years of experience working in the fitness industry, makes the case that health club member analytics can have the same type of impact on the fitness industry. Speaking at the second annual Motionsoft Technology Summit this past September in Washington, D.C., Bedford said data already collected on members has the potential to increase retention, reduce attrition and improve member satisfaction. He also believes data mining techniques, predictive analytics and machine learning will shape the future of the industry.
RELATED: Evaluating Campus Recreation Management Software
---
The goal of using statistical analysis in baseball is to help a team win more baseball games. The goal of using statistical analysis in the fitness industry, some say, is to make more money.
Al Noshirvani, CEO of Motionsoft, a Rockville, Md.-based company that produces cloud-based gym management software and provides billing solutions for the fitness industry, says health club operators can examine the data they collect from members and create actionable information, especially as it pertains to retaining members.
"You can really start to create behaviors and identify patterns that may give you better insight into the business," Noshirvani says. "A lot of times what gyms do today — for members who want to cancel — is say, 'Let's do an exit interview. Why are you leaving?' The reality is, if they had meaningful information, they would have probably known much further in advance why the member would want to cancel."
 
SHIFTING FOCUS TO MEMBERSHIPS
Mike Rucker, vice president of technology for Active Sports Clubs in Sausalito, Calif., would like to see the industry move away from metrics such as attrition and focus more on generating annual memberships. An average member is going to stay at a club about five months, Rucker says, regardless of how well the club performs. Thus, a club that focuses on selling annual memberships but sells fewer of those memberships than a club focusing on month-to-month memberships has greater revenue potential.
"Good statistical models based on the right metrics allow an organization to focus on what is important," Rucker says.
---
RELATED: Getting Creative with Management Software
---
By analyzing data, club operators can detect member behavior and steer them in a direction that's best for the member and also best for the club operator. Perhaps a club has a member paying a premium price for an all-access membership who only uses the club that is closest to his or her home or office, Noshirvani proposes. The club could then encourage the member to switch to a single-club pass, which would save the member money. Having a more engaged, active member, even at a lower price point, also would benefit the club in the long-term.
"When you communicate with your members, regardless of whether they are paying you and not using the club, they tend to react to the communication, and they re-engage with you," Noshirvani says.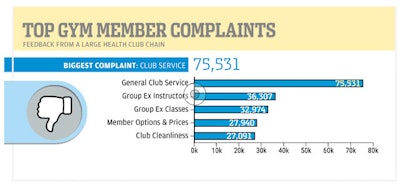 MINING CUSTOMER FEEDBACK
Member feedback is crucial to determining what is working in a health club and what is not. Typically, most clubs obtain member feedback through surveys, emails and their respective websites. Clarabridge, a Reston, Va.-based customer experience management company that works with companies inside and outside the fitness industry, can connect member feedback to member data to understand what clubs are doing well, what is keeping their members engaged, what makes members loyal to a club and what the threats to that loyalty are, such as competition next door or a change in club policy.
"If you want to truly understand your customers, you need to collect transactional insight about your customers," says Sid Banerjee, co-founder and CEO of Clarabridge. "But you need to merge that with information about what those kinds of customers like and dislike. Ultimately, building customer loyalty is about giving people what they want and also responding to the things they don't like."
---
RELATED: AB Survey Results: Class Variety, Management Software Drive Fitness Programming
---
A system that can connect member feedback with member data also can push out the right data to the right people in a health club company. A club manager can view one set of data, a regional manager can view another set for a particular market, and executives can focus on data determining why the top 10 performing clubs in a company are doing so much better than the bottom 10 clubs.
"A big part of understanding the customer experience is understanding not just the feedback but how it applies to your target demographic," Banerjee says. "One of the big conversations we had at the technology summit was that not all feedback is equal. Some feedback from the customers who you know are the most loyal, the ones that are in your target demographic, is the feedback you need to filter ahead of the feedback from the casual exerciser. You're making conscious decisions to listen to some and not to others. It's important to look at the data the right way."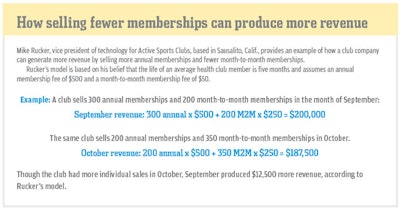 DATA STANDARDS
One of the hurdles in the fitness industry, experts say, is the lack of a set of standards for data that is applicable from one club to the next. Rucker says there is no agreed-upon lexicon in the industry for data sources. An RBI in baseball, for example, does not mean five different things, Rucker says.
"We want to be able to serve our members better, and we want to make better business decisions using appropriate business intelligence," says Rucker. "Up until recently, the primary value proposition of most member-management systems has been industry-specific accounting software. With the exception of collecting check-in information and having rudimentary scheduling functionality, you find that many systems were built to operate as market-specific enterprise resource planning software. Functionality specific to better understanding and improving the member experience has been an afterthought."
---
RELATED: Fitness Software Opportunities
---
The lack of a data standard in the fitness industry is an issue noticed not only by club operators, but by equipment manufacturers, as well. Andrew Kolman is the director of product development and console technology for Johnson Health Tech, a Cottage Grove, Wis.-based company that manufactures Matrix Fitness products, among other brands.
"One of the things that we have a problem with in the industry is consistency in terms of data entry and data analytics," says Kolman. "If you're looking across multiple organizations, they all may refer to the same thing many different ways. If you're looking to analyze the data, if you're looking to work with third parties to analyze the data, there's no consistency in data input or data output. That makes it fairly difficult to dig in and really mine that information to glean as much as you can from it."
Rucker says that once there is a set standard for data, systems will go beyond metrics such as attrition and provide improved retention insights. "This will allow us to better understand these members in the hope of attracting more of them."
---
This article originally appeared in the January/February 2016 issue of Athletic Business with the title "How Data is Shaping the Future of Fitness"